Uninspired Barcelona suffer from their increased reliance on Lionel Messi
Updated: 20 February, 2013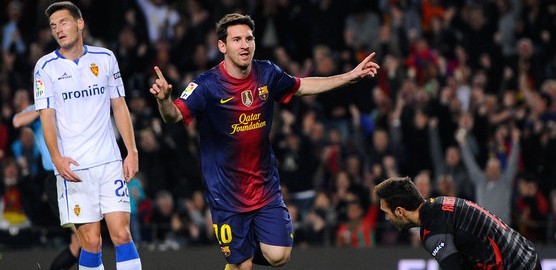 Barcelona crashed to a 2-0 defeat at the San Siro tonight in a game that has exposed their lack of ideas beyond divine inspiration from Lionel Messi.
More than ever, the Blaugrana are set up to provide the maximum space for Messi to exploit at the expense of their other forwards, but on the rare occasions when the Argentinean is unable to assert his dominance that tactic tends to come undone. In the league, they have largely managed to escape unscathed, but in Europe, their lack of a dynamic and complimentary front three leaves them looking stale when the opposition sets up to stifle them.
It's no coincidence that their most successful season ever featured a trident of strikers with a range of qualities. The excellent dribbling ability of Messi, the aerial threat and pace of Henry, and the brilliant finishing of Eto'o provided different ways to unlock opponents. In games where one wasn't quite up to scratch, another appeared. Henry's header to land an away goal against Lyon, for example, or Messi and Eto'o outshining the Frenchman in the Champions League final.
More recently, an in form Pedro and David Villa added varying tools to compliment Messi in the attack, with all three scoring against Manchester United at Wembley. Those tridents of old are painfully absent this season.
Alexis Sanchez, for all his desire to improve, is in horrible form. Pedro, intermittent, and Villa struggling between rejection and injury. Andres Iniesta, despite producing arguably his finest displays in a more advanced position to date, reduces Barcelona's control in the middle of the park through his absence, while Cristian Tello still lacks the decision-making of a top forward. Ultimately, when Messi fails, there is little else for the Blaugrana.
Perhaps the absence of Tito Vilanova is having some impact on Barcelona's stalling in recent weeks, but in truth, using two forwards with the goal of freeing Messi was his strategy in the first place. The good news is there may yet be time to remedy the issue, however.
David Villa was supposedly kept at the Camp Nou beyond the winter window because Barcelona believe he still has a role to play for the Catalans. Now is the time to test that theory. At his best, Villa provides a goal threat both inside and outside the box, the latter of which Barcelona lack desperately against sides willing to put eleven men behind the ball like Milan. On a more far-fetched note, the potential return of Eric Abidal could allow Jordi Alba to be pushed further up the pitch and use his sheer pace to get behind opposition defenders when required. In any case, tonight's defeat  coupled with a similar loss to Celtic proves that something needs to change.
Whether it was Guardiola's emergency use of Isaac Cuenca and Cristian Tello due to injury last season, or the brief usurping of  Zlatan Ibrahimovic by Bojan Krkic two years prior, Barcelona tend to fail in Europe when their hand is forced by a lack of competence in their starting eleven. The Champions League is by its very nature a tough nut to crack, and the Blaugrana won't be able to flatter to deceive all the way to Wembley. The theory that Vilanova's Barcelona really is as good as Guardiola's is about to be put to the test. Both he and Jordi Roura have much to ponder over the coming weeks.
Follow @icentrocampista