Same old La Liga?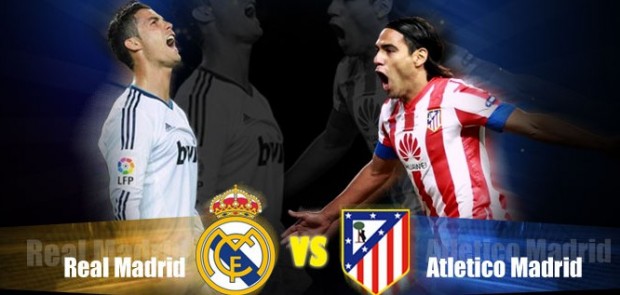 Last weekend Real Madrid picked up their 18th La Liga win of the season while their city rivals Atletico Madrid suffered their first defeat at home, this meant that for the first time since week five the colchoneros weren't in the second spot of the La Liga table.
And after finally claiming that place behind champions elects Barcelona, many expect that Jose Mourinho's side will not let it go.
Such is the duopoly that the rivals have over the division, it is actually a bit hard to remember when was the last time that Madrid and Barcelona didn't alternate the first two La Liga spots. In fact the last team to challenge that is now playing in Second Division – perhaps the price to pay for such audacity?
Villarreal finished the 2007/08 season 10 points ahead of Barcelona but in the last five years the big two haven't let anybody challenge their territory. The last time the Spanish football so another winner apart from the 'Culés' or the 'Madridistas' was the 2003/04 season when Valencia won the league with the same amount of wins that Barcelona have right now.
Even though we are looking straight to the eyes of another Barcelona and Madrid league, it is also true that Atlético have challenged that hegemony (and they still can "end" it by finishing second) and in many ways, this season hasn't been as two-side as the last few La Liga years.
For example, Real Madrid are 'only' 14 points away from fourth place Málaga while in the 2009/10 season Madrid finished 25 points ahead of third place Valencia and  33 points away from fourth place Sevilla.
In the 10/11 season the whites finished 21 points away from Valencia and 30 from Villarreal, third and fourth place respectively.
While last year Barcelona, who finished second, 30 points ahead of Valencia 33 points on top of fourth place Málaga. Last season the difference between the big two and the rest of La Liga teams was so high that third place Valencia finished 34 points ahead of last place Racing (who didn't pick up a win in the second half of the season) and 39 points away of first place Madrid.
In fact in the last three seasons Valencia, who always finished third, was basically as close to being relegated than to actually winning La Liga.
But this season not only in points there is a smaller gap between the big two and the rest of the league also in goals score there is a significant difference.
Last year only one La Liga team (apart from the big two) managed a goals scored minus goals conceded difference of +10 or more, third place Valencia with +15. Madrid would finish the year with a +89 and Barcelona with a +85, yes that is not a typo both team where 70 goals better than their nearest rival.
This year they are three more teams with a +10 differential. Atlético are in +24 just like Málaga +13 and Sociedad +11. The difference between first place Barcelona +55 and last place Deportivo -29 is only of 84 goals, not to bad considering that Madrid had a difference 74 goals last season with Valencia.
Atlético can also reach another historical figure in this fight to challenge the big two.
Currently in 18 wins Simeone's side are averaging a 25 game winning season. If they reach that figure it would be the first time that a non Barcelona nor Madrid Spanish team wins that amount of games in a 20 team's league format. Only Villarreal managed more than 21 victories, they got 24 precisely the last year that Barcelona finished away of the top two. With eleven games to go it remains to be seen how much can Atlético challenge the big two hegemony.
But for now, we can be happy that the league has changed just a bit.
Follow @icentrocampista