Are Rooney and Barcelona the perfect match?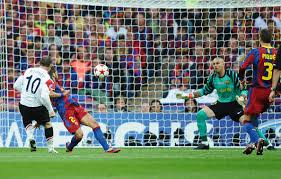 With speculation increasing that Wayne Rooney's future lies away from Old Trafford, the rumour mill of his next destination has been running into overdrive.
Money bags Paris Saint-Germain may be currently considered by the media as the most likely option, but the possibility of seeing the England front-man plying his trade in a Barcelona jersey next season is certainly a mouth-watering prospect.
If Rooney is to leave Old Trafford this summer, as it's rumoured he could well do, then it is conceivable that a host of Europe's finest clubs would be interested, the Catalan giants included.
Prior to the 2011 Champions League Final between United and Barcelona, Lionel Messi heaped praise on Rooney labelling him one of "the best of the best.". A sentiment echoed by soon to be Bayern Munich manager, Pep Guardiola as well as playmaker and heartbeat of the team, Xavi.
His stellar performance that night at Wembley, capped with a goal would have done little to change their minds.
Many may scoff at the idea of Rooney adjusting to the Tika-taka style of play, even insisting that he's not good enough for the team but if one of the Premier League's best players over the last decade can't get in to a team, then who can?
He may have had an injury plagued and mediocre season by his standards, but Rooney is still in his prime and a match for any defence in the world. Despite the quality in the Blaugrana side, they lack another player who can keep up with the majestic brand of football Messi produces week in, week out.
If the Argentine isn't scoring or playing particularly well, they sometimes stumble, even more so since the decline of David Villa and the inconsistent duo of Pedro and Alexis Sanchez. With Rooney there to take some of the burden off of Messi, they would be a far better team and possibly even more unbeatable at times.
So how would United's talisman fit in to the team? Imagine a front three of Messi, Rooney and Villa/Pedro rotating for 90 minutes. Rooney has the work rate of an ox, which would fit in perfectly with the high tempo of the Spanish's side's ability to press the ball for 90 minutes.
He would link up perfectly with midfielder Iniesta, Xavi and Sergio Busquets as it is in his nature to do so. Love him or loathe him, he, at times, is a technical genius.
In order to play in this current Barcelona team, one would need great technical ability, awareness, fitness, composure and a great footballing brain, all attributes that Rooney has in abundance.
He's arguably one of the worlds' greatest passers, is a clinical finisher, has a powerful engine and sees the game unlike many others. In short, Rooney is as complete a player as we've witnessed on these shores. He may have played back up to Robin Van Persie this season, but with 16 goals and 14 assists for the club has proved he still has plenty to offer.
With players like Xavi, Messi, Iniesta, Fabregas, Alba and Alves around him, Rooney could afford more time looking for goals as well. He has already scored a fantastic amount of goals, but I believe that in Spain he would increase his tally.
The Croxeth lad loves to play football in its purest form and you cannot get purer than Barcelona. If you reminisce on the early years of Rooney's partnership with Ronaldo, it isn't difficult to imagine him linking up with Lionel Messi to great effect, if not in a more effective way than he did with Ronaldo.
This may well be mere speculation without any truth, especially now that Guardiola has moved on. However, if there is any truth in it, then I'd love to see it happen. As a fan of football more than anything, it would be a great spectacle to witness Rooney's transition to legend in a Barcelona shirt.
Follow @icentrocampista