Can Casillas reclaim the number one spot?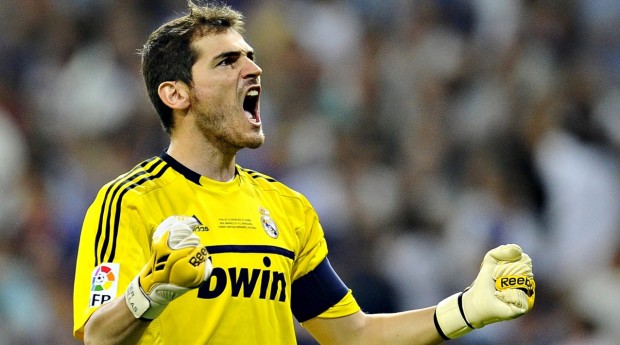 Real Madrid's Iker Casillas has endured a frustrating two months, having to watch on from the sidelines, due to a fractured metacarpal in his left hand. Perhaps even more frustrating for the Real Madrid and Spain captain is that the team have performed well in his absence.
Recent comments from Jose Mourinho will have done little to improve his mood either. The Chosen One was quoted as saying  that the veteran goalkeeper could find it hard to displace the impressive Diego Lopez, even when he returns to full fitness, and was left out of the squad to face Galatasary on Tuesday.
A return to the bench for Iker would of course be the first logical step as he builds up fitness by returning to full training after 12 weeks out injured, but it wouldn't be the first time that he has occupied the bench this season.
Before the winter break, Casillas found himself displaced by Antonio Adan, who started four matches between December and January.
Although  Adan's claim to be Los Blancos no.1 was short lived due to a red card against Real Sociedad, the message sent to Casillas was loud and clear.
Murmurs of a broken relationship between Mourinho and Casillas and a split between the Madrid squad were rife. Madrid were languishing in third place in the league andwith improvement obviously needed, with Casillas seemingly became the fall guy.
His impending hand injury meant that Madrid were forced to enter the transfer market and pulled off a shrewd coup by signing Diego Lopez from Sevilla. The former Villarreal man has been in exemplary form in La Liga and the Champions League, especially against Manchester United, making the €3.5 million price tag seem like a good piece of business.
With only a dozen matches left to play this season and the no.1 shirt very much in the hands of Diego Lopez, it is entirely plausible that a man capped 143 times by his country could be forced to play second fiddle for the remainder of this campaign.
Is it likely to be an issue that will see a man who has played some 650 games for Madrid forced out of the Santiago Bernabeu?
In all honestly, probably not.
A lot depends on the future of the Portuguese manager. Rumours swirl around his future destination on a daily basis. If, like many reports suggest, Mourinho decides his future lies elsewhere, then it is very likely that Casillas will be reinstated as no.1 and club captain. If however, he stays, then this could be a very uncomfortable summer for the Spanish captain.
There is the all too distinct possibility that a situation could arise similar to the departure of Los Merengues legend Raul, however at 31 years old; Casillas is still very much in his prime and it's pretty inconceivable that he would reject the challenge of winning his no.1 shirt back on merit.
On a personal level for the once capped Diego Lopez, if he can remain first choice for the rest of the season, culminating in appearances in the Copa Del Rey and Champions League final, his decision to leave Sevilla and Mourinho's to put his faith in him, will be vindicated.
There is still plenty of time for Casillas to work his way back into the team this term, and Lopez will know that the pressures of playing for a big club can be unrelenting. One mistake, one poor game, one suspension and he will be out of the side as quickly as he was instated.
Smart money would be on Iker Casillas regaining his place in the Madrid side over the coming months.
Either way, it has been a season to forget for the World Cup winner, with injury, poor form and off-field problems costing him almost a third of the season.
Top players sometimes need a stark reminder that nobody is irreplaceable, especially at one of the biggest clubs in the world – Casillas has had his.
Follow @icentrocampista