Zaragoza and their quest for a vital win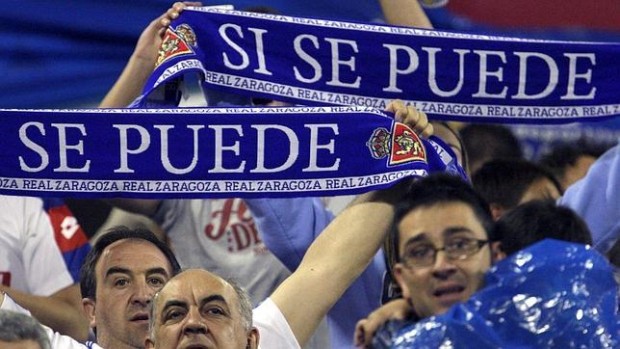 Zaragoza pulled the greatest escaped since Houdini last season avoiding relegation by winning their last four matches and seven of the last ten. However, this time around it seems that the 'Maños' are going in the opposite direction and as of yet, have failed to record a win this year.
Manager Manolo Jiménez – who is still in charge of this team thanks to his great miracle last year – has yet to guide his side to a victory in 2013, a span that stretches 12 matches, three full months of football, with a total of 105 days passing since the last time Zaragoza gained three points.
By the time they faced Deportivo on Saturday if they don't pick a win, Zaragoza would have gone half a season (19 games) with only two wins, six draws and eleven defeats, a record that is unlikely to keep them in the Primeria.
In the last 12 matches without a victory, Zaragoza have been so bad that they have only managed to be leading a game in three occasions for a combine of 106 minutes and only once they managed to go to halftime with the advantage on the scoreboard.
In that instance having been 2-1 against Valencia they sucummbed to a 69th minute equaliser for a 2-2 final score.
Zaragoza haven't been shown discipline in that span either and they have suffered five red cards between those 12 matches. Their defence, perhaps their biggest problem, has managed to pick only two clean sheets in that dozen of matches. Though, if their defence has been a problem their attacking hasn't shown any signs of relief, as they haven't moved the net in seven of those games.
Their main striker, Helder Postiga, has managed only two goals during that period and while he clearly struggles as does everyone else on the team, at least Postiga's goals were worthy of two points.
Roberto their skipper and goalkeeper has been dealing with injuries and started only eight of those 12 matches. Apoño, the only shine of hope in this team, has leaded the team in goals and assists in those games with two of each.
However, and despite their bad run, Zaragoza is still three points away from the relegation zone and facing Deportivo, Celta and Mallorca, (the three teams currently in relegation) they certainly control their destiny. Although, they way they are playing that's not necessary a good thing.
Deportivo have managed to win two in a row and playing at home and they will certainly challenge the maños this weekend.
By the time Zaragoza travels to Vigo on April 21st, Iago Aspas would be back for Celta and just before that Jiménez's side host the almighty Barcelona. Lose all three games, and it could signal the end for both coach and Zaragoza's survival chances.
And if all those three games aren't important enough, a week after playing Celta vigo,  Zaragoza face another six pointer when Mallorca come to town.
All in all if Zaragoza can't find the "W" in the alphabet they may have just as memorable meltdown as their recovery of last year.
Only time will tell.
Follow @icentrocampista