The curious case of Cesc; a talent underappreciated?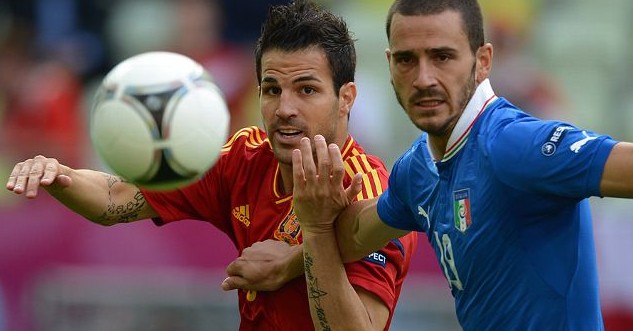 Cesc Fabregas was the most talked about midfielder in world football by the time he re-joined Barcelona in 2011. Dubbed the new Paul Scholes in England, the young Spaniard's dazzling creativity and eye for goal earned him a string of accolades in his eight years at Arsenal. Having now been with the Catalan giants for two seasons, the question on everyone's lips is 'where is Cesc of to next?' The prodigal talent has hardly done badly at the Nou Camp, but finds himself on the brink of a move once again, most likely back to the Premier League.
In an ideal world, Barcelona would have made Fabregas the most accomplished midfielder in the world today. His game is phenomenal all round and his technical ability should mean a perfect fit for the Tika-Taka style of play. However, there seems to be a sense that his time thus far under the Nou Camp lights has proved unfulfilled, regularly starting on the bench despite good performances. Whilst Xavi once mentioned that in Spain, perhaps Paul Scholes would have been appreciated more, it appears the opposite is true in Cesc's case. In England, he was marvelled at and labelled a genius; in Spain, he is seen as a potential replacement for Xavi or Andres Iniesta when they decide to call it a day. Perhaps it is merely a case of Lionel Messi, and that everyone at Barca is forever living in his shadow.
On the pitch, Fabregas has been as good as ever. This season, despite being a part-time starter in the team, he has managed 13 goals and 12 assists in 46 games, hardly a meagre return for a central midfielder. Last season, it was 15 goals and 20 assists in 48 games. His performances this season have often overshadowed Iniesta and Xavi, Song and Busquets but the young star still finds himself a non-guarantee. Perhaps in a team such as the recently-speculated Man United, Fabregas would be recognised as one of the world's finest players. His game at Barca may not be all about him, like it was at Arsenal, but his general play is still class the majority of the time. He still rarely wastes a ball, scores a good number of goals and creates. His link-up play with Lionel Messi at times has been phenomenal, but to little recognition.
The same sadly rings true in the Spanish national team. Despite playing a key role in both the 2010 World Cup and 2012 European Championships, Fabregas is often benched in favour of Xabi Alonso, and his three Barca team mates. Here is a player with a rare talent, one that the world of football should appreciate week in, week out. When Fabregas pulled on the red shirt of Arsenal, there was an expectancy every game. Similar to a primed Scholes, he had the ability to score or create goals at will; he still does have this. Maybe a proposed move to Man United, or indeed his beloved Arsenal, would be good for football and Cesc. Perhaps the player that mesmerised us so much at the Emirates will finally be free to express what he does so well, and better than most in the world.
The curious case of Cesc Fabregas looks set to continue and at just 26 years of age still, we could be in for a ride. Whether the next stop is a mouth-watering move to Old Trafford or another year at Barcelona, it should be an entertaining one. I just hope that when he calls it a day in the future, we aren't haunted by visions of what could, and should, have been.
Follow @icentrocampista