Sorry Moyes, but Barca can't sell Cesc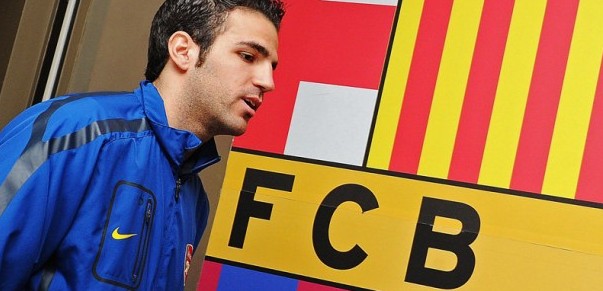 New Manchester United manager David Moyes is seemingly, a man on a mission. Not only has his tenure at one of the biggest clubs in the world been marred by the Wayne Rooney scandal, but nervousness is now starting to creep in with United supporters about a lack of transfer activity at Old Trafford.
After watching Thiago say 'Adios' to Spain to reunite with former boss Pep Guardiola, a degree of urgency can now be seen emanating from Ed Woodward and David Moyes.
Watching Thiago opt for Bayern Munich after months of negotiations would have hurt Moyes and Manchester United, but it appears to have sparked them in to life, with two bids for former Gunners captain Cesc Fabregas already lodged. Despite rumoured moves for Cristiano Ronaldo and Gareth Bale being touted, Cesc appears to be their number one target.
Speaking on their pre season tour in Sydney and Japan, David Moyes confirmed that the interest in signing the former Arsenal man was real. United's manager was unable to confirm how close, or indeed how far, they are from completing any potential deal, but he did confirm that the executive vice chairman Ed Woodward was working on the transfer.
Signing the Spain international is a no brainer for the Red Devils. For several seasons now, it has been the opinion of many that central midfield is an area that has needed strengthening. Despite Michael Carrick's impressive season last year, the second retirement of Paul Scholes, the inconsistency of Anderson and Darren Fletcher's illness have done nothing to alter that perception.
Fabregas, on the other hand, has a difficult decision to make. A first team regular for years at Arsenal, Cesc has enjoyed only small spells as a regular starter at CampNou. He has never fully integrated himself in the way everyone expected when he returned to the club he called home from North London.
Barcelona, however, have a simple decision to make. They simply cannot allow the World and European cup winner to leave. Had they not made a grave error in not renewing Thiago's contract then their viewpoint may have been different. But alas, the mistake has been made and Pep has swooped in and stolen the promising midfielder for a steal at £17m.
"The Player will be staying with Barcelona. The club will not sit down to negotiate his sale with anyone." Was the stance from Vice President of the club, Josep Maria Bartomeu when in receipt of United's reported £25m offer.
Now, however, all has changed. After several stable years of worldwide adulation, cracks have begun to surface at Barca. Criticism from Guardiola about how he was treated by the club during his year off have put Sandro Rosell under increasing pressure, add to the mix Tito stepping down and the club are as close to a 'crisis' as they have been for some years.
Thiago's cheap departure wasn't in Barcelona's plans – he was widely considered as the player to fill Xavi Hernandez's boots – and it now means that Fabregas is indispensible. This has seriously harmed Rosell's popularity amongst supporters, turning the clubs stance on Cesc in to a political one. It is believed that the Catalan giants would have considered bids for the 26-year old for the right fee had Thiago stayed.
With Thiago gone, Xavi beginning to slow down and Sergi Roberto too inexperienced, the former Arsenal star's importance, even if he isn't a regular starter, is at an all time high. Barca simply cannot allow themselves to weaken further.
Barca and Rosell must keep to the stance that Fabregas is not for sale, not even for the £30m plus add ons that Manchester United are believed to have offered second time around. On the pitch, Fabregas is a quality player who is more than capable of taking over the mantle left by Xavi Hernandez, when he decides to retire.
Off the pitch, Rosell simply cannot left another graduate from La Masia depart for pastures new this summer, for his own (and  maybe the club's) future, appears in the balance.
Follow @icentrocampista