Loan Raiders – Suso and Deulofeu make an impression
Updated: 2 December, 2013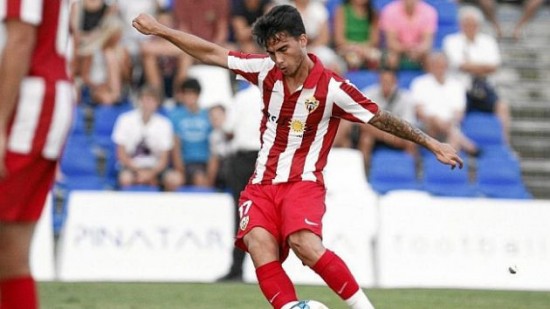 After getting fined last week by UD Almeria for sleeping in after watching 'The Voice' and subsequently arriving late for training, it is fair to say that Suso has endured an eventful couple of weeks at the Estadio Mediterráneos.
And while it is to be debated which is actually worse, the fact he watched 'The Voice' or indeed the programming of his alarm clock, there can be no doubt that his goal for Almeria yesterday was as big an apology that the Andalucía club could have wanted.
In a season of relative woe for UD Almeria, the on loan Liverpool player has cast a sole ray of light onto their battle to remain in the division.
With five assists to his name already, the assessment given by Liverpool boss Brandon Rodgers that "Suso makes thing happen" could not be ringing more true.
And while Rodgers was initially sceptical about sending the Spanish U21 out on loan, the decision to send Suso to UD Almeria could be a mutually beneficial one for both club and player.
With a clause in the loan contract which states that Suso must play more than 70% of games for Almeria, or they have to pay Liverpool a fee, it is almost guaranteed that the attacking midfielder will get vital playing time.
Sitting on an Anfield bench week in week out would do little for Suso's development, but on the southern coast of Spain he is presented with an opportunity to both showcase his talents and grow in equal measure.
Even the most partisan Almeria fan would have been in little doubt that their side would be in a relegation scrap this year, but the old adage that tough situations develop tough people should stand Suso in good stead when he heads back to the Premier League.
And although the revamp of Elite Development Squads has seen under twenty one football in England almost begrudgingly steered  back onto the right tracks, there can be little comparison as to which is more beneficial for a player.
While a loss for a Liverpool EDS side gets brushed aside, relegation to the Segunda for the team with the smallest budget in La Liga could be terminal.
Across Stanley Park, another 'loanee' in Gerard Deulofeu is finally starting to make an impression at Everton.
The nineteen year old, who is on loan from Barcelona, added an abundance of flair to Everton as he played a starring role in their thrashing of Stoke City on Saturday.
By his own admission it has taken a while for Deulofeu to get up to speed with the physicality in the Premier League but with a hand in three of his sides four goals, it is safe to assume that something is starting to click.
Boss Roberto Martinez said: "I hope Barcelona don't want Gerard back. He is one of the most talented young footballers in Spanish football. A unique talent"
"I was a big admirer of Gerard when he made his debut for Barcelona at 16. He's an old fashioned type of player who enjoys taking people on. His quality is sublime but the best is yet to come."
And while it is a given that Barcelona will eventually come knocking for their starlet back at some point, the more experience he is able to get at Everton can only bode well for the player.
His Barcelona teammates may have covered themselves head to toe to combat Bilbao's winter at the weekend, but if Deulofeu  can play on a cold November afternoon against Stoke City, then trips to northern Spain should present little problem.
After promising starts to their loan moves for both young Spaniards, all eyes on Merseyside will be paying close attention to what both Suso and Deulofeu can deliver between now and the rest of the season.
If Deulofeu can help Everton secure European football for next season and Suso can keep UD Almeria in La Liga, then both will be equally happy.
Follow @icentrocampista