Simeone's Atletico: The 'Pupas' playing with a knife between their teeth
Updated: 5 December, 2013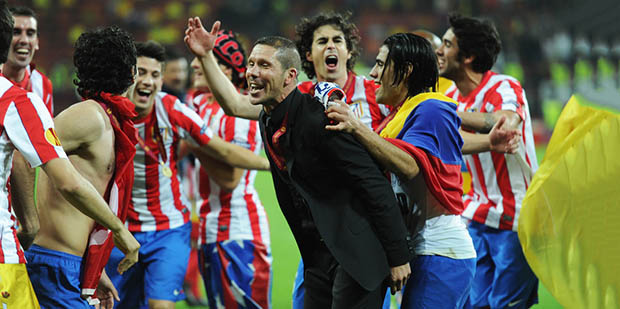 During his playing days at the Vincente Calderon, Diego Simeone described his La Liga-winning style as "a man playing with a knife between his teeth". Since returning to the Spanish capital as a manager, the Argentine has worked tirelessly to create a team in his image and break the monotonous duopoly of Spanish football.
With Atletico Madrid boasting their greatest ever start to a league campaign, could this be the season when one man's efforts to change the fortunes of an entire football club are rewarded with La Liga glory?
As perennial underachievers, Los Rojiblancos were dubbed "El Pupas" (Spanish slang for unlucky) before Diego Simeone replaced Gregorio Manzano as Head Coach on 23 December 2011. At the time, the third biggest club in Spain were 10th in La Liga, four points off the relegation zone and with the Frente Atletico ultras still seething at the sale of sharpshooters Sergio Aguero and Diego Forlan.
Not one to rely on big name individuals, Simeone entered the Vicente Calderon with a siege mentality that would unite the squad and return the club to the working-class values of its fans. 'The Mister', as he is known to his players, had made his agenda clear: Atletico Madrid were to become "an aggressive, strong, combative and determined team."
Simeone's demands have been welcomed by the Atletico players, such as the all-action Arda Turan, man-mountain Diego Costa and passionate Madrilenos Koke and Gabi, who achieve success through high-pressure football that counters the tiki-taka philosophy traditionally adopted in Spain. Direct and effective, Atleti's unconventional style has won five trophies since 2009.
After lifting the 2013 Copa Del Rey inside the Santiago Bernabeu, defiant skipper Gabi declared: "We are not Pupas anymore. We are winners." Brazilian full-back Felipe Luiz adds: "He (Simeone) has changed the mentality at Atletico. We've become winners again."
Simeone himself was more pragmatic when speaking after the historical victory: "Barcelona are better than us. Real Madrid are better than us. Their economic strength puts them out of reach. In one game we can try and match them, but not over a league season."
At first, only the staunchest Atleti fans dared to disagree, but now fans and journalists alike are refusing to buy into Simeone's claims as he continues to play down his team's chances of championship glory. At the start of the season, Atletico Madrid were 66/1 to win La Liga. Odds have since been slashed to 14/1. Evidently, Simeone's troops aren't the only ones who believe Los Rojiblancos are now winners.
There are other figures that make for impressive reading when analysing the Madrid outfit. Clearly building on a solid defensive foundation, Simeone's men have conceded the joint fewest goals in La Liga this season, with stopper Thibaut Courtois picking the ball out of his net just nine times this term. They also boast a league low in shots against, conceding an average of just 9.2 shots per game, and are La Liga's most frequent tacklers, with an average of 26 tackles per game.
Despite publicly berating his team's credentials as La Liga contenders, Simeone will be immensely proud to see his players "capture the football with which I am most identified: practical, committed, simple, talented and from a collective effort."
Not content with just winning, 'The Mister' has insisted his team display "a desire to play classy football" this season. His men have responded with aplomb, outscoring their rivals from across the city thanks to mouth-watering performances from front-man Diego Costa, who now has 15 goals in 15 appearances in La Liga.  In midfield, Los Rojiblancos are able to counter-attack quickly through the fluidity of Tiago and creativity of Koke, whose recent performances have had him dubbed "the new Xavi".
Whether Simeone's revolution can maintain a title charge beyond the New Year remains to be seen. With Atleti also flying in the Champions League, there are doubts as to whether they can compete on all fronts. Furthermore, as is always the case in Spanish football, there is the unavoidable issue of money.  Whilst Real Madrid and Barcelona were the only clubs in world football to generate over €450m in revenue in 2012, Atletico generated a mere €120m. This imbalance is largely down to the distribution of TV money in Spain. The big two pocket €140m a season for TV rights to show their games around the world. Atletico Madrid and Valencia are the next biggest earners, yet they only receive €42m in comparison.
Therefore, when Real Madrid are spending the opening weeks of 2014 flirting with Luis Suarez or Sergio Aguero, Atletico will be focusing their attention on keeping their star assets out of the clutches of Europe's elite.
Should Simeone keep his squad intact between now and February, his 'Pupas' may just go on to achieve the unthinkable.
Follow @icentrocampista