Barca and Atletico's stalemate in Madrid
Updated: 12 January, 2014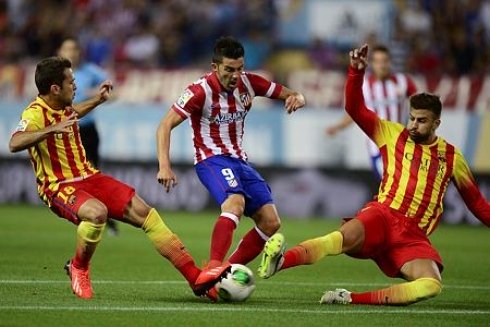 The eagerly anticipated clash between Atletico & Barcelona last night, ended in stalemate as the contrasting styles of both sides failed to produce a goal.
On a night where clear chances were at a premium, the possibility of losing ground on their rival seemed to play a significant part in the way both sides defended; as if their La Liga lives depended on it.
Atletico in particular have an approach under Simeone that demands maximum effort, even in situations where it is so often accepted that a token gesture is satisfactory. How often do we see a forward half-heartedly close down a goalkeeper in possession? Not under Simeone. Villa and Raul Garcia threw themselves into challenges to prevent Alba and Alves playing the ball out from full-back. Gabi and Tiago were tigerish and unrelenting in the centre, and their backline became an impenetrable wall. A credit to Atletico's endeavour.
Both sides came into the game at Vicente Calderón level at the top of La Liga on 49 points after stellar starts to the 2013/14 season. Atletico had a 100% winning record from their 9 home games, but this would be their greatest test.
Barcelona began the game with both Messi and Neymar named as substitutes, with Messi in particular a figure of intrigue, likely that he was rested after his goal scoring return from injury in midweek.
After a frantic opening spell, Barcelona began to dominate possession, with Pique stepping in as an extra man in midfield. The interminable Barca style of patiently probing and circulating the ball began to take effect.
Atletico countered this by dropping into a condensed 4-4-2 at first, allowing Barcelona possession in the central 3rd but pressing hard when balls were attempted between the lines.
Barcelona found it difficult to penetrate this approach, and with Iniesta hassled at every opportunity Barcelona failed to test Courtois significantly in the first period. For the majority of the half Barcelona's creativity was stifled, but a warning was sounded when Iniesta created space on the left to cross dangerously towards Pedro, who was unable to rise high enough to direct his header on target.
Atletico grew in confidence towards the half-hour mark, with the best chance of the half falling to Diego Costa who slid wide at the back post under pressure from Mascherano. Costa looked strong and formidable in possession but was struggling to produce an end product.
The start of the second half signalled the arrival of 3 time Balon D'Or winner Messi for the battle-scarred Iniesta, and his first piece of action was a smart turn and drive into the box, where an accidental collision with Costa caused him significant pain and dulled his involvement for much of the second period.
Barcelona continued to dominate possession through the early stages of the half, pressing in numbers to retrieve the ball quickly and regain their shape and composure, but it was Ateltico who –
spurred on by an electric Vicente Calderón – created the first big opening of the second half on 58 minutes as gabi won possession for the superb Turan to drive forward at the Barcelona defence, sliding the ball into the path of Costa who shot across goal under pressure but could not find the target.
Only a minute later Costa again found himself in possession in the box but was crowded out by a combination of Mascherano and Pique; the latter struggling with Costa's movement off the ball, but recovering well on both occasions to get a vital touch away from goal.
Neymar was then introduced on 66 minutes and Barcelona found rhythm with both Neymar and Messi drifting into central areas; however Simeone quickly countered with Villa dropping deeper into midfield and Turan and Koke tucking in to condense play.
The game was proving to be a great deal more exciting than the scoreline suggested as two big chances fell on 78 minutes. Firstly, Turan after a knock down from the recently introduced Raul Garcia, fired wastefully straight at Valdes from 12 yards, and then almost immediately at the other end Messi, slaloming his way into the box finally forced a good save from Courtois low to his left.
These chances would prove to be the final significant action of the game; and although the tempo remained high, both teams seemingly accepted that the implications for a loss to one another were substantially greater than allowing their common rivals Real to recover ground.
Follow @icentrocampista