Player profile : Nacho Monreal
Updated: 21 February, 2014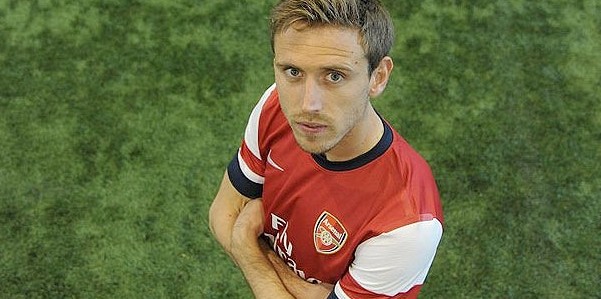 In the first of our Player Profiles, Honor Cantrell takes a look at the career of Arsenal full back Nacho Monreal.
Name: Ignacio Monreal Eraso
Date of birth: 26 February, 1986, 27 years old
Place of birth: Pamplona, Spain
Height: 1,79 
Nationality: Spanish 
Position: left back, defender
Foot: Left footed
Agent: Bahia Interncional 
Clubs (current and previous): CA Osasuna 2005, Signed to Malaga 2011, Arsenal 2013 
Current contract ends: 30 June, 2017 
Monreal was brought up through the youth ranks his homeclub CA Osasuna and after graduating through the youth ranks, made 127 appearances for the Basque side,  helping the team reach the Europa League Semi-finals in the 2006-07 season. Impressive performances in all competitions, concluded in Monreal gaining recognition from wife and a far.
After a successful career at CA Osasuna, Monreal signed a 5 year contract with the La liga side Malaga on the 10th June 2011 for an estimated £6,000,000. Monreal spent his first year at Malaga battling for a first team position, which he rarely achieved, although the team that year ending up 4th and qualifying for the Champions League. Monreal managed to grab his first goal for the La Liga side on the 27th January, 2013 and it was a decisive one as Malaga won 3-2 against RCD Mallorca. 
Monreal had his first bite of English football on the final day of the 2012-13 winter transfer window, when he signed a long-term contract with the Premier League side Arsenal F.C. for an estimated £8,300,000.
Upon signing for the Gunners, Monreal revealed his motives for his move to North London:
 "Arsenal like to keep the ball, which is beneficial for me and I like this part of the team's game. I love playing with the ball at my feet, short, sharp touches, and good movement. I think Arsenal do have certain elements of Spanish football philosophy. The Spanish people know that there are players of great quality in this team and I hope we can play good football."
Monreal's debut for Arsenal F.C. was on the 16th March 2013 against a strong Stoke City side, with a nail-biting 1-0 win. He managed to score his first goal for the Gunners on the 16th March 2013 with it being the first of two goals against Swansea. 
International career:
Monreal's first call for an international appearance came in 2007 for Spain u21's, and he impressed enough to start all games in the Europa Champions two years later. The left-backs first major appearance came on the 6th August, 2009 after being selected for the senior side for an exhibition game played against Macedonia, and then progressed further by being selected for Spain's 2010 World Cup squad.While Monreal   often is second choice to Barcelona star Jordi Alba, he has proved to be  dependable member of Vicente del Bosque's side when called upon.  He participated in Spain's 2013 Confederations Cup campaign, where La Roja were defeated by Brazil 3-0 in the final.
For more information on why Monreal has been a shrewd buy from Arsene Wenger, check out our article from last February.
http://www.centrocampista.com/2013/02/arsenals-latest-spanish-investment-could-pay-dividend-for-shrewd-wenger/
Follow @icentrocampista