Jese Rodriquez – The Home Grown Galactico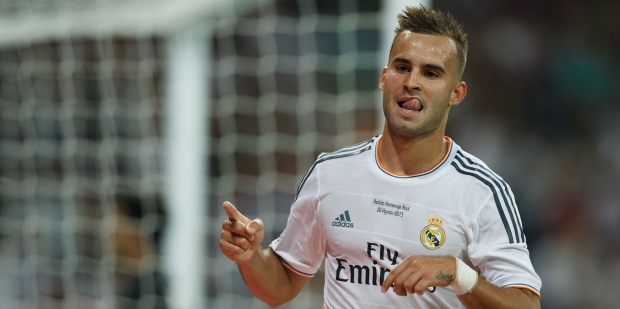 What do Diego Maradona, Luis Figo, Davor Suker, Xavi Hernandez and Lionel Messi all have in common? Their illustrious careers all started with dazzling performances at their respective FIFA Under 20 World Cup.
Add to that list one Jese Rodriguez Ruiz.
In the summer of 2012, 'Jese' bagged five goals and the Golden Boot at a tournament where Spain were crowned champions for an unprecedented sixth time.
Without wanting to blow our own trumpet – we're blushing, honest – El Centrocampista did warn you of his potential back in 2012, and eighteen months on since our prediction, we look at Jese's progress into Los Blanco's first team and why this star is destined to return from a career-threatening knee injury to answer the Bernabeu's prayers for a home-grown Galactico.
On 6 June 2012, Jese set a Real Madrid Castilla – Madrid's B team – record when he netted his 21st goal of the season, scoring more in a single campaign than any previous Los Blanco's graduate before him.
The talent was there for all to see and Coach Alberto Toril proclaimed: "Jese is going to explode very soon. The day is coming when all the Bernabeu will stand to applaud him. When he is 25 or 26, he will be one of the best players in the world."
It is a sentiment that Jese himself has reiterated, telling Madrid daily Marca: "It is my dream to win the Ballon d'Or within the next four years."
Yet the journey and subsequent emergence of the Canary Island born player was not one without challenges and a brief period of discontent. Convinced his form warranted a first-team call up from Jose Mourinho, the 21-year-old sought advice from club legend and presidential advisor Zinedine Zidane.
After in-house discussions with the outspoken youngster, Zidane informed Club President Florentino Perez that Real Madrid must not let Jese go and that the striker had earned his shot at glory.
Where predecessor Jose Mourinho failed to bow to Perez's demands, Carlo Ancelotti put his faith in Jese and has been reaped the dividends for doing so.
"He has given us a lot this season, especially when Cristiano has not been available." Ancelotti said.
Given freedom and flexibility as part of Ancelotti's 4-3-3 formation, Jese has scored eight goals and contributed four assists in all competitions this season, with the majority of them coming at key moments in games. In the closest title race in decades, his five league goals may prove to be crucial.
He has proved vital in filling in for the world's best in Cristiano Ronaldo and Gareth Bale, whilst his progression throughout the club's youth system have had Jese, perhaps prematurely, dubbed 'The new Raul'.
And while at the moment Jese may be regarded as backup to Ronaldo, there have also been comparisons between the two, a topic of discussion that Jese relishes being part of.
"I have liked a lot of players; the Brazilian Ronaldo, Ronaldinho, but my favourite is Cristiano Ronaldo. I like being compared to him. I love his drive. He never gets tired of scoring goals. He always wants more."
However, like Ronaldo, the 21-year-old's game is reliant on his pace and therefore susceptible to injury, and two minutes into Real's Champions League knockout tie against Schalke disaster struck. In the process of being bundled to the Bernabeu turf by Sead Kolasinac, Jese tore the anterior cruciate ligament in his right knee.
The following day's newspaper inches read like an obituary. To many, his career was over.
"This is a very sad story for the team" said Ronaldo.
Yet there is no reason why this story should have an unhappy ending.
Jese has four years left on his Real Madrid contract and, in Carlo Ancelotti, has an understanding manager who suffered a similar setback at the start of his own playing career.
Furthermore, Jese performances this season indicate that if indeed he can recover, then he could be destined for greatness.
At 21, he has already scored at the Bernabeu, the Nou Camp and the Mestalla and has found the back of the net against worthy competitors in Villarreal, Athletic Bilbao and the old enemy, Atletico Madrid.
Perhaps it is this natural ability to score crucial goals in the big games that sets Jese apart from his teammates whilst at La Fabricia, and is what will make this young Spaniard unmissable in 2014-15.
Follow @icentrocampista