"We're from Ipurua!" Diligence, humility and pride pay off as Eibar rise to La Liga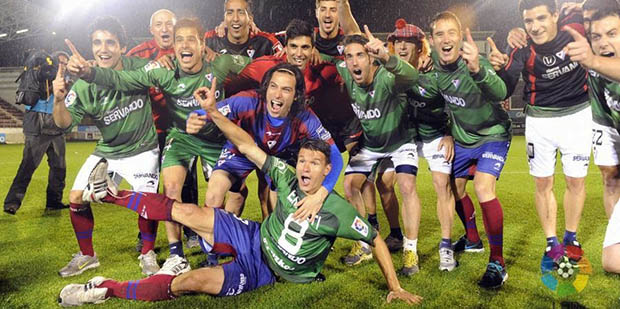 Just about 24 hours, and 500 miles, removed from the biggest game in European club football, a Basque derby kicked off between S.D. Eibar and Deportivo Alavés in the 5,500 capacity Ipurua stadium, resulting in the former earning the chance to rub shoulders with the finalists Real, and Atlético, Madrid.
By the time kick off arrived the Eibar fans already knew that one of the two teams capable of catching them in the race for automatic playoff had slipped up and needed a favourable result in both the aforementioned derby, and the fixture between Las Palmas and Recreativo.
In a first half in which chances were few and far between, neither team looked like taking the initiative and those in the stands became increasingly nervous. Fast forward to the hour mark of the game, when a ball launched into the Alavés half was headed on by Ander Capa into the path of Jota Peleteiro. What followed was a well-hit effort by the Galician which was bundled nicely into the bottom right-hand corner of the goal to prompt wild celebrations throughout the stadium.
Once the goal went in los armeros seemed to falter, inviting Alavés pressure and increased heart rates in the Ipurua faithful. Goalkeeper Xabi Irureta stepped up to the rescue, making some vital saves to keep his side in the lead. Once centre half Raul Navas was giving his marching orders with seven minutes remaining for a second yellow card, matters became even more tense. However, Eibar saw out those remaining seven minutes and four more of added time to, thanks to a 2-1 victory by Numancia over league leaders Deportivo, fight their way to the top of the table.
Meanwhile in the Canary Islands, Las Palmas had stormed into a lead after just two minutes, and before the hour mark los amarillos had doubled their lead. It seemed promotion for Eibar would have to wait at least one more week.
A group of Eibar's core fans, who name themselves Scotland the Brave, remained in Ipurua to find out the Las Palmas result the old fashioned way – via radio or with a modern twist – live score mobile apps, while others flocked to various bars in the city to find a TV showing it. On the hour mark Recreativo pulled one back through an own goal, and six minutes later levelled the game. Promotion was closer. In the 82nd minute, at approximately 10.40pm local time, Recreativo had done it. They bagged a third goal to complete a staggering comeback and Eibar erupted with ecstasy. Around 10 minutes later Eibar was officially a La Liga club and those who left Ipurua at the final whistle returned to celebrate with players and fellow fans alike. The town turned itself into one big celebration.
However, the story doesn't end there. Sociedad Deportiva Eibar, a team that represents a town with roughly 28,000 inhabitants, could be relegated to Segunda B, despite earning an automatic playoff spot from Segunda A. This is because the club is obliged by law to raise its capital to match a percentage of the average capital of the other clubs. The club, although it doesn't have a single cent or penny of debt, only has a capital of €422,253 (£341,521) and by law must have a capital of €2,146,525 (£1,741,029). Therefore the club is forced to raise €1,724,272 (£1,396,180) by selling shares to companies, fans and anybody else who wishes to support the club.
If this total isn't achieved by August 6, the club will be demoted from its rightful place in La Liga to the third tier of Spanish football, Segunda B. At the time of writing, with 71 days until the deadline Eibar has achieved 43 percent of its goal, equating to €750,100.
The club, through its President Alex Aranzabal, has also put a regulation in place that nobody can purchase more than €100,000 in shares so as to avoid, in the club's words, someone who doesn't have the club's best interests at heart owning a part of the club.
Those interested in buying shares can go to www.defiendealeibar.com. A single share costs €50 (roughly £40).
by Mark Wynne.
Follow @icentrocampista