DOWN BY THE RIVER – Atlético Madrid and their quest for goals
Updated: 27 October, 2011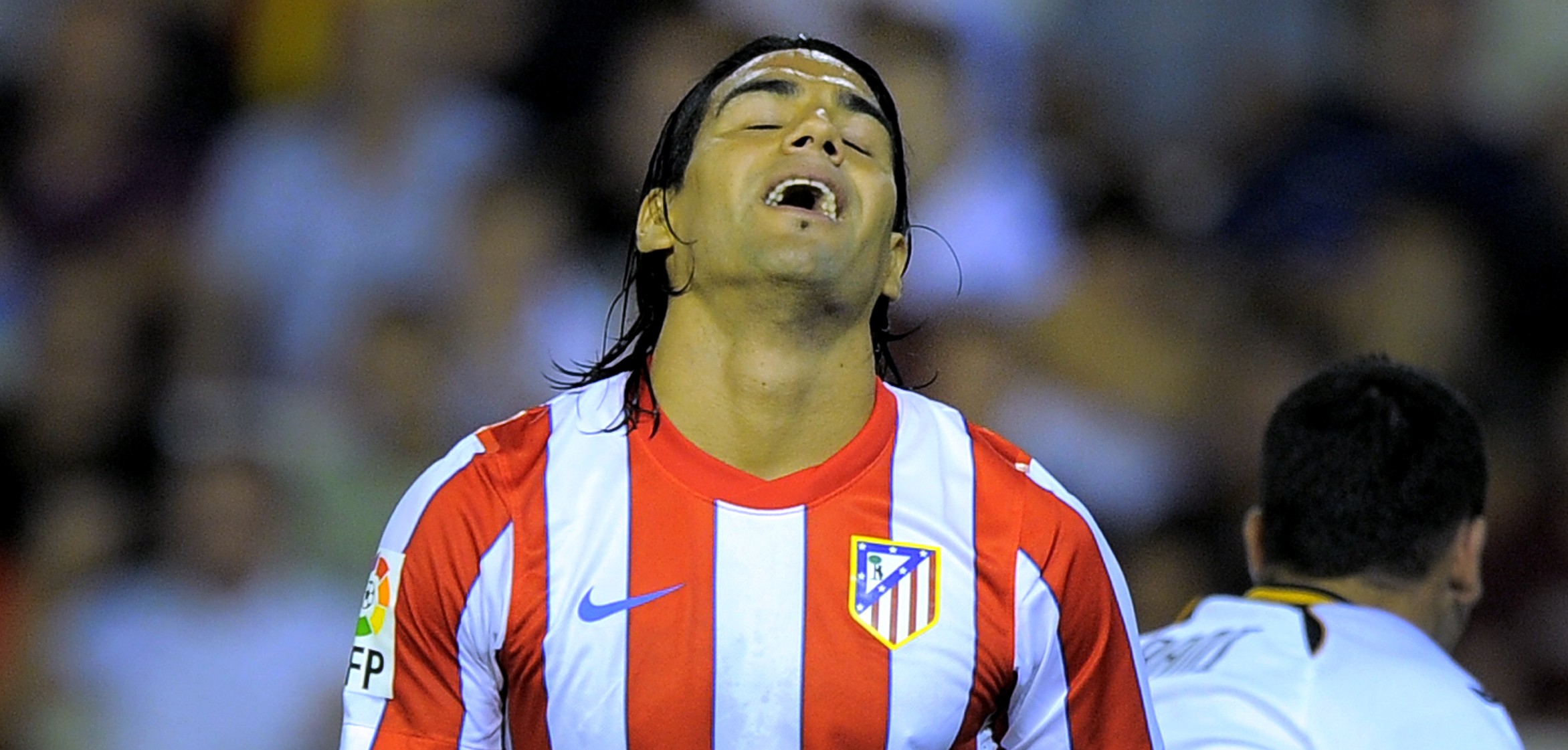 By Olly Dawes
Atletico Madrid are a club based on the banks of Manzanares River that passes through the heart of Madrid, the water flowing for for around 52 miles as it enters the Jarama River.
But at the Estadio Vicente Calderon, one thing that certainly is not flowing is goals.
It probably isn't much of a surprise that profligacy has risen at Atleti as star duo Sergio Aguero and Diego Forlan have departed for Manchester City and Inter Milan respectively. But considering they made a huge outlay of around £35m on Colombian hitman Falcao, maybe we should be seeing him banging the goals in left, right and centre after his incredible exploits for Porto.
But the thing is, Falcao is kind of doing his job. His record stands at six goals in six games. Not bad. But the problem is that five of those came in two games against relatively poor sides in Gijon and Racing Santander.
Their results are as follows;
Atletico 0-0 Osasuna, Valencia 1-0 Atletico, Atletico 4-0 Sporting, Atletico 4-0 Santander,  Barcelona 5-0 Atletico, Atletico 0-0 Sevilla, Granada 0-0 Atletico, Atletico 1-1 Mallorca.
That's a total of three no-score draws aswell as two other games where Atleti have failed to hit the back of the net.
This barren run of form has piled a huge amount of pressure on manager Gregorio Manzano, as some Madrid press suggest that ex-Real Madrid coach Bernd Schuster is being lined up to replace Manzano if results continue to disappoint.
Manzano tried to put a positive spin on the 1-1 draw with Mallorca by saying that the goal drought was over. Unfortunately, that only came because Falcao converted a penalty. And this was against a very beleaguered Mallorca side.
It's not unusual for a Manzano team to play this way however.
Tactically, Manzano has played with a general lack of creativity in the middle of the park. It does seem to switch a huge amount of emphasis onto getting the ball wide and utilising wingers.
It's what he did at Sevilla with Navas and Capel/Perotti, and he has Arda Turan and Jose Antonio Reyes at his disposal for Atleti.
But a common trait of wingers is that they're very inconsistent. Turan and Reyes certainly fit into this category. If you can't supply Falcao with the ammunition, he simply isn't going to score unless it's like weekend, and they manage to get a penalty.
A tactical anomaly from Manzano is the deployment of a 'Trequartista' in Diego Ribas da Cunha, or Diego to you and I. He's a very technically gifted Brazilian playmaker who has started decently in La Liga for Atleti, but unable to score or create many chances.
His tactical decisions were somewhat perplexing at times at the weekend. This may just be me, but why any team hoping to get into the Top four would start a striker like Adrian is beyond me. Let me run through this guy's record.
Four goals in 30 games for Real Oviedo. 13 in 92 for Deportivo la Coruña. Three in 10 for Alaves. Three in 28 for Malaga.
He's one of the main reasons Deportivo went down last season, he is far too wasteful in front of goal. Yet on the back of a decent Euro U21 championships, Adrian finds himself playing for Atleti. Wasting chances. Again.
To leave Reyes on the bench in favour of Adrian is purely remarkable in my opinion. Yes Reyes is a hot and cold player, but he offers infinitely more than Adrian.
Turan has had injury problems so they have certainly missed his creative talent on the wing, but he returned to face Mallorca and there was still the lack of penetration from Atletico.
It certainly seems that they are pinning far too much expectation on Falcao – other players like Reyes, Turan, Diego and possibly even Adrian need to rapidly take the weight off Falcao's shoulders.
If not, Gregorio Manzano could find he's staring down a very long barrel.
Follow @icentrocampista