THE CANALES CURSE – Why does Sergio have so much bad luck?
Updated: 26 October, 2011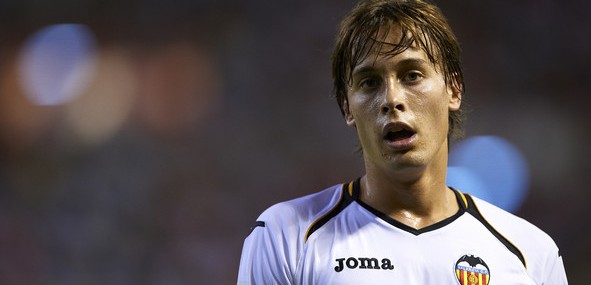 By Archie Buck
The phrase "you make your own luck" tends to ring true in most circumstances.
If you put enough hard work and enthusiasm into something, then more often that not, good things seem to happen.
The phrase however, doesn't always ring true.  And especially not in football.
As Sergio Canales lay on the turf at the Mestalla on Sunday it was hard not to feel sympathy for him. It is tough to see any player injured, but you could tell this one was a bad one.
The news has not got any better; this was not a strain or a pull, Canales will miss the next six months with torn knee ligaments.
Yet again it looks like the boy from Santander will spend the majority of a La Liga season watching from the sidelines.
It comes at one of the worst possible times for the Spaniard. He has found a new, albeit currently temporary, home at Valencia and has been showing some of the class that saw him move to Real Madrid in 2010.
Canales came to the fore playing as a squad member of his home club Racing Santander in 2009. His blond hair and baby face make him instantly recognisable, but it was for his football that he really stood out.
As the season went on his first team appearances became more and more frequent as he became a regular starter. In the end he played in 26 league games that season as he helped the club steer narrowly clear of relegation.
Naturally clubs were interested and it was Real Madrid who came in for him. In February of his breakthrough season it was announced that he would be joining Madrid.
However there were big changes over the summer in the capital, mainly of course the arrival of "the special one". Mourinho did not see much in the Spaniard and he hardly featured at all for the club.
After being overlooked for nearly a year under Jose Mourinho, he really had begun impose himself on the Valencia team, playing a part in all 8of their league fixtures.
He has looked very much the real deal, composed on the ball and showing the flair and guile we have come to expect from Spanish Youth players.
At just 20-years-old Canales will recover. However  six months out will lessen interest in him. There could be permanent damage; the knee is a very delicate and intricate joint.
As his parent club, it is more than likely that he will be treated at Real Madrid, only returning to Valencia later on in his recovery but that is yet to be decided.
He will return to Valencia one day, whether it's a short-term stay or not is undecided. Los Che have the option to buy him, and until this injury it looked like they would probably be going ahead with that.
He is sparkling talent and the league will be worse off for his absence.
Too many players see careers cut short or hampered by injury, let's hope the midfielder is not one of them.
If any player deserves a slice of good fortune, then there can be no doubt that Sergio Canales does.
Follow @icentrocampista