GUNNING FOR GUARDIOLA – Pep comes under the spotlight
Updated: 26 October, 2011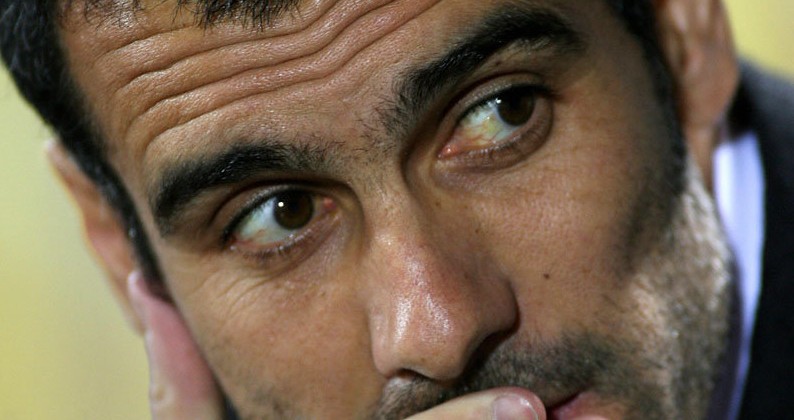 By Richard Thorburn
Widely lauded as 'the greatest team ever constructed' Barcelona are currently enjoying a dominance on both the domestic and European front that holds no bounds.
Sweeping up all that lies before them, their assault on anything that dares to offer any sort of resistance is both magical and ruthless in equal measure.
And in charge of this dazzling operation is Pep Guardiola, a man whom has already overseen the collection of a staggering twelve trophies in only a three year period.
The youngest ever Champions League winning manager and Barcelona's most successful ever coach, it is fair to say Guardiola is hot property in the football world.
With everything he touches turning to gold – or silver to be exact – his stature in the game is growing with every kick of the ball.
Surely no-one can question his management. Can they?
Well actually yes.
While on the outside everything may look rosy – or more accurately claret and blue – on the inside trouble has been brewing with former players recently questioning Guardiola's man management style.
Following in Bojan's footsteps, Manchester City's Yaya Toure is the latest player to raise concerns as to how he was treated by the management team during his time at the Nou Camp.
Toure claims that communication between the players and Guardiola was virtually none existent
"I wanted to stay at Barcelona and would have done so if Guardiola had asked me to, but the door to his office was always closed," Toure told Ona FM.
"I did not speak to him in my last year there. There was no communication.
"In the end Guardiola spoke to me, but at the start he said nothing. He had no faith in me and did not want me.
"I wanted to stay but he did not want that. He left me confused. His explanations were puzzling and he did not pay me any attention until I had the offer from City."
For a man whom Guardiola relied so heavily upon in the Champions League final in Rome, perhaps Toure expected better and since his move to Manchester City it is fair to say that he hasn't looked back.
An instrumental part in manager Roberto Mancini's plans, Toure has endeared himself to the City faithful with valuable goals in both the FA cup semi final and final last year. His winner against Stoke ended Manchester City's 35 year trophy draught.
At the time of the move many questioned Pep Guardiola's decision to let Toure go. While he may not have the technical flair and grace of Iniesta or Messi, Toure proved a vital clog in central midfield for the Catalans for many a season.
With Barcelona enduring an injury plagued season thus far – especially in key defensive areas – it is certain that Guardiola would have liked to have the services of Toure this season.
And while Toure may not be missed in the same way as Messi, Iniesta, Xavi or Villa may be, his comments do give a fascinating indication into the way that Guardiola manages all of Barcelona's many superstars.
Toure's argument appears to be that once you are out of Pep's plans then all communication with the man at the helm appears to be over.
The Barcelona manager has refuted Toure's accusation and claims the Ivorian international asked to leave the Catalan club
Despite Guardiols'a public response, Toure's views seem to be supported by ex-Barcelona striker Bojan whom before joining Roma this summer, assertively said:"If Guardiola calls me now I would not go back to Barcelona.
"I spent a long time without speaking to Guardiola. I could not find the right words when I used to see him."
And although former player's views may be tinged with a bit of bitterness, it would be foolish to ignore them.
A big personality in his own right, the worry for Barcelona fans must surely centre on any potential falling out with the likes of Messi and Co.
It would certainly be interesting to see what would happen in the unlikey event that the Catalans were to endure a poor run of games. Man management is easy when you are winning every week, but it is in times of adversity that it must shine through brightly.
There is little doubting that Pep Guardiola is a sensational coach and one that has smashed all sorts of records in his tenor so far.
Like everything however, there is room for improvement and he will certainly be hoping that Toure's outburst will be the last questioning his man management skills.
Follow @icentrocampista