Does Cesc Fabregas' departure spell an end to 'tika-taka' football for Barcelona?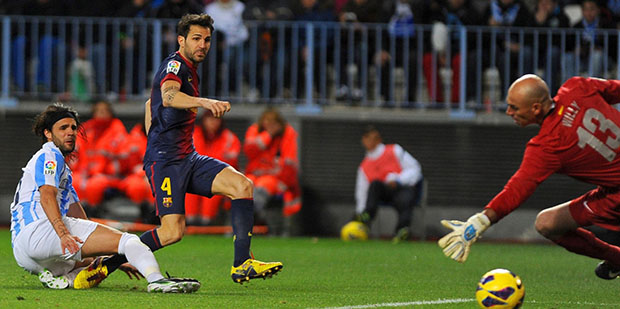 Last week, when the news of Barcelona's plan of selling Cesc Fabregas came to light, many would have expected plenty of suitors for the midfielder, who is well renowned as one of football's most technically gifted and creative players.
However as the week has gone on, clubs have one-by-one run themselves out of contention for his signature, claiming that he is not the right fit for their club. For a player of his quality, it is quite unbelievable to think how he doesn't have an endless queue for his services.
It has led many to question whether a midfielder of Cesc Fabregas' qualities has become outdated. Has the game evolved and has beauty and elegance been replaced by work rate and discipline?
It still comes as a bit of a surprise that Barcelona look desperate to cut their ties with Fabregas considering how keen the club were to hold onto him last summer, rejecting three bids from Manchester United in the process, but recently it has become apparent that the player himself is open to a return to the Premier League, indicating that he was expecting his departure the following summer.
Despite his undoubted quality, Fabregas has struggled for form over the past season and was used in a more sparing role under the previous manager Tata Martino. During the periods where Lionel Messi was injured, Fabregas on occasion was used to fill in up front, restricting the player to play to his strengths.
From a fan perspective however, Fabregas wasn't expected to lead a player exodus at the Camp Nou this summer, considering the fact Martino's exit was widely anticipated from as early as December last year, leading to the expectation that Fabregas was going to be given another opportunity to impress an incoming manager. This however isn't to be the case with Barcelona's hierarchy keen to offload the Spain international for an estimated €30 million.
Even though the desperation to sell is surprising, the clubs fans believed that the player's huge reputation, his marketability and his history with the Catalan club was enough to secure his future, but a poll in Spanish newspaper Marca back in April indicated that 50% of Barca fans were keen for the midfielder to leave come the end of the season, and now it looks as if they have got their wish, with his departure expected to be confirmed in the near future.
It would be unfair to judge Fabregas' second stint at the club he joined as a 10 year old as a failure, but the Barcelona hierarchy have seen his lack of progress over the last three years as an indication that he is not the right player to take Barcelona into a new era. During his second stint, he won the Spanish League, the Copa Del Rey, the Spanish Super Cup and the World Club Championship, and scored 42 goals, and provided 48 assists, but it still wasn't enough to win over the Barca faithful and pundits alike.
As the Catalan club prepare themselves for a new era under former captain Luis Enrique, we may have seen the end of the tika-taka football that has endeared us all over the past 6 years. Enrique, a former teammate of Pep Guardiola, the man who brought the tika-taka system to fruition at Barca, shares similar traits to the man who won everything in his time at Catalunya, such as expecting their teams to defend from the front and play with a high intensity. One key difference between the pair however, is the fact that Enrique demands that his teams have a cutting edge rather than just remaining in possession of the ball, patiently waiting for an opening to arrive.
Barcelona's pursuit of Atletico Madrid midfielder Koke, further emphasises the style of play that Enrique is looking to implement. Koke has been one of the key components of Diego Simeone's title winning side and is renowned for not just his technical attributes, but his physical attributes, an area where Cesc Fabregas doesn't share the same qualities and perhaps this is why Enrique has given his blessing to the midfielder's departure, favouring the youthful legs of Koke, despite no deal being struck just yet.
Enrique has already welcomed the arrival of Marc-André Ter Stegen from Borussia Mönchengladbach, and the return of Gerard Deulofeu and Rafinha Alcántara, two players who played under Enrique at Barcelona and are already well aware of the manager's philosophy. The list of players linked with the exit door is endless, with many of the starting 11 linked with huge clubs abroad, leaving a gap for youth to come in, rather than believing that throwing money at a club for a player and neglecting their youth system instead. The current impetus of bring through a new generation of players has already, and will eventually, spell the exit for many of the current crop, but for Fabregas in particular, a product of the Barca youth academy, the rejection will hurt him more than anyone after years of fighting his way back to Barcelona, for it to only last three seasons with no success in European competition.
Next in line for Fabregas is a rumored move to Chelsea, but doubts have emerged as to just how desperate Chelsea manager Jose Mourinho is to lure the player to Stamford Bridge. The suggestion in both the Spanish and English media alike is that it is the boardroom and a certain Roman Abramovich that are keener on getting the Catalan on board.
Considering Mourinho's fractious relationship with Barcelona, it is believed that the Chelsea manager would favour a move for a more disciplined replacement for the recently departed Frank Lampard. And in the same case with Juan Mata's exit from Chelsea, Mourinho would rather have a player with an superior work rate, rather than technical brilliance; a player who isn't afraid to play a fairly unattractive style of football in order of getting a win, something that Fabregas isn't accustomed to.
Only time will tell if Fabregas will be heading back to London this coming summer. What is clear though, is that Barcelona are preparing themselves for a period of transition, and with new management at the Camp Nou, finally the old methods that gave them steady success over the past decade have become outdated, and discipline and energy is to be brought in to rejuvenate this sleeping giant.
Follow @icentrocampista