Avoiding the Segunda – the battle to avoid the drop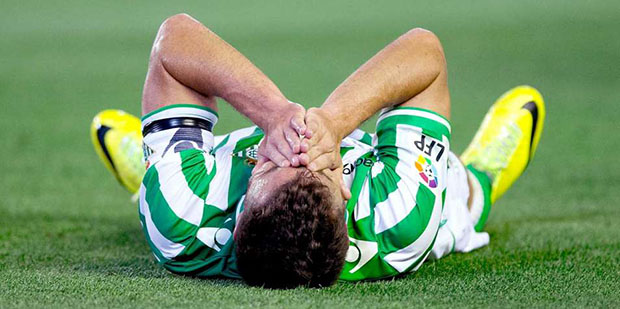 While the majority of media focus has been at the summit of the La Liga table, the battle to avoid playing in Segunda next season is very nearly reaching the point of no return. Indeed last weekend, Real Betis were the first team to have their fate sealed last weekend when they lost at home to Real Sociedad.
With Betis confined to the Segunda that leaves just two places in the dreaded drop zone and at present just four points separate Real Valladolid in 19th place to Granada in 14th. In one of the closest relegation battles in recent years, it looks like the anguish of the clubs involved will not end until the final whistle has sounded on the last day.
The clubs in imminent danger are the aforementioned Valladolid, newly-promoted Elche, Getafe, the Andalucía pair of Granada and UD Almeria and Basque side Osasuna, who themselves have been flirting on and off with relegation over the past few seasons.
They all have very difficult run-ins, with Elche and Getafe both having daunting games against Barcelona. Yet while on paper these games against the Catalans look like providing little relief, at this stage in the season big performances can often be summoned from the deepest of beyond. Both sides will be looking at Granada's one nil victory against Martinos men as proof that it can be done.
Valladolid have a difficult home game against Real Madrid but having defeated Barcelona at the Zorrilla this season, Martinez's men may fancy their chances of grabbing an unlikely but welcome three points.
Probably man for man in the five squads, Granada have the best individual players, Yancine Brahimi for example, has been excellent this season winning many games for his side on his own.
Regardless of whether or not Granada avoid playing in Segunda next season there will be plenty of suitors for his signature, not only from La Liga but from all over the continent.
Osasuna will find it tough as always, yet winning games at home for them seems to be the formula that helps them escape year in year out. And with two home fixtures left, against a Celta side who are just about safe and already-relegated Betis, there is a strong possibility that their old saving grace will come to their rescue again and ensure the club and their passionate fans will have another year of top-flight action to look forward too.
Elche who currently sit one point above Osasuna in 15th place, will consider it a massive success if they finish 17th having only just joined the La Liga ranks this season. With the three fixtures they have left; Malaga away, Barcelona at home and away to Sevilla on the final day, there is sure to be some frantic nail biting going on amongst everyone at the club. Unfortunately for them, the odds looked stacked against them in their bid to extend their stay at La Ligas top table.
Getafe under newly-appointed manager Cosmin Contra, are a Jekyll and Hyde type side. One week they can win away at Mestalla the next week, lose to Betis at home. Like Elche, the remaining fixtures for the Madrid based side aren't exactly kind. This weekend, Contra's men have a trip to the Nou Camp, then Sevilla in a home fixture before a Madrid derby against Rayo on the final day, which could seal their fate.
UD Almeria currently occupy the last relegation place but with a slightly favourable last three fixtures, they have every right to feel confident of staying up. This weekend they host Real Betis in a game that is simply a 'must win. If they can secure the three points, then they will have gone a long way to ensure their safety.
A trip to Granada follows, before they end the season with a home game against Athletic, who also may have sealed Champions League qualification by the time they travel to the south of Spain.
The old saying is the league table doesn't lie. All teams who have went down and will go down will deservedly, at this stage of the season it's usually the side with the biggest bottle and that get that slice of luck, that manage to survive.
Whatever happens, it's will be a captivating way to end an action packed season.
Follow @icentrocampista