THREE'S A CROWD – Levante break up La Liga's duopoly
Updated: 19 October, 2011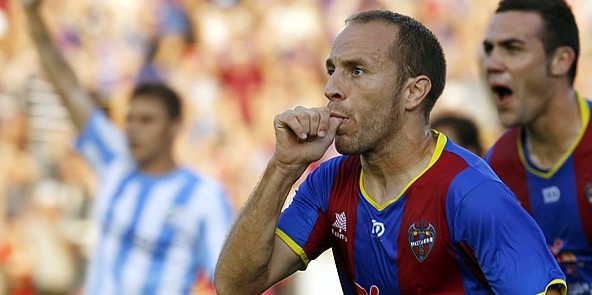 As the La Liga season approaches it's third month, the top of the table has already taken an ominous and somewhat predictable shape.
With seven games played, reigning champions Barcelona are sitting pretty at the summit with their eternal rivals, Real Madrid following hot on their tails.
Nothing too surprising there it may seem.
However, sandwiched between the two powerhouses of Spanish football are the unlikeliest of companions.
A team who looked nailed on for relegation at the start of the season and a team whose last 50 signings have cost less than €400,000.
Second-placed Levante Unión Deportiva are very much this season's surprise package.
The Club from Valencia only gained promotion to La Liga at the start of last season. Financially Levante are arguably the weakest in the league, they only recently left administration and rely on free transfer and loans to bolster their ageing squad.
The last campaign saw a mixture of "has-beens" and older statesmen somehow preserve Levante's status as a La Liga club. A run of eight wins in 12 games towards the end of the season saw them climb from the depths of the table to finish a semi-respectable 14th.
Despite the strong finish last term, by the start of this season it seemed inevitable that they would be firm contenders for relegation.
Their most influential players, loan signings Felipe Caicedo and Stuani had not been retained, between them the pair had scored 21 of Levante's 42 goals, and without a goal threat of note it was hard to be optimistic about the club's chances to survive a second term in the top division.
However Levante have had a truly sensational start, the highlight a brilliant 1-0 home win over Real Madrid.
Though their football has not been of the best quality, it is hard not to admire their fight, desire and determination to win games.
Their defence has been immaculate, conceding just 3goals so far, the least in the entire league.
The stalwart Levante attitude is typified by the towering force that is Sergio Ballesteros who, at 36  is one of the most senior outfield players in La Liga.
Ballesteros' influence and presence at the heart of the defence has been nothing short of awe inspiring so far.
The captain made 34 appearances last season and he has played every single minute this term. He, like nearly every other Levante player, has never really tasted success on a football pitch.
Deemed surplus to requirements at Mallorca, he joined Levante in the segunda division and has been an integral part of the team ever since.
He is just one of a group of several older players at Levante who have found a new lease of life at the Club; Javi Venta, Munùa, Rubén Suárez and Nano are just some of the older generation of players causing the average age of playing squad at the club to be just under 28, comfortably the oldest squad in the league.
However with age comes experience. Levante's performances have been disciplined and rigid -they spend a lot of games with their backs against the wall, the older players know what is expected of them and they deliver.
They are currently on a five match winning streak and put three past big-spending Malaga in last weekend's stand-out result.
The game was dominated at times by Malaga, but again, through grit and determination, Levante wound up with the points.
A tough run of games from end of November to the beginning of December could make or break their season; the club play Atletico, Barcelona, Sevilla and Valencia in the space of five weeks and, despite all the positives so far, four defeats in those games would be devastating to morale.
They must ensure they keep their heads down and keep working, but the age of the squad suggests they are mentally tough.
Realistically however, Levante are still fighting to avoid relegation first and foremost.
Anything else will be a bonus.
They have given themselves the perfect start to the season and Juan Ignacio Martínez will be delighted with his players, but the young coach knows there is still a long way to go until his team can relax and start collecting any plaudits.
Whatever happens between now and May,
Follow @icentrocampista