The curious case of Roberto Soldado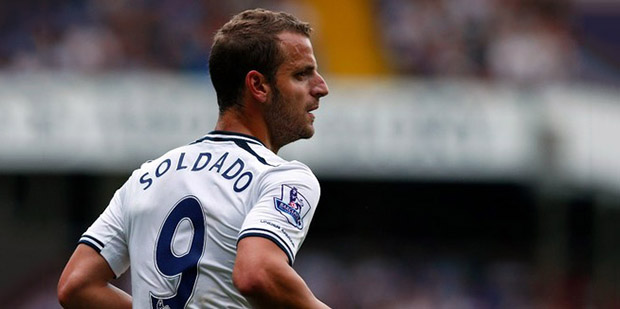 There is no question that trials and tribulations of Roberto Soldado's in his inaugural season in North London has been one of the biggest surprises in the Premier League this season.
Tottenham Hotspurs signing of the Spaniard for £26 million in the summer had the majority of the Spurs faithful salivating at the thought of such a prolific striker joining their club. Despite the loss of Gareth Bale to Real Madrid, hopes were high at White Hart Lane that Soldado would be able to propel them into the top four; with some even daring to contemplate a potential title challenge.
The record amount received from Gareth Bale's move, gave the North London club a hefty budget to contend with, and the arrival of Soldado was seen as the 'big signing' to lead the team from the front.
An opening day winner against Crystal Palace, all be it a penalty, gave Spurs fans plenty of early assurance and optimism that the summer acquisition from Valencia was destined to deliver goals.
Upon reflection, it was optimism that was wrongly placed and fast forward to the festive season and he had only managed to net a single goal from open play.
This hasn't improved over the second half of the season, with the dismissal of Andre Villas Boas and the return to form of Emmanuel Adebayor to the first team heaping further misery on the Spaniard.
At first it was thought that a Soldado & Adebayor partnership would breathe a new lease of life into Spurs' campaign, giving Soldado the much needed support up top. However this has been far from the case though, with new manager Tim Sherwood opting to return to playing a lone striker once again, with Adebayor in the main fulfilling this role.
Valencia have no doubt been keeping a watchful eye on their former talisman over the course of the season, having had a disappointing campaign of their own which will see them finish well adrift from the European places. The fear factor has disappeared from their ranks, as no longer do they possess a player who can snap up chances inside the box and earn points when the performances aren't quite up to scratch. Like Spurs they have found scoring goals hard to come by; Soldado bagged 24 La Liga goals for them last term, a stark contrast to this season where they are yet to have a player reach double figures.
Arguably, Valencia's financial difficulties played a big part in pushing the transfer through in the summer, nevertheless both parties must wonder what might have been had Soldado remained at the Mestalla. For one he would have probably been a shoe in to be on the plane to Brazil.
It now seems as though there is little hope of the striker making it onto the plane for Brazil with other contenders taking full advantage of Soldado's troubles. Diego Costa, Alvaro Negredo and Pedro have all had successful seasons at their respective clubs, a factor which resulted in them all being selected for Spain's recent International. By contrast, Soldado hasn't been selected for the past five La Roja fixtures.
So why hasn't it worked out for Soldado at Spurs?
Tactically, the 4-5-1 formation that AVB employed didn't seem to suit Soldado's style of play. On too many occasions was he isolated and left without sufficient back up to support his hold up play. You could say that Spurs possess the midfield players to play this way effectively, however with the likes of Eriksen, Lennon and Chadli not performing consistently enough, the formation has backfired.
Adjusting to the Premier League in general has also played its part. The renowned speed and physicality of the English game has often seen a game bypass him and his subsequent low levels of confidence in front of goal have meant we are not witnessing the clinical Soldado who played for Valencia.
As expected Soldado's work rate has remained admirable throughout the season, a reason why many of the Spurs fans have kept the faith in him. He has showed glimpses of quality too. When involved in the action his link up play has proved to be excellent, and an exceptional long pass to set up Adebayor against Southampton has to go down as one of the assists of the season. Unfortunately though, these moments have been very few and far between.
One would expect the Spaniard to remain at Spurs for at least another season mainly due to the sum of money that was paid for his services, however if Tottenham decide to appoint a new manager over the summer then his future at White Hart Lane may become less certain. Rumours persist that Villas Boas could be in once again for the player after recently being installed as the boss of Russian side Zenit Saint Petersburg.
Or perhaps a return to La Liga will see Roberto re-establish himself as one of Europe's most feared finishers? If he were to be available, there would be many willing to overlook a one season blip on what has been an impressive career.
Follow @icentrocampista