Winner Takes All – Villarreal look to secure top flight status against Champions League chasing Atleti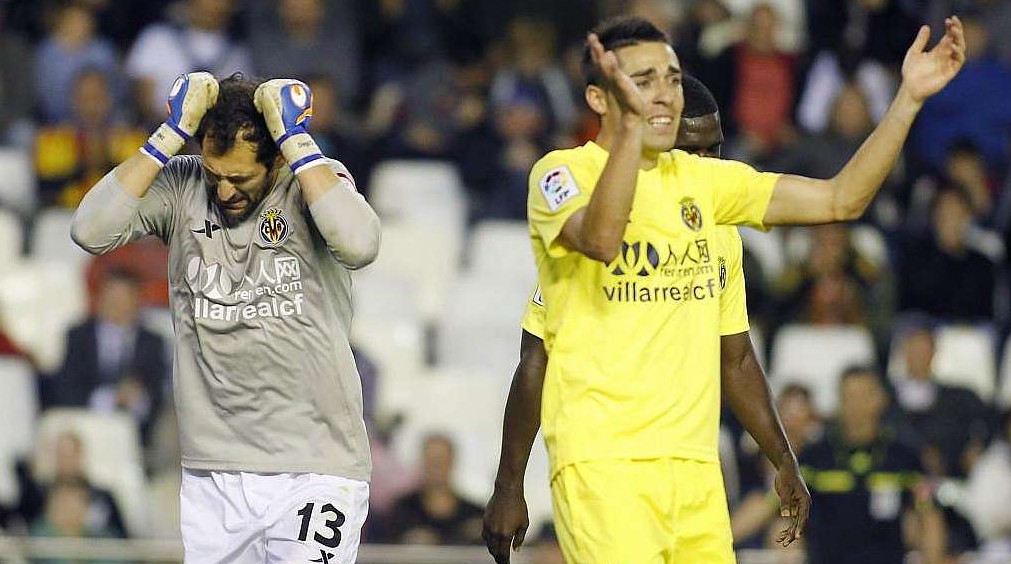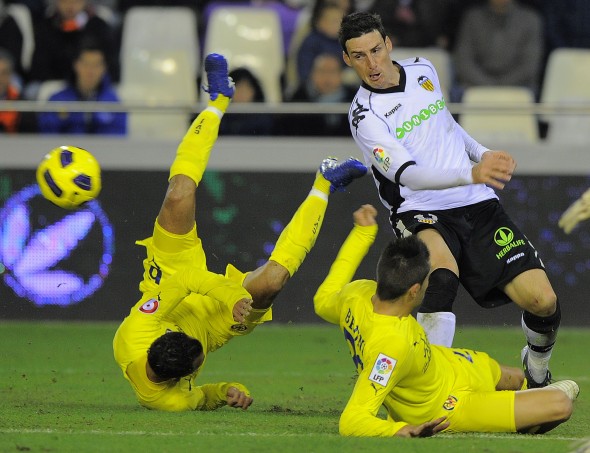 AFP PHOTO/ JOSE JORDAN

Given Villarreal's astonishing penchant for conceding last-gasp goals this season, it was somehow appropriate that yet another injury-time smash and grab denied Miguel Angel Lotina's side the point that would have ensure top-flight survival and made the last week of matches meaningless as far as relegation was concerned.
This match was a strange one, especially considering so many plot lines—Valencia able to sew up third place and a Champions League berth with a win, Unai Emery appearing in his last game at the Mestalla as Valencia coach, Villarreal fighting for Primera safety, and of course ownership of the two teams don't get along and Villarreal continually considers itself 'disrespected' by the Valencia supporters, who tend to get rather more worked up over their derby matches with Levante.
With Senna, Cani, and Marchena out, Nilmar essentially quitting on the team and Martinuccio on the bench, the only real offensive threat the Submarine had came from Borja Valero, Hernán Pérez, and Marco Ruben. And though there were no goals in the opening period and precious few chances for either side, Villarreal did manage to get 3 of the Valencia back four on yellow cards.
However, within a few minutes of the restart Villarreal were on the back foot, and never really recovered. Aduriz probably should have put Los Che in front in the 48th minute, and Piatti missed an even better chance when he ran past Gonzalo onto a through ball but put his shot wide of the post with Diego López beaten.
As the second half moved on, Pablo Hernandez, Jonas, and Aduriz all fashioned chances that Lopez kept out, and Valencia players clamored for penalties on multiple occasions that weren't given. Lopez made an incredible save to keep Aduriz out, Pablo hit the post with three minutes to go, and the referee even seemed to take pity on the Submarine by putting up only two minutes of stoppage time.
But, of course, Valencia scored anyway, the referee awarded the home side a soft free kick on the left wing, the free kick was deftly headed by Aduriz to Jonas and he beat Gonzalo and Lopez to score the winner. Once again, Villarreal came away with nothing.
So now, it all comes down to a match against newly-crowned Europa League champs Atletico Madrid, who could yet qualify for the Champions League with a win in El Madrigal if Malaga draw or lose against Sporting.
Meanwhile, even if Villarreal lose, Rayo must win at home against a Granada side which lost its cool against Real Madrid and has four of its best players suspended, though word from Vallecas is the players want their coach sacked after six straight losses and nine out of 10.
Zaragoza seem to have the easiest path with a game (away) to Getafe, who have nothing to play for, though in the media this week Getafe have made much of the failure of Zaragoza to pay for various players, including Uche, now owned by Villarreal and currently on loan to Granada. Whether the Getafe players will treat this as sufficient mitivation to deny the Zaragoza juggernaut, who knows. Spanish football is always full of suspicion, intrigue, and stories of bribed players, mattresses full of cash and booze, and so on, and this year is no different!
Villarreal have been in the Primera since 2000-01; interestingly, another club promoted that same year, Osasuna, have remained up ever since. (Their opponents on Sunday, Atleti spent from 2000-02 in the Segunda).
Submarine fans seem to be about equally divided between optimists and pessimists as far as remaining in the Primera is concerned, but all are agreed major changes need to be made this summer (including a coaching change) if the team is to rediscover that florid attacking football that has made Villarreal so attractive to watch.
Follow @icentrocampista