Double trouble for Mourinho as striker conundrum continues at the Bernabeu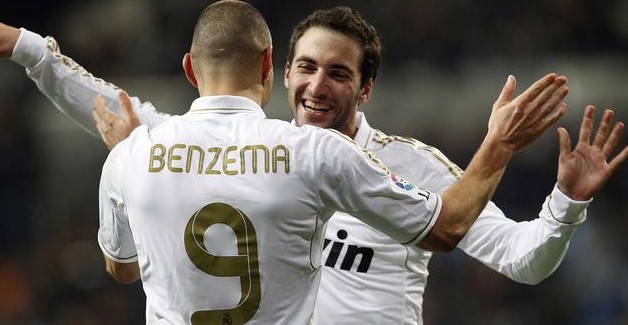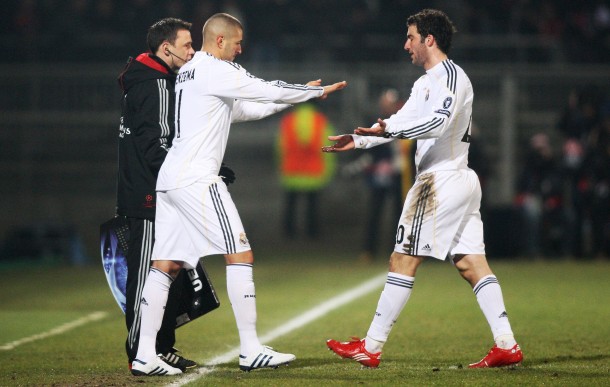 There were a few surprises on the Real Madrid team sheet for this weekend's opening game against Valencia. The inclusion of Fabio Coentrao and Lassana Diarra raised eyebrows, despite gainibg starting spots through circumstance with Marcelo and Sami Khedira supposedly not match fit. However, the most talked about selection by Jose Mourinho was the intriguing pick of Gonzalo Higuain over Karim Benzema.
The Benzema v Higuain debate started when the Frenchman was purchased from Lyon for €35 million during Florentio Perez's return in the summer of 2009. The discussion looked to be nearing its conclusion as last season came to an end with Benzema starting 40 games to Higuain's 28, many of them being some of the bigger fixtures on the calendar, namely Clasicos versus Barcelona of which Benzema started five, Higuain two, with one of those featuring both players from the start. The story was similar in the Champions League where, despite making one more appearance, Higuain only started five times, half the number his French counterpart did.
The Argentine's lack of playing time lead to immense speculation at the end of the 2011-12 season, more tenuous links to the likes of Malaga, Liverpool and even Barcelona were soon blown out of the water by genuine interest from Paris Saint Germain and Juventus. A move to Italy looked on the cards with the opportunity to be the main man in a team competing domestically and in Europe but a deal failed to materialize, and now Real are believed to be finalising an extension to the forwards contract which will be announced this week.
Both strikers had difficult starts to their careers at Madrid; after a blockbuster €35 million move Benzema struggled for consistency, a decent level of fitness, and was even surreptitiously accused of being lazy by Kaka and Mourinho before his manager took it up a level.  Benzema was the victim of intense mind games from the Portuguese coach who had used similar techniques previously on the likes of Joe Cole at Chelsea.
In a metaphor that can only be described as strange, Mourinho compared playing Benzema to hunting with a cat, after Gonzalo Higuain slipped a disc leaving the Frenchman as his only center forward in the 2010-11 season. The mind games worked and Benzema followed up with an impressive 26 goals before notching 32 last season, only bettered by Cristiano Ronaldo out of Madrid's players.
In Karim Benzema you now see a player who improves those around him rather than hampering their performance, his intelligent movement allows Cristiano Ronaldo to operate as almost an auxiliary forward coming in off the left, and his link up play in particular with Mesut Ozil can be so incisive and almost unstoppable on occasion so much so that the majority of La Liga can barely handle it. Benzema gives the option of possession football and a clever interchanging front line that uses space well and the ball quickly bringing others in to play, it was one of the main weapons in Madrid breaking down stubborn Spanish defences last term.
Despite such a delicate first touch Benzema can operate as an explosive forward; his control and dribbling ability allows him to manoeuvre into scoring positions with ease and finish with a finesse that's normally seen from diminutive midfielders. Benzema's skill set displayed last season shows he is well on his way to fulfilling the clear potential from his time in France.
A €13 million move from River Plate to Real Madrid was difficult for an 18 year old Gonzalo Higuain and he understandably struggled with the pressure of playing for one of the World's biggest clubs which lead to problems finding the back of the net. Due to the quality of attacking options on display at the Bernabeu, the then youngster spent time in other positions, predominantly out on the right wing which brought concerns over his long term development. After his breakout season, the first 20+ goal season in his career, 'Galacticos part II' arrived with the return of Perez.
Higuain's place looked under threat, but he responded with 29 goals, a total he is yet to better. 2010-11 was disrupted with serious back surgery and last season was a constant battle with Benzema, Jose Mourinho's decision to operate with a loan striker meant the majority of Higuain's appearances were coming from the bench, but even so the striker had a conversion rate of 43%, the best of any player in Europe and the highest since of any player since 2007.
Higuain is rapidly developing into a complete striker and his finishing technique is one of the main reasons his shot percentages are so high, with his head down focusing on the task at hand Higuain can manipulate the ball perfectly and pick his corner with confidence, making him arguably the most dangerous one-on-one striker in te game. Add this to his strength and acceleration, defenders can be made to look non-league by Higuain, an injury free season with regular starts and the sky's the limit for the Argentine.
Both strikers have the ability to reach the 40 goal mark but with only one birth open for a center forward it's difficult to see that happening if equal game time is provided. Higuain understandably started the first game of the season versus a Valencia side playing a relatively high line with center halves that can be turned; however he is very strongly rumoured to be named on the team sheet against Barcelona in the Super Cup, a fixture where Benzema has often been preferred.
It remains to be seen if this is part of the plan to get Higuain's name on a new contract but with both players born within nine days of each other and seemingly in for the long haul, the debate will no doubt run and run.
Follow @icentrocampista