Can Arsenal help complete Mikel Arteta's quest for recognition?
Updated: 19 November, 2012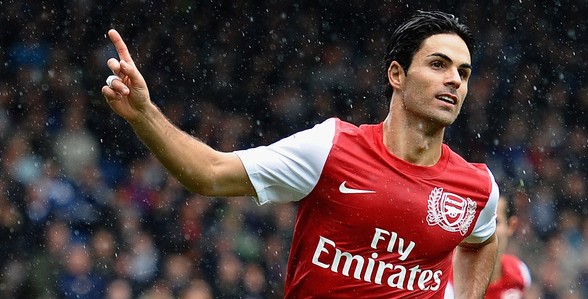 Arsene Wenger was a happy man this weekend. After watching his Arsenal side held to a frustrating 3-3 draw by Fulham last weekend, the Gunners got back on track at the Emirates Stadium on Saturday with a comprehensive 5-2 thumping of bitter rivals Tottenham Hotspur.
Arsenal's excellent start to the season had begun to sour after some indifferent results both in the league and in Europe, but the derby win will fire the whole team up as they begin to enter a  relatively easy run of fixtures.
Santi Cazorla continues to draw the plaudits – with his flair and creativity such a critical part of how Arsenal play now. In fact, it is a match made in heaven. The diminutive Spaniard provides the spark the team needs in the final third, while Arsenal's ball retention allows the freedom for Cazorla to shine.
That ball retention is largely down to another Spaniard, however, Mikel Arteta – the heartbeat of the Arsenal side. Since moving to Arsenal two years ago as a replacement for his friend Cesc Fabregas, Arteta has matured into one of the most composed ball-playing midfielders in Europe.
At Everton he fulfilled a similar role to Cazorla, occupying ground far further up the pitch but now he is content to sit and dictate the play, keeping the team ticking over. His experience and great reading of the game make him the perfect player to control the tempo of the match. Those attributes that make him a great tactician also make him an important defensive tool. His positioning and understanding of the game mean he can stifle any potential threat as soon as it becomes apparent.
These skills have made him one of the longest serving, and consistent, foreign imports to ever ply their trade in the Premier League. Despite being a graduate of La Masia, Arteta struggled to establish himself  in his homeland, and it wasn't until he joined Glasgow Rangers in 2002, that he started to carve a name for himself.
That led to a move to back to Spain, joining Real Sociedad, before Arteta returned the UK in 2005 to sign for David Moyes and Everton. Unfortunately for Arteta, despite playing in the top leagues in Europe for almost a decade, his only major trophy is a Scottish League title from 2002.
Despite Arsenal looking good at the moment, it is hard to see how the current crop can do better than the side of two years ago which featured such stars as Fabregas and Robin van Persie.
Xabi Alonso is a natural comparison to Arteta, with both players having a very similar style of play, both are of a similar age, they grew up together – they are good friends and both made the move to Merseyside within a year of each other. For that reason, the Real Madrid midfielder is as close as possible to a direct comparison.
As youngsters Arteta was picked up by Barcelona, whereas Alonso moved to boyhood club Real Sociedad. This should have been the start of a successful career for Arteta, yet since that point their successes in football have polarised. Despite there not being much of a gulf in class between them, Alonso is now one of the most decorated players in world football and was recently awarded the La Liga midfielder of the year.
Unfortunately for Arteta, this has also been the case at international level. Despite appearing at all levels of Spanish youth, Arteta has never featured in the full Spain squad. Now aged 30, it looks highly unlikely that he will ever play for his country at senior level, despite that remaining one of his main professional targets.
It is in stark contrast to his friend Alonso, who has over 100 caps for Spain and has two European Championship and a World Cup medal in his cupboard. Many would suggest Mikel Arteta is one of the most talented player never make an appearance at international level, and it is an argument which carries much weight.  There are a number of reasons why a player possessing the obvious ability as Arteta has never played for his country at the highlest level.
The midfielder would not have been unknown to national selectors as a youngster, being in la Masia immediately stood him above other youngsters in the country. However, his failure to establish himself at Barcelona early in his career was to his detriment.
While Xabi Alonso was getting his first cap in 2003, Mikel Arteta had only one full season of first team football under his belt, and that was in Scotland. As both players developed, Alonso featured in a Champions League winning side alongside the likes of Steven Gerrard.   Despite Everton finishing above Liverpool in the league and Arteta subsequently joining, being at a high profile club such as Liverpool helped Alonso much more.
Spain went to the 2006 World Cup full of hope, yet again flattered to deceive. This poor showing ushered in a new generation for la Roja and players such as David Albelda, Raul and Joaquin, found themselves surplus to requirements. In the months that followed, Spain went through a phase of rebuilding and  a number of players were given opportunities to establish themselves in a new era for Spanish football , unfortunately, for Arteta however, he was not one of them.
The Spanish national side has since gone on to dominate the world game of course, and Arteta's chances of representing his country seem to have all but gone. It is unfortunate for Arteta that he he vying for a place with the likes of Xavi, Iniesta and his good friend Alonso, nonetheless, the likeable Basque has every reason to feel hard done by.
Some players are cut out for international football and some aren't of course, yet as Spain continue to travel the world selling their national team in friendlies, it is somewhat disappointing that Arteta has never been given a chance.
Arteta's career may well have been so different  if he had stayed in the Basque Country and got into the Real Sociedad first team, rather than going to Barcelona and fail to make the grade.
It was a career path followed by Xabi Alonso, and it was a decision that paid huge dividends.
At Arsenal, Arteta  has a home and a platform, with his career dividend ring its twilight years he finds himself a player desperate for success, at a club desperate for trophies. Perhaps this is the chance Mikel Arteta has been waiting for.
Follow @icentrocampista