¡NO PASARAN! – Barça frustrated by brilliant Varas
Updated: 23 October, 2011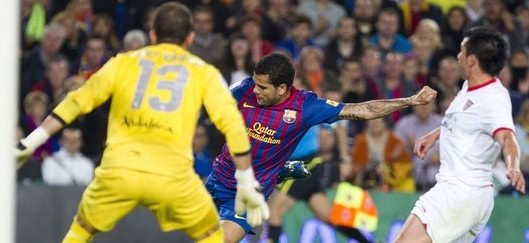 By Lee Roden
It may still only be November, but in a league where as someone once said, "draws are the new losses", Barça supporters will feel the sting of tonight's home draw for a long time.
But maybe they should reconsider. It could have been a lot worse. In a match where Barça completely dominated possession, and at one stage were playing with two at the back (seriously), it may seem strange to highlight Victor Valdes as FCB man of the math, but in terms of importance, he was.
This was a game of goalkeepers, and Javi Varas will rightly take all of the plaudits, but if it weren't for Victor Valdes, Barça fans would be feeling a hell of a lot worse.
His decisive interventions in the first half in particular saved Barça on several occasions. Looking back at the whole game now in retrospect, it has to be said that had Sevilla taken the lead, I doubt, nay, guarantee they wouldn't have relinquished it. For Guardiola, is it two points lost, or one point gained?
Perhaps it would be easy to look at Lionel Messi's penalty and cry the former; that he should have scored and Barcelona dropped points as a result. I beg to differ however. To retread the old cliché and apply it to Varas; the goalkeeper was having "one of those nights".
The conditions weren't exactly ideal for Messi either, with Freddie Kanoute in particular showing some shameful behaviour for a player of his stature and maturity. For those who missed it, Kanoute stood in the way of Messi prior to the penalty, kicked the ball from the spot behind the referee's back, then topped it off by grabbing Fabregas by the neck, and was rightly sent off.
I doubt Freddie will regret it though; his red card was, paradoxically, a small piece in a large victory for Sevilla. In delaying the taking of the penalty, the pressure continued to mount on Messi, and this surely must have had an impact on the outcome of the spot kick.
Not to take anything away from Varas though, he was truly phenomenal. One Spanish journalist summed it up perfectly: "Javi Vardas, one of those individual moments that will live forever. Truly bestial".
The talking point in the Catalan media tomorrow will be of foul play, and the moments that marred the end of a truly incredible game. Whilst this guarantees an eventful Spanish paper review on our behalf, it also guarantees the overshadowing of a great spectacle and indeed individual performance.
That's not to say there aren't legitimate questions about some of the behaviour on display by the visiting side. After the ruckus at the end of the game, can every Sevilla fan truly say that those same players made them " Orgulloso de Andulucia" (proud of Andulucia)?
To borrow a phrase used by former FC Barcelona midfielder Marc Crosas, perhaps a more apt caption on the next Sevilla shirt would be "Orgulloso de Javi Varas". His colleagues and supporters certainly should be.
Elsewhere in Catalunya:
Barça B managed to pick up an important 4-1 away victory over Alcoia. Mounting pressure on Eusebio Sacristan will perhaps relinquish if he can turn this result into the start of a run of form. Barça B have suffered from a loss of players via transfer, promotion and injury, and perhaps don't deserve to be berated about their performances. After all, whilst the success of the B team in recent years has been a positive bonus, the ultimate purpose of the team is to allow young players to develop. They can't get promoted anyway. Think about it.
Girona didn't even draw this time, they lost, and at home too. FC Cartagena left the north of Catalunya with 3 points and 2 goals in the bag. Girona's fans left before the end of the game. Not exactly encouraging.
Nastic de Tarragona lost 1-0 to Hercules. At home. I see a recurring trend here….
But wait! Espanyol won! Pochettino's men picked up a second consecutive away win with an encouraging performance. Perhaps if they can turn this into consistency, Espanyol's season wont be as woeful as I predicted after their pretty abysmal pre-season.
Follow @icentrocampista