An unwelcome visitor returns to the Camp Nou as David Villa keeps the pressure on Alexis
Updated: 3 November, 2012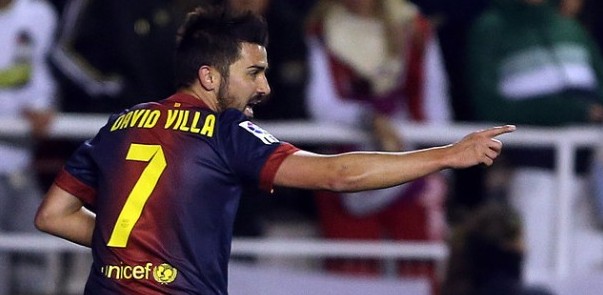 Tito Vilanova was careful in his pre-match press conference to try and bear some of the burden Alexis Sanchez is currently carrying at FC Barcelona. "If a player of his quality hasn't succeeded come the end of the season, it'll be my fault too" he claimed.
That Vilanova felt the need to once again comment on the Chilean's form (he had done so in previous weeks) is in itself an acknowledgment that the pressure is growing on the young forward. Not least from the presence of one hungry, deadly striker dying to take his starting place.
David Villa is clearly convinced that he can play 90 minutes of football, and, given his form, who can blame him? The Asturian has shown incredible desire and endless motivation to work his way back from a potentially career threatening injury towards a seemingly miraculous recovery. The result has seen Villa hitting brilliant form that in truth is far superior to that which he was achieving prior to the injury.
With five goals already this season, the striker even looks good value to rival his Barcelona-best tally of 23 in all competitions barring a dramatic dip in confidence. Though that's great news for Villa and Barcelona alike, it's bad news for Sanchez as far as a starting position is concerned.
If Barcelona hope to win the major prizes available to them this season, they simply cannot afford to field players not performing at a level worthy of winning those trophies, and with a proven goalscorer in excellent form, it seems inevitable that the World Cup winner will have his wish sooner rather than later. On too many occasions last season, Barcelona's forward line looked like a team of boys, not men, when the occasion was at its most demanding, and the fact is, they were.
Alexis and Tello, two of Guardiola's most-used forwards in the latter half of last season, are both in their early 20s. Both have little to no experience of playing in the Champions League or competing for a league title. Both squandered gilt edged chances in key ties against Real Madrid and Chelsea at the end of the season that would prove decisive, and that's no coincidence.
Villa, who knows what it means to take the pressure off a team by converting at the most vital moment, and who has proven that he thrives in the most pressured of situations on the biggest stage, was sorely missed. For the former Valencia man to bump Sanchez down the pecking order at Barcelona in the near future wouldn't necessarily be a bad thing for the former Udinese man either.
The status quo clearly isn't working for the Chilean, and perhaps arriving from the bench with the opportunity to make an impact as a substitution would now be better for his confidence than continuing to plug away to no avail as a starter. It could also prove prophetic on Vilanova's behalf should he choose to give Alexis some respite before the supporters inevitably begin to clamour for Villa's presence at his expense. Lest we forget, Barcelona fans, particularly at home, are vocal in their dissatisfaction when they want to be.
The jury is out on how the tussle will play out, but my money is on the veteran.
An unwelcome return at the Camp Nou
On paper, Celta Vigo's first visit to the Camp Nou since their return to the top flight shouldn't present any unexpected worries for the Catalans. The Galicians, sitting in mid table, are the kind of side that, with all due respect, Barcelona should be able to dispatch at home should they hit their optimum form. Yet there is one name in the Celta team that brings back some very bad, very recent memories for Barcelona: a certain Javi Varas.
Last year, Varas single-handedly – OK, double-handedly – prevented his team from receiving a thrashing from Barcelona. The then-Sevilla keeper was in majestic form, the kind of performance you only see once or twice in a career (unless the player in question is Lionel Messi or Cristiano Ronaldo), and, not content from pulling off miracles in open play, he even produced one when the ball was placed on the spot.
In the dying minutes of the game, Lionel Messi stepped up to take a penalty that looked certain to give Barcelona the three points they probably deserved. Varas had other ideas, springing elegantly to bat away the Argentinean's shot, ensuring his side left with a point, and that Barcelona went home fuming. It was in games like these that Barcelona lost the league , and Real Madrid will be hoping that Varas is feeling equally inspired this weekend.
For one man to keep Barcelona at bay once is one thing, but to do it twice is next to impossible. He couldn't… could he?
Follow @icentrocampista