ALL HAIL KING GUARDIOLA – Isaac Cuenca adds to Pep's brilliance
Updated: 30 October, 2011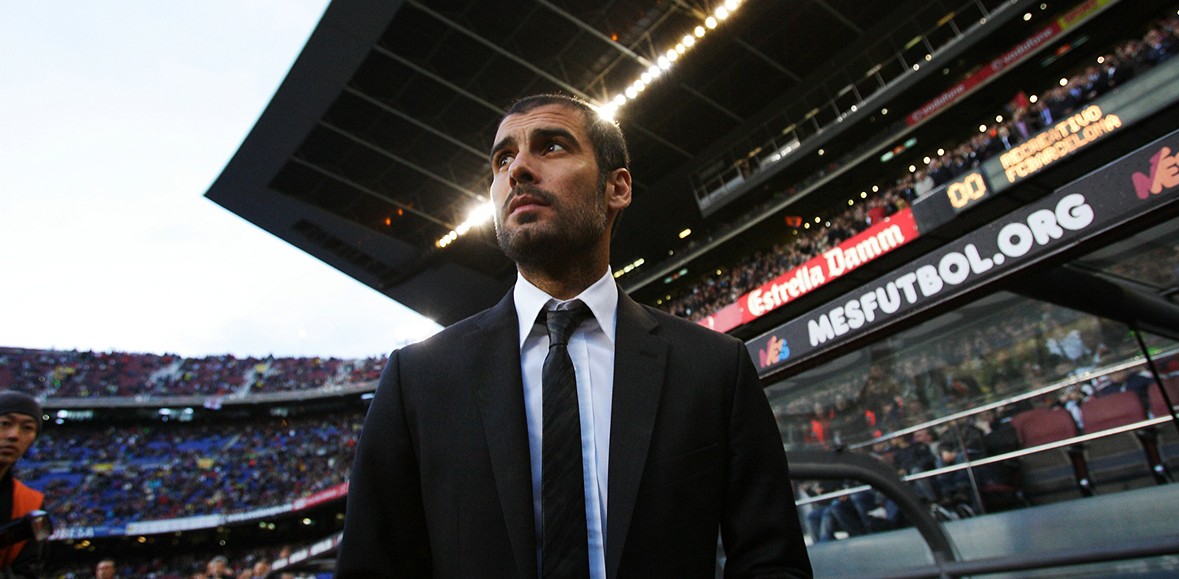 By Lee Roden
Pep Guardiola has hit so many milestones in his short career as a manager that it's difficult to say which one has been the most significant.
One milestone is perhaps most representative of (i.e.: best encapsulates) Guardiola's time in the job however, and was only achieved last week. When Isaac Cuenca took to the field against Granada, he became the 18th player from la masia to debut under Guardiola, an incredible figure when considering the number of titles Pep has won with them in this period of time.
Whilst some of those lucky enough to grace the turf of the Camp Nou or away pastures under Guardiola have since moved on (though not necessarily through their lack of ability – see Nolito, who is currently setting the heather on fire for Benfica in Portugal), the majority of the youngsters to be promoted under Guardiola are success stories.
The first major triumph was Sergio Busquets. Many fans doubted Guardiola's choice to start Busquets in important games in his first season at the Camp Nou, especially as it often came at the cost of Yaya Toure – a clear fan favourite during his time at the club. Guardiola's vision proved to be correct however and, after a steady (if sometimes flawed) first season in the main team, Busquets grew into his role to the point that he is now sorely missed every time his name is absent from the Barcelona starting eleven.
Xavi summed Busquets up brilliantly in his interview with Sid Lowe last season, where the Barcelona vice captain highlighted Sergio's ability to take a "half touch", buying valuable time in tricky situations for both himself and those around him.
It is for this reason that Barcelona seem to tick best when Busquets, Xavi and Iniesta make up the midfield three, and that Seydou Keita often looks out of his depth (despite his abundance of talent) when placed in the pivot role over the man from Sabadell.
Pedro Rodriguez was Guardiola's major triumph in his second year in charge. The front man actually made his debut in the treble winning season, but it was in Guardiola's second league title that he really shone. I must admit, I was often underwhelmed by Pedro in his early cameos under Guardiola, and was certain that Bojan would be the youngster that would go on to dominate the wings in the foreseeable future. How wrong I was.
After scoring the only goal in the win against Shaktar to claim the 2009 UEFA Super Cup, Pedro never looked back, going on to become the only player in history to have ever scored in six club competitions in one season – a record that will be difficult if not impossible to break. Pedro dislodged Thierry Henry from Barça's starting line-up (in part due to Henry's poor form, and in part due to Pedro's rising star), and most recently scored the opener in Guardiola's second Champions League final.
Pedro is indispensable to Barcelona, and whilst his form has suffered occasionally, he is nonetheless a vital member of the Barcelona team whether scoring or not, with his work rate down the right and understanding with Dani Alves second to none.
Last year's breakthrough star is more difficult to pinpoint. The award probably goes to Thiago Alcantara. Thiago actually debuted in 2009 for the first team, though perhaps due to the strength in depth in the midfield area, and indeed, Luis Enrique's need for the player at Barça B, he didn't quite force himself into the main squad until 2010.
The 2010-11 season was a relatively subdued but consistent year for him in the first team, consisting of cameos and the odd starting game over the course of the season. Each time he was called upon he proved reliable however, showing maturity beyond his years and at times, glimpses of his incredible skill, with many claiming he was half-Xavi, half-Iniesta.
What really forced Thiago into Guardiola's plans was his performance at the 2011 Under-21 European Championship, where the youngster claimed the player of the tournament award, and scored that free kick. Guardiola responded by making sure Thiago was offered a four-year contract with a 90 million Euro buyout clause (the figure alone shows Guardiola's faith in the midfielder), as well as offering him the number 4 shirt, a gesture of huge significance in Barcelona, which he gracefully abdicated to Cesc Fabregas upon his arrival.
Thiago has started this season even better than his last, and almost always features when Guardiola opts for a four-man midfield. His appearances for Vicente Del Bosque's Spain team suggest he will continue to grow and indeed will no doubt become a first choice player for both club and (adopted) country in the future.
You may wonder why I'm relaying this information. My intention is to provide context and point out that one of Guardiola's unique talents is seeing things that others do not. When Busquets was promoted, most people thought Guardiola was a lunatic, with the midfielder being relatively anonymous during his time in the B team. Pedro Rodriquez was on his way out of the club when Guardiola took the helm at Barça B, but Pep insisted he stay, and the winger's faith was rewarded with opportunities later on.
Thiago was perhaps more obviously destined to be a star, but in offering him the number 4 shirt and such a huge contract, Guardiola clearly foresaw his ability to step up not only into the team, but the starting 11 for Barcelona, and has been vindicated so far this season.
And so I return to Isaac Cuenca. Despite being an avid follower of both the Spanish second division and specifically Barça B, Isaac Cuenca is someone I've had few opportunities to observe. Cuenca started out in Barcelona's youth system, but his career so far has been a series of moves, relative success, than more moving.
He only returned to Barça B from a loan spell in Sabadell last June, and yet a month later Guardiola decided he was good enough to take part in the main team's pre-season matches. Cuenca has a grand total of two appearances for Barça B this season and indeed a measly eight in total overall, yet on Saturday night he started at the Camp Nou, tormented the Mallorca defence, and capped it off with a goal that oozed of class, confidence and maturity.
Guardiola's vision is moving to a whole new level of near Jedi-like proportions, and the signs are beginning to suggest that young Isaac Cuenca could be the Busquets, Pedro or Thiago of this year.
Admittedly, it's early days to be crying hallelujah, but Cuenca's trajectory has been nearly vertical in the last six months, and under the tutelage of Guardiola, who seems to excel best with youth prospects, would anyone be really surprised to see Cuenca come off the bench if Barcelona make it to the Champions League final this year? It will probably seem unremarkable if it happens, as at that point, for such a situation to occur, he will likely have totalled many cameos for the main team throughout the year, but let's not forget this kid was playing in the Spanish third division last season.
Pep Guardiola is many things, many of them great, but perhaps his greatest talent is his incredible faith in youth. He isn't the only one to give kids a chance of course (Arsene Wenger probably does so too recklessly), but he's probably the best at these days, rivalling Sir Alex Ferguson in the late 90s.
Some people say the work is already done when the players arrive at Barça B – but that's simply not the case, ask someone like Jonathan Soriano (who admirably has once again insisted he wants to grab Guardiola's attention, but with his years growing and career shortening it looks increasingly unlikely). After all, for youth to excel, faith has to be placed in it, and when your team is winning everything, it would be much easier to stick with what you've got than risk it all on unknowns. Guardiola doesn't think twice.
Follow @icentrocampista