A BASQUE HISTORY OF FOOTBALL – The national team of Athletic Club Bilbao.
Updated: 31 October, 2011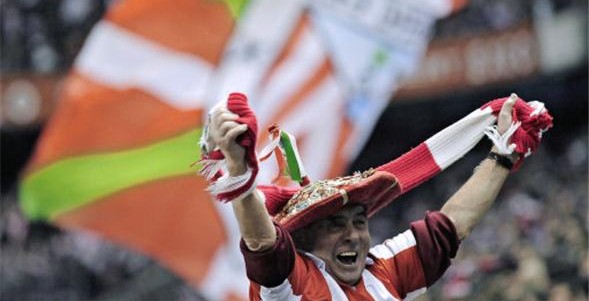 By Jamie Milligan
One of Scottish football's proudest moments came in 1967 when Celtic became champions of Europe.
Jock Stein's famous Lisbon Lions shocked the football world by defeating overwhelming favourites Inter Milan to become the first ever British winners of European football's most prestigious club tournament.
Stein's side not only beat the Italians, they positively outclassed them playing with a distinct attacking verve which legendary tactician Helenio Hererra's side had no answer for.
You may wonder why I bring this up. This after all is a Spanish football site and I after all am a fed up Rangers fan who has endured many taunts from Celtic supporting friends over my team's failure to win "the big one."
The reason I bring Stein's side into discussion is this: Every player who played in that cup winning squad was born within a 30 mile radius of Celtic's Parkhead home.
That is a quite unbelievable feat and it is one which will never be repeated, within the Scottish game at least. The Scottish domestic league now resembles something of the United Nations and the days of eleven local boys turning out for an SPL side, let alone leading them to a European Cup Final, are well and truly gone.
For the most part, La Liga is no different. The likes of Real Madrid and Barcelona are packed full of talent from right across the globe. There is one side though which has remained true to the principles of yesteryear and which refuses to join the others in this multi-cultural new age.
Athletic Club de Bilbao is somewhat of a phenomenon. The San Mames side, since their formation over a century ago, have deployed a fierce Basque only signing policy.
This means that Athletic Club can only sign and play players born in the Basque area of Spain. Though admittedly not quite a 30 mile catchment area, that is still quite something when you consider the distances most clubs travel to find talent.
What is even more incredible is the fact that Athletic Club have managed to stay in and compete alongside Spain's crème de la crème.
Their cause has been helped considerably by Basque country's admirable ability to produce a staggering number of top quality footballers.
The likes of Andoni Zubizarreta, Joseba Exterberria and in the modern day, Fernando Llorente has allowed Athletic Club to continually do battle with Spain's finest.
There are those who see Athletic Club's insistence on only recruiting Basque born players in a cynical light, claiming it's outdated and even bigoted.
I however see it from a different angle. To me, having grown up and seen many clubs favouring over-paid foreign imports to their talented youth players, Athletic Club's determination to stick to their roots and to keep the club local should be applauded.
Los Leone's approach is a romantic one and one which leaves me harking for the olden days when clubs would be led out by eleven wide-eyed local boys who spent their entire childhoods dreaming of pulling on their team's colours.
Follow @icentrocampista