From Arsenal with Love – Cesc Fabregas finds his feet back in Barcelona
Updated: 6 December, 2012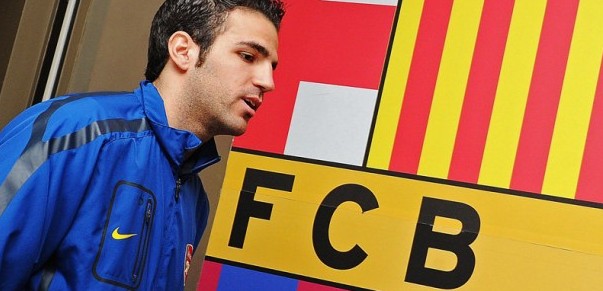 When Cesc Fabregas returned home to Barcelona after eight years of making himself into a star at Arsenal, it was inevitable that he would have to adapt to sharing the spotlight. It's easy to stand out when a team containing largely mediocre youngsters is built around you and when even at the age of just 21 you're the only obvious candidate for the captain's armband; it's not so easy when you're lining up at the Camp Nou alongside world greats like Lionel Messi, Xavi and Andres Iniesta.
Messi continues to chase records and accolades that make it harder and harder for us to argue that he is the greatest player of all time. The spotlight will inevitably be on him again as he surely collects another Ballon D'Or and breaks Gerd Muller's record of 85 goals in a calendar year in the progress. Meanwhile, the few remaining Messi-skeptics will point to the likes of Xavi and Iniesta behind him and say they make it easy for the Argentine to shine. This trio are the undisputed stars of world football, with Xavi and Iniesta the only ever realistic challengers (along with Cristiano Ronaldo) for individual awards such as Ballon D'Or.
If praising Messi gets repetitive and cliche, it is Iniesta who is next line for unquestioning glowing reviews. Ahead of the first of two Champions League final defeats for Manchester United to Barcelona, Ferguson said: "I'm not obsessed with Messi, Iniesta is the danger. He's fantastic. He makes the team work. The way he finds passes, his movement and ability to create space is incredible. He's so important for Barcelona." After the game, United striker Wayne Rooney said: "In my opinion Andres Iniesta is the best player in the world."
However, will this finally be the season that Fabregas is mentioned in the same breath as these players?
The 25-year-old has never made it into the final three candidates for Ballon D'Or, and perhaps it's easy to understand why he didn't make it in his Arsenal days – however good your individual displays are, you're more likely to get votes if your team is also winning things. Even at Barca, this is a luxury that has so far evaded him, with the single Copa Del Rey trophy last season being a relative disappointment for a team that has achieved so much in recent times. 15 goals and 20 assists in his first season would ordinarily be very impressive, but he was perhaps let down by the fact that many of them came very early before his form waned in the latter half of the campaign.
However, Barca are big favourites for the title this season. Unbeaten and with 13 wins in their first 14 games, they sit six points clear at the top of La Liga – better yet, they're eleven points ahead of rivals and current champions Real Madrid, who, despite their poor start, you might fancy to be more realistic challengers over the course of the season than Atletico Madrid, currently in 2nd place.
So far, Fabregas has played a big part in Barca's resurgence this year. Unlike last season, he has started more games (partly down to Iniesta being in and out of the team with injury) and is playing in his preferred central midfield role more often. This trust shown in him by Tito Vilanova has allowed his influence to increase, and he boasts five goals and nine assists in La Liga, ahead of Iniesta (one goal, six assists) and Xavi (three goals, three assists).
Often used sparingly in a team that was arguably rotated too often by Pep Guardiola last season, Fabregas has endured the same treatment in the Spanish national team – played upfront or on the wings to make up for squads that are simply overflowing with midfield talent. Ironically, his idol and main reason for moving back home, Guardiola, did not show the same faith that Vilanova is showing in him now, and the new manager is reaping the rewards. It's no mean feat standing out as a great midfielder alongside the much-lauded Xavi and Iniesta, but Cesc is showing he can do it.
Should we really be surprised? He carried a poor Arsenal team since he was a teenager.It is increasingly surprising that Guardiola and Del Bosque didn't show this faith in him earlier. If Cesc continues to be so influential, producing better stats than his fellow midfield maestros, and his fine play is rewarded with the first league title of his career, it will surely be harder for neutrals to ignore him. Perhaps a richly deserved individual honour will not be far away now.
Follow @icentrocampista