Bayern and the Basque – Javi Martinez settles into Bundesliga life
Updated: 5 December, 2012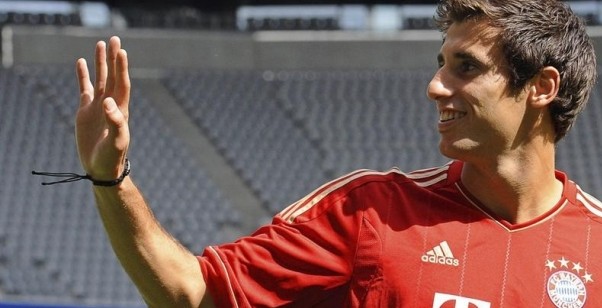 Over the summer Spanish international Javi Martinez made the move from La Liga side Athletic Bilbao to German Bundesliga giants Bayern Munich. Any player grows up dreaming of playing for a club like Bayern Munich and for Martinez it was a natural step up after excelling in his homeland.
Bayern clearly rated the 23 year old as they willingly smashed their own, and the Bundesliga, transfer record in order to acquire his services. The fee perhaps was a bit of a shock, a lot of high-profile Spaniards have left La Liga in recent times, and none for such an amount.
Yet it's testament to Athletic Bilbao and their willingness to hold out for the maximum fee, Bayern eventually paying Martinez's release clause. They were not the only interested party, Roberto Mancini is reportedly a long-term admirer but Manchester City fell short in any approach they made.
Spaniards playing in Germany is a relatively new concept, until this season only three had made the transition in recent times. This summer five Spaniards were snapped up by Germany clubs, meaning there are now more than ever.
Despite playing centre back for Bielsa the past season, Bayern have brought him in to shore up their midfield.  It is often hard to judge how much of an impact a defensive minded player is having, but if Bayern's form is anything to go by Javi Martinez has hit the ground running.
Bayern are having a truly sensational start to the season and are a remarkable eleven points ahead of reigning champions Dortmund after just fifteen games. Martinez has appeared in thirteen of these, starting six. This is a stark contrast to more recent campaigns where Bayern have been sluggish in the league and only really excelled when European competition comes around.
Competition for a starting place is fierce and he is up against two of the most experienced holding midfielders in world football, Tymoshchuk and Schweinsteiger. In the long-term it is the aging Tymoshchuk who Martinez will replace, they have been rotated game-by-game by coach Jupp Heynckes. It was significant that the Spaniard was picked ahead of Tymoshchuk for the huge game on the weekend against Dortmund.
It is always a worry when any player moves for big money, whether the player himself feels the pressure, or the fans naturally expect too much, it can be tough. It was a big step for Martinez to leave his home country but he looks to have made the right one.
Settling well he has started to overtake Tymoshchuk in the pecking order, last weekend he scored his first goal, an impressive overhead kick in a 5-0 rout. Bayern are nailed on favourites to win the league despite it being so early on in the season and yet again they are excelling in Europe, where Martinez has played all the games.
In the short term Martinez must just continue doing what he is doing. That first goal will be a big boost on a personal level as well as being picked for the huge title match. With Holger Badstuber suffering a severe knee injury on the weekend it may be that he is asked to deputise in defence. This is only a small possibility though, Bayern have lots of cover, however Martinez could well be trialled given his excellent performances last season.
Javi Martinez looks set to be yet another Spaniard who is going to be a massive star in a foreign country. Playing for a side like Bayern will offer opportunities he have never had at Athletic Bilbao, as well as having the chance to prove his metal in the latter stages of the Champions League.
Aged 24 and with the best years of his career ahead of him, there is an awful lot to look forward to for Javi Martinez.
Follow @icentrocampista