Another coach bites the dust while Malaga go electric lime – Spanish football around the web
Updated: 6 December, 2012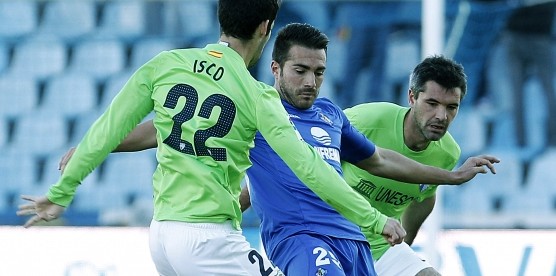 Another round, another Barcelona victory.  That story line can be put to bed until March when we'll see if fatigue or a push from Real Madrid or focus on European glory slows the Blaugrana juggernaut.  As for the rest of La Primera, the panel at Inside Spanish Football pod named Cristiano Ronaldo their Player of the Week, as he scored their Goal of the Week and was the only bright spot in another wise dour Madrid Derby. 
They also touched on Valencia not treating their manager, a former player during a very successful time for the club, with respect before moving on Getafe's third straight victory and other news and notes.  Don't want to forget to mention Joel Campbell's cracking goal for Betis as Los Verdiblancos built on their victory over Real Madrid and are now in fourth.  Plus Malaga's third kit made an appearance in their loss to Getafe.  Electric lime might not be the proper identification, but whatever the color, not attractive.
——
Articles
Sid Lowe focused on Pellegrino's dismissal in his weekly column.  After standing by several coaches in the past, President Manolo Llorente fired his manager as the fans have begun to turn on him.  Backed by the players, there are elements of fear and lack of long term planning in this decision and now it is up to Valverde to improve their league position while contending in the Copa and the Champions League.
La Liga Loca also discussed Pellegrino's termination on Football365.  As everyone said at the end of last season when Emery was let go, be careful what you wish far.  Despite relative success, Emery was let go, and, after the club failed to get AVB, Llorente turned to Pellegrino.  The Argentinean didn't last long and now the club is faced with financial and managerial instability.
Phil Ball wondered how the seemingly laid back Tito Vilanova gets the Blaugrana to press and attack and bamboozle opponents.  Their record start has been inspired by a historic individual performance and an indefatigable team effort.  He then moved to the Madrid Derby, where Simeone showed a possible lack of tactical nous.  Phil also touched on the cult of Mourinho as his window of influence and abrasiveness is closing.  He concluded with Pellegrino's firing and the reemergence of Javier Aguirre at Espanyol.
Listened to an old Off the Ball pod (11/21) with Graham Hunter, in which he discussed CR7's future at Real Madrid.  The winger's contract is running out and this prompted a conversation about whether the club should sell the Portuguese player (could go to City or PSG) and possibly buy Neymar.  The players are not like for like in terms of footballing ability but there is something to be said in terms of star power.
Staying with CR7, Jonathan Wilson made the argument in the Guardian that Ronaldo is the reason that Real Madrid won't win La Decima.  While he concedes the former Manchester United's great physical skills, he notes some glaring weaknesses in his game that could keep him from being part of a great team.  Isolated as defensive laxity, Wilson notes that full backs create disadvantages for the rest of Ronaldo's teammates causing undue pressure and goals.
On Off the Ball last week Wilson went as far to say that Ronaldo would not be in his starting eleven because "he doesn't know how to play football."  His premise is that systems and groups win rather than one player who demands the ball, demands the players and demands the accolades.  Definitely a provocative argument, especially in a world that sees the current landscape as Messi v Ronaldo.
Finally, My Golden Great is a series that Football Espana is developing, where the site looks back into the history of the league to identify wonderful players of years past.  Recently Sam
Marsden picked out Rivaldo's year just before the end of the millennium.  Right in my wheelhouse, as this was the time when I started following FCB and La Liga with some regularity.  I remembered his amazing performances against United in the 1998/99 Champions League Group Stage and some phenomenal goals in the following campaign, both home and abroad.
The Brazilian ended up winning the 1999 Ballon d'Or award after a great year for club and country.  I was able to find his Barca goals from in and around that season.  As Tim Vickery always says, Rivaldo might be involved 50 times in a match.  48 times he'll drive you crazy but the other two are simply amazing.
Follow @icentrocampista