Valencia edge back towards crisis point as Llorente wields the axe
Updated: 6 December, 2012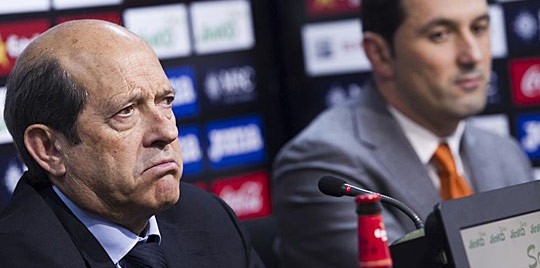 As Ernesto Valverde sat down for his first press conference as coach of Valencia earlier this week, it was hard to focus entirely on what he was saying as there was something strikingly different about the man sat next to him.
Club President Manuel Llorente had, for the first time during his reign, lost his cool. The man who almost halved Valencia's monumental debt since his inauguration was at tipping point. Along with Braulio Vazquez who was sat to Valverde's right, the pair had under seen the sales of their best players year after year in order to raise €30 million to service debt each season, yet they had still managed to craft squads capable of Champions League qualification on a regular basis.
Llorente was a man who preached long-termism in his attempts to salvage the clubs dwindling future, in the past he personified calmness whilst others around him panicked, however, his decisions just a day earlier stinked of anxiety. After chants rang out around Mestalla calling for the President's head, he deflected by sacking one of the clubs greatest ever players hours later, after just 21 games in charge.
Mauricio Pellegrino left the club seven points away from the top four, but through to the Champions League knockout stages and the last 16 of the Copa del Rey. Pellegrino called the decision "unfair" and described it as one taken in the "heat of the moment" quite literally for Llorente as a flair was thrown into his director's box as the 2-5 loss to Real Sociedad drew to a close.
In theory it's a move that makes sense; Valencia are a team void of identity and cohesion in need of a plan. Following back to back losses that saw nine goals conceded, the risk in appointing a first time manager in Pellegrino was highlighted to a great degree. When that risk was taken during the summer the consequences where less severe; the clubs financiers Bankia, were finally looking set to fulfil their promises and resume work on the Nou Mestalla. However it was yet another false dawn as the Spanish bank, who were one of the first to spark the global recession back in 2007, buckled once more.
The date for building resumption has now passed with no plans set for it to restart, in these circumstances; placing trust entirely in Pellegrino was no longer deemed viable. With €330 million worth of debt still remaining, losing out on the €35 million income from Champions League qualification was too severe a hit to the clubs survival.
Ernesto Valverde, unlike his predecessor, is proven. Despite a brand of football deemed by some as not easy on the eye, he has a record of winning, with a trio of league titles and two cup wins in only three seasons at Olympiakos, the talent is there for all to see, along with his varied successes in Spain managing the likes of Athletic Bilbao and Espanyol.
Yet despite the logic behind the hiring of Valverde, another blinding sense of short-termism was displayed by Llorente as reporters quickly probed the coach over the curious length of his six month contract. Denials were made by both Spaniards yet it is still widely believed Valverde will replace Marcelo Bielsa at Athletic Bilbao when the season finishes.
It remains to be seen but Llorente's contingency plan if and when Valverde leaves is understood to be an option that he previously turned down in favour of Pellegrino during the summer- Real Valladolid's Miroslav Djukic is another former Valencia player who may soon be managing the club. After winning promotion via the Segunda playoffs last season, Djukic's Valladolid side sit an astonishing 7th in La Liga after 14 games; despite their severe financial restrictions, his wonderfully attacking yet sensible and intelligent brand of football may be exactly what Valencia need in order to move forward next season, but it's doubtful Llorente will be there with him.
Stepping down would be unlikely for a man with pride such as Llorente, even more so when the fee he is paid by the club is considered, but the fans are growing increasingly tired of the stagnant lack of progress currently being made by the team, which eventually falls at Manuel Llorente's feet. Brought in to solve the clubs finances the president is, to a degree, achieving his economic objectives, but week by week he increasingly looks set to pay for his poor footballing decisions as the pressure intensifies.
_________________________
If you're looking for the very best in casino bonuses then why not try roulette at www.ruleto.com.
Follow @icentrocampista