Magnificent Michu fires up Swansea but does Spanish call-up beckon?
Updated: 14 December, 2012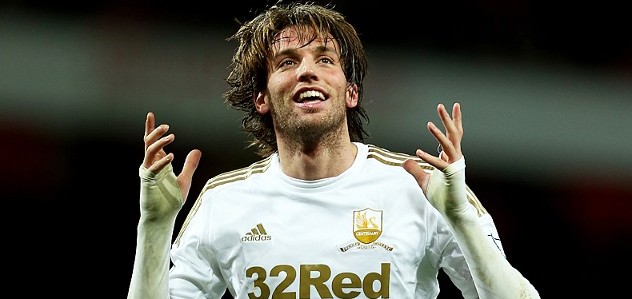 The Spanish national team attracted a lot of attention, and in some cases criticism, for the tactics the coach Vicente del Bosque employed at Euro 2012. Preferring to play without a recognised striker, the Spanish boss was accused of negativity, however, as la Roja went on to win the tournament you could say they worked a way around the problem.
Nonetheless, as the team now begins preparation for the 2014 World Cup in Brazil, has a new option become available?
Del Bosque obviously lacked a fit David Villa in Poland and Ukraine, and didn't trust a rather off-form Chelsea striker Fernando Torres to be much more than a substitute. Meanwhile, Fernando Llorente looks to have gone off the boil as well. But over in the Premier League there's a Spanish player who's really starting to make a name for himself – Swansea City's Michu.
Originally an attacking midfielder (and top scoring midfielder in his debut season in La Liga last year with 15 goals), Michu arrived in Wales for just £2m from Rayo Vallecano and has blown everyone away. Moved upfront by manager Michael Laudrup, he is now the top scorer in the Premier League with 12 goals. For one evening, before the incredible Falcao scored five against Deportivo, only Lionel Messi, Cristiano Ronaldo and Zlatan Ibrahimovic had scored more goals in Europe's top five leagues than Michu this season. He has five goals in his last three games.
Despite the move upfront, having played as a midfielder, his versatility should fit in with the philosophy of the national team; he won't have trouble swapping positions with others, keeping the ball moving, and arriving late in the box. In some respects, he is at the perfect club team as well, as Swansea play a very Spanish-style possession game, averaging a pass success rate of 86.5%, the fifth highest in Europe, and 55.6% possession average so far this season.
However, it is of course no surprise that he is now being linked with bigger names, most notably Atletico Madrid, who face the very real prospect of losing their own goal machine Falcao in January. It is a real testament to Michu that he is seen as a suitable replacement to one of the best strikers in the world.
It is also a real testament to the strength of La Liga, that a relatively low-key player from a team that finished 15th, who had only played in the lower leagues up until last year, can move to what English fans proudly call the best league in the world and stand out so quickly. La Liga is criminally under-rated in England, and Michu is further evidence that there is more to Spanish football than Real Madrid and Barcelona.
Especially as Atletico continue to provide the main threat to Barcelona. Their Falcao-inspired 6-0 win over Deportivo keeps them just six points behind the leaders and it would be amazing to see the Colombian stay at the club to try and continue pushing them towards this potentially magnificent achievement. Wouldn't it be nice to see an in-form player focus on getting goals for the success of their club instead of to help negotiate a big-money move elsewhere.
Michu himself is already subject to such speculation, but is remaining modest, and happy to continue paying back Swansea for the great opportunity they have given him.
"It is always nice that you get talked about with teams like Atletico Madrid, one of the largest in Spain," he told Radio Marca. "But now I am very happy in Swansea. If that call [to the national team] comes, fine, and if not, then I just stay the same. By now to have 12 goals is great, but above all I am enjoying what I am doing in Swansea."
Sounds like a good plan – to just continue along a path that's going so well. Very soon it will become increasingly clear that a real talent is emerging.
Follow @icentrocampista