On Song Alex looks the part at Barcelona
Updated: 5 December, 2012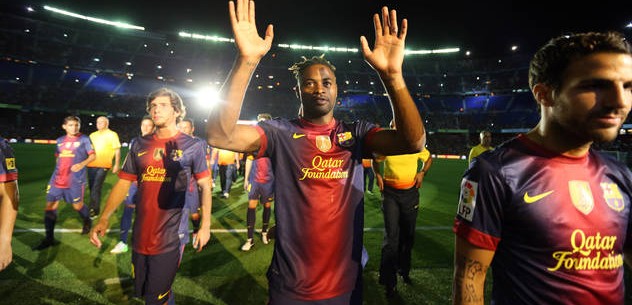 When Alexandre Song completed a surprise £15million move from Arsenal to Barcelona on 20 August, 2012 most people naturally shook their heads in despair. Despair at the thought that this was another valuable player destined to waste away on the substitutes' bench.
At the end of a season where Song contributed an eye-catching 12 assists to help Arsenal clinch fourth-place on the final day of the season, the 25 year-old native of Douala in Cameroun had clearly emerged as a spinal player for the Gunners. As confirmation, he was voted second in the Arsenal Player-of-the-Season poll, after the untouchable Robin van Persie.
Naturally, the 2012-2013 season was supposed to see him kick-on and etch his name into the bigtime as one of the club's legends. That was until Barcelona came calling and the rest, as they say, became history.
Not a few pundits questioned the wisdom of this move by the Catalan giants. A club that already had established defensive midfielders such as the impressive Sergio Busquets, highly-experienced Javier Mascherano and a capable back-up in Thiago Alcantra, surely was well-stocked in the middle department. The purchase of Song therefore did not make too much sense.
Since the start of the season, Vilanova has featured Song much more than we all expected. In 14 La Liga matches, Song has started in 7 games. In the Champions League, he has played 4 games, while in the Super Cup and Copa Del Ray, he has appeared thrice. Altogether, at this point of the season, approaching mid-December, the unsung Song has managed 15 appearances – much more than elite players such as David Villa, Alexis Sanchez and even Carles Puyol can boast of. Not bad for a supposed benchwarmer, ay? In total, he has appeared in about 55% of all Barcelona games so far this season.
Song's versatility has been his big advantage. He made his name as a defensive midfielder at Arsenal and excelled in that position for years. After the departure of Cesc Fabregas at the start of 2011 season, he was pushed up the park behind the main striker and duly produced the goods with those precious, crucial 12 assists mostly for van Persie.
Such precocious ability to locate strikers with the perfect ball has been vital to many of Barcelona's recent successes. Which may have been what attracted Vilanova to him. Which may as well not have been.
Whatever it was, Song has not disappointed so far in his short Barca career. Early-season injuries to Puyol and Gerard Pique have forced him to be pressed into service in central defence – which was a role he played many times with distinction also at Arsenal. When called upon to man the barricades, Song's versatility has proved useful.
The real reason why Barca splashed £15milllion on him could simply lie in the player's jack-of-all-trade abilities. With a style of play that combines endless midfield running, harrying of opposition players, all-action movement, anticipating opponents' next moves, breaking up attacks and laying on balls for counter-attacks, Song epitomizes a modern-day, man-machine that offers a bit of everything. He is so good at all these things, it has become a puzzle agreeing if he is better as a defender; or as defensive midfielder; or as attacking midfielder?
Even Javier Clemente, ex-this, ex-that, who once handled Song as coach of the Cameroon national side added to the cacophony of opinions (and confusion) by describing him as, "a much better player in attack than he is defensively".
At 25, he wears the No 25 shirt at Barcelona. If he manages to make a similar amount of appearances at the end of his maiden season at Nou Camp. Or provides a similar number of assists for the likes of Messi, or Adriano, or Villa, it would have been £15million well-invested by Vilanova.
So far, so very good for this unusual African in Catalonia.
Follow @icentrocampista