Aiming for Europe: Real Sociedad put the pieces together for a continental adventure
Updated: 16 February, 2013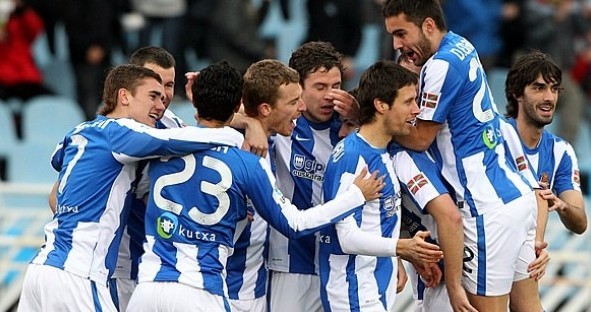 Philippe Montanier side started the season with some inconsistency and disappointment as many consider them a side that should be representing Spain in Europe next season. However, Christmas came in early November at San Sebastian and success hasn't stop since.
Real Sociedad combined victories with defeats in the first seven weeks of the season. Then they hit their biggest sloop of the season not winning a game in October and starting the first week of November with a defeat. Since then, Sociedad have suffered only one defeat in the last 13 matches, picking seven wins and five draws.
Red is the colour, football is the game 
One key element in the 'txuri-urdin' recent success has been the colour red. As Sociedad have played seven matches of their last 10 with a numerical advantage.
Though, we can't say that the reason that Sociedad are winning is because they are always playing against 10 men. For example, they suffered a defeat against Madrid despite playing with a numerical advantage for 73 minutes.
Against Sevilla they were already winning 2-1 (the final score) by the time Coke saw his second yellow card. They were also drawing against Depor when Evaldo was sent off. In total of their seven wins only three were picked with a numerical advantage being perhaps the most notable example against Barcelona.
Montainer side were losing 1-2 against the Catalans when Piqué picked up his second yellow card. After that, Sociedad scored two goals and gave Barça their first defeat this season.
More recently, Sociedad defeat Zaragoza on the road taking advantage of Héctor's red card in the 22nd minute of the match.
Carlos Vela rising above the rest 
If the red cards have help Montainer's side, perhaps the biggest factor have been the form of Carlos Vela during this run.
In 2013, Vela has participated already four goals with two assists and two scores. The Mexican has been fantastic in Sociedad current run. In his last 13 games, Vela has scored seven goals and produced three assists.
The former Arsenal is clearly the MVP of this team, just like last season, Vela has played a key role for Montainer's side. In the eight games that Vela has scored this season Sociedad have won seven and draw one. Plus Carlitos has scored the first goal of his team in five occasions so far in La Liga.
Vela also leads his team in both assists with five and goals with nine. He did the same last season with seven assists and 12 goals and it's the only La Liga player to be in place to do this for a second straight year.
Together with Espanyol, Real Sociedad is the hottest team in Spain right now and is only three points away from fourth place Málaga. Even that we are still 15 games away from the end of the season; the Basques are a good of a bet as any to play in Europe next season.
Follow @icentrocampista