A new year brings new problems as inconsistency hits La Liga
Updated: 10 February, 2013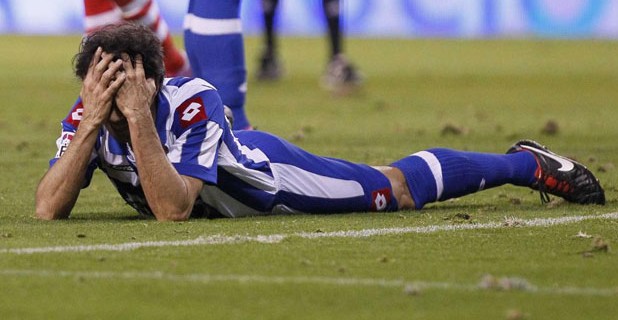 We have already seen five weeks of Spanish football in 2013. However, can it really be claimed that La Liga is fully back up and running? Some stats suggest no, considering the lack of a consistency shown by a number teams.
If you mix the hangover of the winter break with a bad calendar, Cup games, Champion League matches, international friendlies, the African Cup of nations plus an economical crisis that doesn't allow team to reinforce their squads,  it's easy to understand the lack of form some La Liga teams are displaying at the moment.
For example, league leaders FC Barcelona managed to stay undefeated for 19 weeks, picking 12 straight along the process. However, in 2013 they have already drawn and lost one game. After 12 weeks of putting W on the boards, Barça managed all three possible results in the last three matches.
But Barcelona are not the only team to lose pace this year. In fact, Sevilla had the longest winning streak in the league with just two victories until losing in Madrid on Saturday. In the last five games, almost every La Liga team has picked a win, earned a draw and suffered a defeat. With Mallorca and Zaragoza being a couple of exceptions as neither team has won a game in the last five. And Levante and Rayo being the other two teams who haven't seen all scores in the board yet, as neither has drawn a game in this 2013.
From the last three games, only seven teams have managed two victories, apart from the mentioned Sevilla, Real Madrid also picked two wins in a row before suffering the disappointing defeat against Granada last week. The Andalucians are also part of this list together with Osasuna and Atlético.
Only two teams have shown real form in this year, despite already suffering a defeat, Espanyol and Sociedad are undefeated in the last four. The Basques have even managed to beat Barcelona, while Espanyol have managed half their victories this season in the last five games.
Deportivo started the year with a new coach and great home debut, beating Málaga 1-0. However, it's been downhill since then and Depor have now suffered four straight defeats. The Galician fever has also hit Celta who as their bitter rivals started the year with a win but have since gone five games without victory  and lost 1-0 at home to Valencia on Saturday.
Mallorca just sacked Joaquín Caparros after four straight defeats and are still waiting for their first victory in 2013 – drawing 1-1 against Osasuna this weekend. Zaragoza are also yet to win this year and you start to wonder if Jiménez will be following Caparros' steps very shortly.
For the teams fighting in the relegation zone, getting some wins  is clearly a top priority. However, there are also teams in the middle of the table that are far from safe is they don't pick their games soon.
Follow @icentrocampista