Backs to the wall at the Bernabeu as things reach breaking point
Updated: 9 February, 2013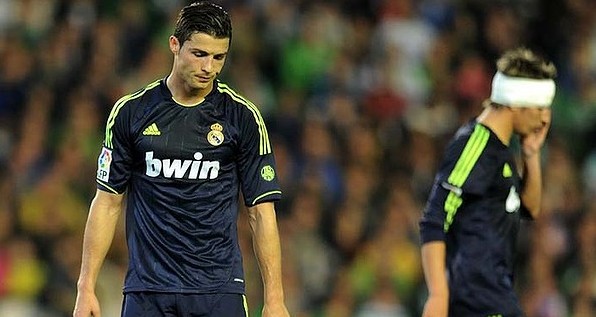 With the chances of Jose Mourinho staying as Real Madrid coach now sitting somewhere well below 1%, an unwanted summer of rebuilding looks set to be undertaken at the Bernabeu. Nearly four years after Florentino Perez embarked on Galacticos MkII the project has been swiftly dismantled by a combination of Barcelona's scintillating form, Atletico's magnificent rise and Madrid's own turmoil.
Temporary solace may be found with success in the Champions League, but even something as spectacular as a 10th European cup is unlikely to prolong a mass exodus; the components of Real's 2011-12 league winning campaign look to have peaked as Madrid employees, the crux of that being Jose Mourinho.
Madrid's search for their twelfth manager in thirteen years will begin in the summer, and that it could very be dependent on where the Portuguese chooses as his next destination. With numerous rather blatant press leaks about how Mourinho's relationship with Chelsea owner Roman Abramovich is nowhere near as fractured as the general perception, a return to Stamford Bridge is beginning to look likely, and it's a possibility he may swap seats with the man currently in charge, Rafael Benitez.
Benitez, Chelsea's 'interim' manager, began his career at Real, first with the youth team as a player before moving on to coach the teams prospects following his retirement. Whilst his reputation is not great among many in England he still remains a serious candidate for the job. Despite much evidence to the contrary, Liverpool's drop off after the Spaniard led them to second place in 2009 is deemed by many to be Benitez fault.
The 52 year old who took the team to two Champions League finals in three years had multiple approaches from Real Madrid during his time at Liverpool but continually rebuffed them; whilst he is doing himself few favours with a poor display as Chelsea manager he is believed to still be well respected by those in power in the Spanish capital, not least due to his two title wins while manager of Valencia.
Another man who also declined Real's approach on multiple occasions is Arsene Wenger; whilst much harder to obtain than the 'interim' manager Benitez, Wenger has come under immense pressure at Arsenal this season, and if a top four finish is missed this season for the first time in 18 years, it may just be the tipping point for Wenger to make a late move in his career.
Carlo Ancelotti's name has been frequently mentioned for the same reasons as Benitez; with pedigree in winning the Champions League he could boost Madrid's chances of winning that alluding 10th European cup. Despite earing the big bucks Ancelotti is believed to not be entirely happy in Paris, and with rumours of Mourinho replacing him gathering pace the Italian could be set for his first job in Spain.
Other names mentioned include that of the bookies favourite Joachim Loew, who is out of contract soon with the German national team and may be tempted into an early departure before next years World Cup. Swansea coach Michael Laudrup remains a strong contender while the likes of Roberto Mancini, Laurent Blanc and Marcelo Bielsa continue to be linked.
On the player front, another Galactico will almost certainly be leaving is Kaka, the third most expensive player of all time behind Cristiano Ronaldo and Zlatan Ibrahimovic will be departing for first team football at the age of 30.
Ronaldo himself may also be available; his previous statements about football being cyclic combined with his public unrest this season and Manchester United's ability spend their large profits in this new age of Financial Fair Play may mean a return to England is a possibility.
Madrid's player recruitment looks to have hit an early stumbling block with the public pursuit of Neymar drawing to a close with the Brazilian strongly believed to have chosen Barcelona as his European destination. Real Madrid however have options; Radamel Falcao seems a distinct possibility to add a World Class player to their corps while they remain extremely keen on finally bringing Sergio Aguero to the club despite the fact they would be negotiating with one of the only teams that can compete with their financial power.
Gareth Bale and Luis Suarez are two of the more attainable Galacticos that will likely be looked at during the summer whilst reinforcements will be required in the fullback and center back along with depth additions in midfield and up front.
The holy grail of a 10th European Cup continues to escape Real Madrid's grasp and despite every opportunity to do so this summer, Florentino Perez' technique of throwing money at the problem may no longer be enough.
Follow @icentrocampista