Are Barcelona beginning to suffer in the absence of Tito Vilanova?
Updated: 6 February, 2013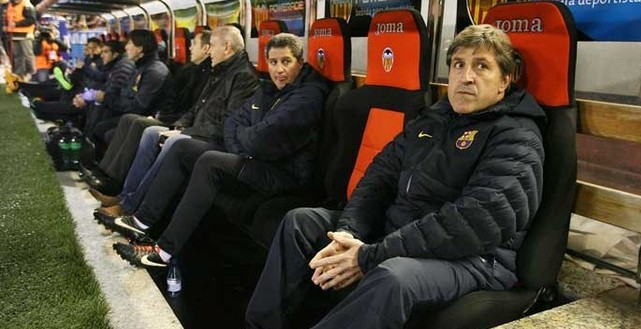 The international break is upon is but there's plenty to mull over  in the FC Barcelona camp. The Catalans produced one of their poorest first half displays of the season against Valencia at the weekend, and even after eventually improving in the second half, should be considered lucky to escape with a point, thanks to Victor Valdes, rather than unlucky to have failed to take all three.
It was Barcelona's second draw in a row, following a cup stalemate against Real Madrid, and I would suggest that their recent downturn in fortunes has much to do with the absence of the man who should be at the helm of the ship. One of the hallmarks of Tito Vilanova's brief time as Barcelona first team coach this season is his intuitive ability to change the tide of games through mid-game tactical adjustments in formation or substitutions. One striking example was Barcelona's last gasp winner against Sevilla last year, with the introduction of David Villa proving the difference between a draw and a victory.
Jordi Roura hasn't shown quite the same nuance however. With Barcelona 1-0 up against Real Madrid, the Catalans were crying out for a more clinical edge towards the end of the second half, yet ultimately the change never arrived, with Madrid going on to equalise. Likewise, against Valencia it was patently clear that Cesc Fabregas simply wasn't having one of his better nights, and the introduction of Thiago, who excels in wriggling out of the kind of tight spaces Valencia were forcing the number four work in, was one obvious half-time change not taken by the Barça assistant.
Let's be clear: It is not my intention to be negative towards Jordi Roura. In many ways he has a thankless task, being required to both take charge of Barcelona in Vilanova's absence, yet at the same time remain only the assistant coach and unable therefore to shape the team to his full desire. Moreover, just because Vilanova has proven to be an excellent coach after working as an assistant doesn't necessarily mean that Jordi Roura is currently at the level required to take charge of one of the most stressful jobs in management.  Tito Vilanova had three years of experience as Pep Guardiola's assistant before taking the reigns himself, while Roura has only had months before having to do so, and in very different circumstances. That's worth keeping in mind.
Rather, I think it's worth paying attention to Tito Vilanova's own strengths as a coach and how they are currently missing from the team he has worked hard to mould. For me, it's no coincidence that Barça's form has become erratic just as Vilanova's presence has become sporadic due to the requirement to spend time away from his work through illness.  Vilanova's health is, of course, beyond the importance of football, but you can guarantee that Sandro Rosell is hoping he will indeed be able to return from New York after a successful bout of treatment, ready to take control of his team during the vital stage of the season that approaches. That Barcelona miss him so badly helps to dispel the myth that simply anyone could take charge of this team.
Follow @icentrocampista