THE TACTICS CHALKBOARD – Atletico Madrid 3-1 Real Zaragoza
Updated: 1 November, 2011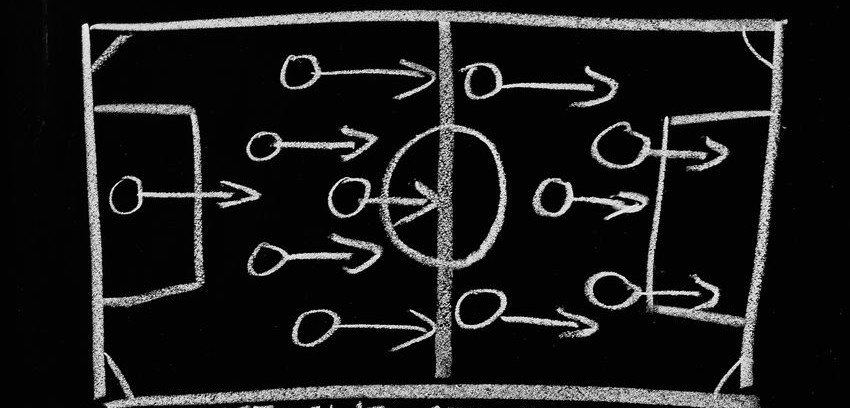 By Jack Presswell
The much maligned Gregorio Manzano finally had something to smile about this weekend, as his Atletico Madrid side ended a run of seven winless games by beating Real Zaragoza 3-1 at the Vicente Calderon.
For Zaragoza, this result left them with the worst goal difference in La Liga (-10), and when you consider the way that they defended in this fixture that is in no way surprising.
Adrian bagged a brace for Atletico either side of captain Alvaro Dominguez's goal before Helder Postiga headed a consolation goal for Zaragoza.
Manzano made changes to his line-up prior to the game in an attempt to shake things up and stop the rot. Underperforming big name players Jose Antonio Reyes and Paulo Assuncao were dropped from the squad altogether.
When you have a physical forward like Radamel Falcao there is always a temptation to deploy him as a lone striker with wingers feeding him. This is something Manzano had done previously, but  he opted to play a 4-4-2 with Adrian up front alongside the Colombian on Sunday.
Playing another striker wasn't Manzano suggesting that Falcao isn't doing his job, for he has scored six goals this season, it would've been due to the fact that Los Rojiblanco's had only scored two in their last seven games. Such a statistic makes a change in attacking emphasis understandable.
Plus, in Falcao's defence, filling the boots of both Diego Forlan and Sergio Aguero is a very difficult task.
An interesting factor of this game was how Atletico Madrid's midfield was set up. Apart from Mario Suarez as the holding midfielder there was little structure and for the most part little width. Gabi switched between playing alongside Suarez or as a narrow right midfielder making runs forward.
Diego started the game behind the strikers but found himself dropping deeper and deeper to pick up the ball whilst Arda Turan played in an advanced role on either flank.
Atletico had no wingers on the pitch but that didn't matter as Falcao wasn't being used as a target man. If anything Adrian was the more advanced of the two front men.
Instead the £35 million signing was making intelligent runs off of the ball and often dropping deep to link up play.
On the other hand Real Zaragoza lined up in a 4-4-1-1. Helder Postiga was the lone striker with Luis Garcia supporting him from an inside left position. They played with a flat midfield until later in the game when Lafita and Juan Carlos were introduced and took on more attacking roles.
The first half was scrappy as, for the most part, neither side were able to get the ball down and play.
For Zaragoza, they struggled as they sat too deep when Atletico had the ball, with the midfield lining up to shield the defence. When they won possession they would look quickly for Postiga, who, even though he held the ball up well, Luis Garcia aside, he had little support.
For Atletico, it was Zaragoza's deep lines that reduced their incisiveness. Diego would drop and get the ball off of the defenders or holding midfielder Suarez but his distribution wasn't good enough amongst the crowd of white shirts and many of Atletico's forays forward broke down quickly.
However, as soon as some space opened up for Atletico, they scored. Zaragoza had brought men forward but when they lost the ball, Atletico countered.
Falcao laid it off to Gabi who eventually found Arda Turan. Turan came inside before crossing to Adrian who did very well to head beyond Roberto Jimenez.
Whilst nothing can be taken away from the quality of the cross and the finish, Zaragoza's defending was poor. They got managed to get men behind the ball but still sat off.
This wasn't sitting off as a unit with two banks of four; this was individuals not doing their job in a more open phase of play.
Even though there were three men on the edge of the box no one pressured Turan and Da Silva's marking of Adrian is just woeful. There were only two Atletico attackers in the penalty area and both managed to find space with ease amongst the static defenders.
The defending for the second goal was arguably worse. Gabi crossed a free kick to the back post where Godin was free, the former Villarreal man nodded back across goal where out of seven players one reacted. That player was Dominguez who scored from close range; the other six were Zaragoza defenders who just stood still and failed to react to the second ball.
Javier Aguirre had used all of his substitutions by the 63rd minute as he tried to get his team back in the game. One of those substitutions saw him take off left-back Paredes and bring on an extra winger in Lafita.
Another change was curious for the fact that Aguirre brought on Ruben Micael to play against his parent club.
However, Zaragoza pushing forward only served to help Atletico who were much more dangerous when the game became open and stretched. Without the wall of Blanquillos midfielders condensing the space Atletico were able to have more runners burst from midfield.
This combined with more bad defending led to the third goal. Filipe played a one-two with Diego, he shrugged off a lame Juarez challenge and drove into the penalty area where he was able to run to the corner of the six-yard box with no one making any effort to close him down; there he cut it back to an again unmarked Adrian who scored via the underside of the crossbar.
Soon after, Real Zaragoza scored thanks to some terrible marking, this time from Atletico. Helder Postiga found the net with an embarrassingly free header from a corner.
The former Porto and Sporting Lisbon man had a good game; he worked hard and was industrious even though he was very isolated.
In the second half, when Zaragoza as a team were more advanced, Postiga was able to take up more dangerous positions nearer to the Atletico goal. Unfortunately, the service wasn't there from his teammates.
It's too early to say whether Atletico Madrid have turned a corner and it's probable that Manzano's job isn't safe yet. His brave team selection did ultimately pay off, yet Atletico were up against a poor Zaragoza side.
Furthermore, Atletico's attacking play wasn't brilliant. They got the ball into good positions when the space was there but the final ball was often lacking and when Zaragoza did get men behind the ball this frustrated Atletico and they struggled to create anything.
If anything, the reason Atletico finally scored some goals and got their first win in eight games was Zaragoza's terrible defending. Not taking anything away from Adrian's brilliant header, but all three goals could have been avoided if Zaragoza didn't just sit off teams and learnt how to close down (and mark properly.)
If they don't, then it could be a long, arduous season. As for Atletico, it'll be interesting to see how they line up in their next La Liga game. Whether Manzano brings back some of the bigger names and jigs the system again or whether he sticks with what got him the result he desperately needed this weekend, albeit against disappointing opposition.
Follow @icentrocampista