BARÇA, BRAZIL AND THE WEAPON OF THE WINGBACK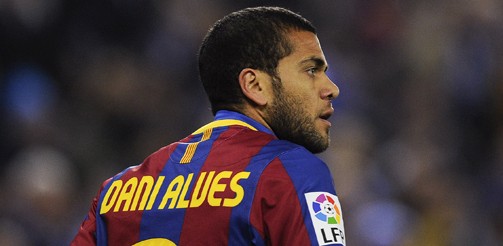 By Sam Hughes
The importance of the wing-back as an attacking force is one of the more recent developments in football.
It was, traditionally, the position in which the less talented players were often thrown in, just to get them out of the way. Their duty was to sit in, clear the ball if it came near them, and just stay reliable and resolute.
The position however, is no longer anywhere near that. It has developed into one of the most effective areas on the pitch.
The advent of the Brazilian wing-back has become much more apparent in the past twenty years or so.  It soon became apparent that when faced with a 4-4-2 or 3-5-2 formation, the wing-back was usually the player with the most space to exploit.
The fact that all the World Cup winners since 1994 have had a pair of marauding full backs attacking the opposition effectively is not a coincidence.  Jorginho and Branco for Brazil in 1994, Bixente Lizarazu and Lilian Thuram for France in 1998, Cafu and Roberto Carlos for Brazil in 2002, Fabio Grosso and Gianluca Zambrotta for Italy in 2006 and Capdevila and Sergio Ramos for Spain in 2010.
As well as being defensively aware, the wing-back began to have a say in what went on further up the field, when their team was on the attack.
Barcelona are one of the major sides in Europe that have truly embraced the use of the wing-back as an attacking weapon.
The Catalans signed Dani Alves from Sevilla in the summer of 2008. The Brazilian is the embodiment of the modern wing-back; physically strong, athletic, frightening pace, boundless technical ability, and – most importantly – able to attack and defend.
Playing at right wing-back, he has been an integral part of the successful era Barcelona are currently experiencing. However, despite the success of Dani Alves in making the right-side his own, the left-side still seems oddly vacant.
Maxwell, Adriano and Eric Abidal have all occupied the position of left wing-back with various degrees of success without ever really securing the role in the manner in which Dani Alves has.
Abidal is a classy performer in the defensive area, but is unable to really impose himself as Barcelona go forward as it is not his natural game. Maxwell and Adriano, on the other hand, have the pace and natural attacking instincts – though this is without the wonderful ability that Dani Alves possesses, leaving them with a distinctly lop-sided formation.
Although, obviously, this has not caused much harm in terms of the club's success, you do have to wonder what kind of outrageous attacking threat could be offered if they were to have a Dani Alves-type on the opposite flank.
It is clearly something that has been deliberated by Guardiola, as his side have been linked with various attacking left wing-backs over the past couple of years, including the likes of Gareth Bale and Jose Angel.
There is no doubt that these players would fit into the current Barcelona setup but the answer may just be closer to home.
Alejandro Grimaldo is an attacking left wing-back from, as ever, Barcelona's La Masia. He has recently become the youngest ever starter for Barcelona B in the second division at the tender age of just 15 years and 349 days old, beating the previous record held by Haruna Babangida.
He made his first official appearance in the 4-0 win over FC Cartegena, seamlessly slotting into his role with ease and looking assured throughout the match. Quite an achievement for a player of his age.
Grimaldo joined Barcelona, aged 13, in 2008 after spending two years at Valencia. He arrived as a winger before being converted to a wing-back by the coaching staff at La Masia. It was a decision that let the youngster progress from Cadet A to Cadet B, before then moving up again to the Youth A and B teams where he helped Oscar Garcia's team win the Champions Cup and the Spanish Cup.
The performances at these levels – and now the B team – have shown Grimaldo to be a skilful wing-back with pace, vision and a surprising amount of strength for a youngster of his size – just 5 ft 5". His style is to take risks and attack the left flank before picking out a perfect cross, earning him the tag of the new Roberto Carlos and, reported transfer target, Gareth Bale.
It is his mental strength, though, that has really set him apart from others his age. This was something which Barcelona B coach, Eusebio Sacristán, commented on before selecting him for his side.
Grimaldo, being just 15, is by no means a world-beater or the finished article just yet; he has a lot to learn before being promoted to the first team. His youthful exuberance can leave the left flank exposed as he bursts forward eager to impress, but this is just the usual tactical naivety that most youngsters possess.
All he needs is time, paired with patience and guidance. This is something which Barcelona under Guardiola does best; protect him from the media spotlight, let him develop and grow without pressure and, hopefully, shield him from an early transfer to another club.
Should his education go to plan, then we may well be seeing the new left wing-back that has eluded Barcelona for so long. And then who is going to stop them?
Follow @icentrocampista