PLAYER OF THE MONTH – Who stood out in September?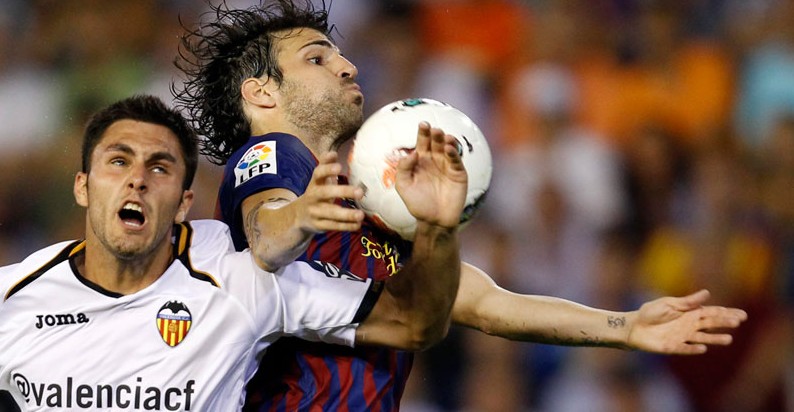 By Jamie Milligan
Another month of matches are done and dusted in the greatest league in the world.
September has seen some fantastic goals, some dazzling skills, and some standout solo performances.
But just who were last month's top players?
Here I've chosen my shortlist for September's player of the month. I've tried not to go with the obvious candidates, though that's been difficult with La Liga's brightest stars shining as brightly as ever.
These are the five players who have impressed me most over the past month.
Adil Rami
The strapping Valencia centre half has been a colossal figure at the back for Los Ches. He has formed an instant partnership with ex Espanyol favourite Victor Ruiz, who was brought in from Napoli during pre-season. The Frenchman actually signed for Valencia in January of this year from French champions Lille, but was loaned back to the Le Championnat side for the remainder of the 2010/2011 season. His commanding displays over the past month make him an easy selection for my player of the month shortlist.
Cristiano Ronaldo
CR7 may seem like an obvious choice, but his start to the season has made it impossible for me to leave him out. Ronaldo has picked up from where he left off last season, and has started the season sensationally. Four league goals in the month of September, including an impressive hatrick in Real's 6-2 win over Rayo Vallecano, has had fans of all persuasions singing his praises. Not content with simply scoring goals, an increasingly generous Ronaldo has laid on 3 goals for teammates over the past four weeks. These impressive stats mean Ronaldo is another easy choice.
Santiago Cazorla
At an expense of a cool 20 million Euros he was Manuel Pellegrini's most expensive signing of the summer. Any doubts anyone had over value for money were blown away almost immediately as Cazorla made a stunning start to life on the Costa Del Sol. Whilst Villarreal have struggled without him, Malaga have soared to 4th place in the table as a result of Cazorla's presence. 3 goals, including a stunning brace against neighbours Granda, and an assist, have helped ease Cazorla onto my shortlist.
Lionel Messi
Again, I could be accused of lacking imagination with this selection, but let's be honest, no matter if it's September, October, or January, Messi is always going to be on the shortlist for player of the month. September, even by his standards, has been a glorious month for the little genius. A hatrick against Osasuna in Barca's 8-0 demolition, followed up by another hatrick against high-flying Atletico Madrid, not to mention four assists, has Messi head and shoulders above his peers once again.
Francesc Fabregas
Fabregas has really hit the ground running since returning to his beloved Camp Nou. It's almost as if the ex Arsenal captain has never been away, such is the way he has seamlessly settled into the Barcelona XI. 3 goals and 3 assists during September, suggests that Fabregas will be one of the stars of this La Liga season. Particularly impressive has been Fabregas's telepathic connection with Lionel Messi. The duo's understanding of each other's style of play has made Barca even more beautiful to watch.
Apologies to fans of Levante and Real Betis, who have both started the season superbly, I really did try to include a player from both, but I just couldn't leave any of the five players listed above out.
Anyway, what do you think? Am I spot on, or am I way off the mark?
Let us know.
Here's to an exciting October…
Follow @icentrocampista