THE MAGIC OF MESSI – What makes him the greatest in the world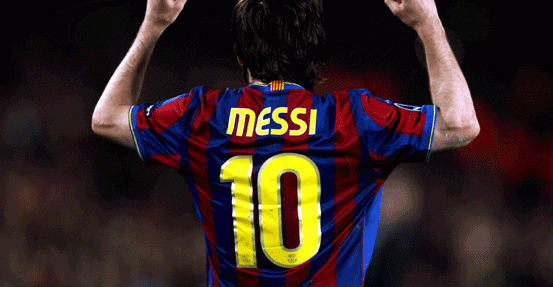 By Richard Thorburn
Last week's brace against BATE Borisov in the Champions League saw Lionel Messi take his Barcelona goal total to a staggering 194 goals and in the process, become the Catalan's joint second top goal scorer of all time.
Considering that Messi is still only 24, the achievement is remarkable and testament to the way in which he has taken La Liga by storm since his debut against Espanyol back in the October of 2004.
The technical aspects are there for all to cast an envious glance over; dribbling, panache, creative flair, finishing and his all round influence on an equally impressive Barcelona team has been written, and with good reason, extensively in countless publications over recent years.
But what else is it that makes the diminutive Argentine so special?
Shedding some light on it this week was Barcelona's club doctor Ricard Pruna who in an interview with Sport.es has revealed the lengths that Messi goes to in order to stay at the very top of his game.
Pruna told the Catalan daily: "I would like to highlight the maturity and the process of adaptation carried out by Leo.

"The player is able to control his rest periods and the food he eats, tying them in with his workload. He is one of the fittest players at Barcelona.
"Messi has great personal needs, but he knows how to manage his understanding of football, balancing the efforts he makes to be more effective at preventing injuries."
Now while a professional athlete taking great care of his physical attributes is hardly the biggest shock of all time, it does go to show that Messi isn't taking his exceptional skill for granted and this perhaps is the reason of his continued growth to date.
The physical side to Messi's game is something that has been under scrutiny ever since he broke onto the scene.
At the age of 11, he was diagnosed with a growth hormone deficiency a medical condition in which the body doesn't produce enough growth hormones which in extreme cases can result in slower muscular development but his family couldn't afford the $900 a month treatment.
Lurking in the shadows were Barcelona and it was at this point that they stepped in.
Agreeing to front the cost of the growth hormone injections on the basis that Messi moved to Spain, Barcelona had their man.
Speaking to Match of the Day magazine, the Barcelona striker said: "It wasn't difficult for me to move to Barcelona because I knew I had to. I needed money for my medicine to help me grow and Barcelona were the only club that offered. So as soon as they did, I knew I had to go."
While the treatment was ultimately a success, there were still some fears that Lionel may not be up to the physical demands of first team football but Messi's desire to be a superstar continually shone through.
Any initial fears were quickly mislaid and his small build has certainly not hampered him thus far, in fact if anything his low centre of gravity has made spinning past defenders easier than it possibly would have been had he been 6ft.
Another point of interest is Messi's personal life off the pitch, and while in today's 'celebrity culture' it may be common for a player's personal life to hog the headlines on the front page, Lionel creates them where sportsmen of his ilk should.
It is rare to see an edition of a Spanish paper the morning after a match and not feature Lionel's grinning face after tearing apart another traumatised defence.
There is little doubt that journalists being journalists, will have tried to uncover some dirt on the world's best player, but the truth is – Messi is the model professional. You are very unlikely to see Lionel in court begging a judge for a restriction order.
And it is all these things combined with his un-nerving natural skill that make Lionel the ultimate footballer and one that hasn't let his potential and talent go to waste.
Level headed and modest Messi once commented: "Even if I play for a million years I will never be near to what Maradona was as a footballer"
Maybe this is the only thing that Messi has got wrong in his career so far because in mine, and the view of many other Spanish football followers, he is much better. On and off the pitch.
Follow @icentrocampista