'Messisubsidiado' – Do Barca over rely on Lionel?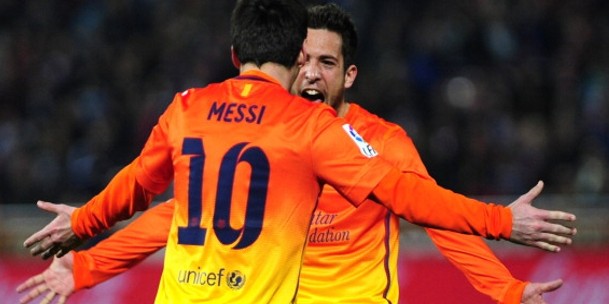 Over the last 2 weeks Messidependencia has been the buzz word in the Spanish press. This is after his 62nd minute introduction appeared to save a previously abject Barcelona from crashing out of the Champions League against Paris St Germain. Critics subsequently have been quick to jump on a hastily assembled bandwagon in order to jab fingers and raise concerns at Barcelona's supposed overreliance on their number 10.
And in fairness to them, statistics prove that on paper their opinion does carry weight. During the course of the last 3 seasons Messi has scored 183 goals in 160 matches and since his debut in 2004 the rate at which these goals have come has improved year upon year.
However sheer weight of goals alone should not, and do not, prove a player's worth to this team and so perhaps a more accurate assessment would be to gauge what percentage of his team's goals the individual in question is responsible for.
Again, the results are quite extraordinary. During the 2010/11 season the diminutive Argentine accounted for 33% of his side's goals in La Liga. The following season this figure raised to a scarcely believable 44% a ratio that has barely dropped during the current campaign.
These stats prove that Messi is clearly vital to Barcelona. Yet, rather than criticising Barcelona for it, it seems more reasonable to herald Guardiola's foresight in 2008 in recognising Messi's genius and subsequently constructing a system in which he could flourish.
Remove the talisman from any team; Ibrahimovic from PSG, Ronaldo from Real, Pirlo from Juventus, and they will struggle. How did Barcelona's opponents in their Champions League semi-final fare without Bastian Schweinsteiger in their midfield? They lost 2-0 at home to Arsenal and went within a whisker of leaving the competition.
Admittedly circumstances were skewed due to their lead from the first leg, but I think it is safe to say such capitulation would not have occurred with Schweinsteiger at the directing operations. In Messi's case, a drop in the team's performance is even more exaggerated given the ability of the player we are talking about.
In my view, any disparagement of Barcelona's reliance on Messi is unfounded and demonstrates an ignorance of not just the level of Messi but of the rest of the Barcelona squad. A leading sports website wrote in reference to a Messi-less Barcelona's chances "Men like Andrés Iniesta, Xavi, Sergio Busquets and David Villa are no mugs".
To refer to this quartet in such ordinary terms is to do them a monumental disservice. In Xavi and Iniesta I do not think it is hyperbolic to refer to them as two of the greatest midfielders of all time. We then move onto David Villa, scorer of 53 international goals.
Meanwhile Pep Guardiola, one of the best midfielders of his generation, stated that if he could be re-incarnated, he would choose to come back as Busquets. This is before we have mentioned the likes of Gerard Pique, Dani Alves, and Jordi Alba, all of whom would not look out of place in a World XI. For players of such status in their profession to be convinced to make certain alterations in how they play in order for one individual to flourish proves beyond any statistics just how good Messi is.
All that said, undoubtedly Barcelona have a better chance of defeating a foe like Bayern Munich with Messi in their side. This is hardly a revolutionary stand point, but what is important to remember is that, even if he is absent, the side possess a remarkably good chance of progressing against, statistically, the greatest German club team of all time. Do not do his team mates the disservice of dismissing their contributions as merely getting in the back of an all conquering mini bus being driven by Messi.
Messindipendencia? No. More like Messisubsidiado; An Argentine cherry on top of an already very nicely iced cake.
Follow @icentrocampista