Let's talk about Cesc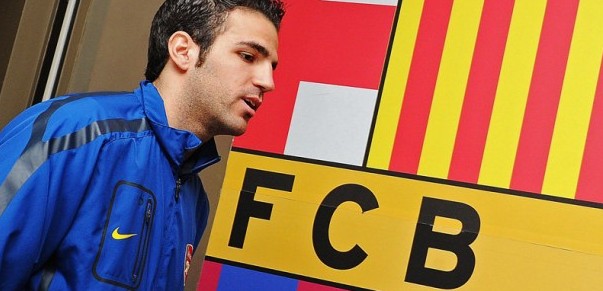 Cesc Fabregas, to be exact.
The former Arsenal skipper is playing his second full season back "home" after one the most publicized transfers saw him go from London to CampNou.
Frances Fabregas Soler started his career in the famous youth academy of La Masia but at 16 years of age was signed by Arsenal and before he turned 18 he had already more than 30 Premier League games under his belt. By the time he was 21 he was already named team captain.
Before turning 24, Fabregas had already played a Champions league final, a European Championship final and a World Cup final. He had assisted Iniesta in the most famous goal in Spanish history, scored perhaps the most important penalty in Spanish football and has a collection of silverware that a player could dream at a national team level.
An integral part of La Roja, many widely expected that Fabregas's move back to Barcelona would cement the central midfielder as one of the greats in Spanish football history.
But his two year at the Nou Camp has been rather inconsistent, with the player starting both seasons brightly, but seemingly fading away in the New Year.
However, now at 25, Fabregas is about to reach a milestone in his career and an accomplishment that only Lionel Messi and Cristiano Ronaldo have managed to achieve in recent seasons.
With 10 assists and nine goals, Cesc it's about to became the first player since the 2006-07 season, with the exception of Lionel Messi, to record 10 assists and 10 goals in a single Liga season for FC Barcelona.
Fabregas finished the first half of the season with nine assists and six goals, well in place to achieve double figures in both categories but after not scoring or assisting for three months all seems to point out that he was going to fall marginally short again; last season he managed nine goals and eight assists.
But then, Messi wasn't fit to play last week against Mallorca and the former Arsenal rose to the challenge scoring his first hat-trick as a Barcelona player and producing his tenth assist of the season. Now with eight games to play, it is surely just matter of time before Fabregas reaches the double digits in both categories.
The last person to achieve such a feat for Barcelona, again without the Argentinean maestro, was Ronaldinho  who in the 2006-07 season scored 21 goals and provided 10 assists.
In fact, just Ronaldo in the last two seasons has accomplished this in La Liga, although with only six assists to his name this season; the Real Madrid star may not be able to make it three seasons straight.
Perhaps the most incredible fact about Fabregas possible milestone is that he would do this without being the top scorer of his team nor the top assister. Messi has a chance to get both honors but Iniesta is likely to be the assists leader of the league as he has already made 14, three more than the Argentinean.
Fabregas could even finish third in his team in both categories as a fit David Villa is only one goal behind him.
Fabregas can also be joined in this incredible milestone by a former teammate in Carlos Vela. The Mexican, who is having a career year with Sociedad, has already scored 13 goals and is two assists away to record 10.
Vela achievement deserves, and will get, an article of his own particularly for doing this in a team with less quality that the ones of Madrid or Barcelona.
In fact, last time a player out of the big two managed to do this was back in 2005 when Juan Román Riquelme achieved this while playing for Villarreal.
This would also be the second time in Fabregas career that he reaches double figures in both categories as he accomplished this in the 2009-10 season, his best year wearing the Arsenal top.
But contrary to that occasion, Cesc's current season has been labeled as inconsistent and full of under achievement.
However with a direct participation in 20 league goals this season; who wouldn't want a bad season such as this one?
Follow @icentrocampista