Has the great Barcelona dynasty finally come to an end?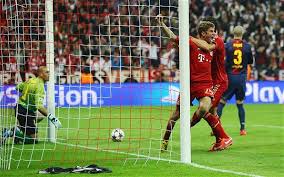 After last nights destruction at the hands of Bayern Munich, feature writer Joe Jessup lends his opinion to the debate as to whether the dominant Barcelona era is over.
In no way do I believe Barcelona to be finished as a great team, not at all whilst a certain Lionel Messi parades the field still a young man. But the score line from Munich last night, a 4-0 thumping by the German giants, suggests what I have seen all season, that the Catalan's simply aren't as good as they were.
This is a natural process I know – Chelsea post-Mourinho, the various squads of Sir Alex Ferguson at Man United, post-Galacticos at Madrid – but a brief reflection on this season will show many surprising things about the team in red and blue. Yes they will win La Liga for a fourth time in five years, but domination by Madrid in the Copa Del Rey semis and most certainly a hefty loss to Bayern in Europe ensures a mediocre season by their standards.
My reasons for this idea are simple; the tika-taka no longer looks as fluent, other players are unable to score whatsoever, Xavi appears to be waning, Iniesta has been average and so on and so forth.
The ease at which Bayern dominated Barca last night was somewhat surreal, but not all that surprising. PSG were arguably the better side over their two legs with the prestigious Spaniards, AC Milan made them look average in the San Siro and in the Classicos this year, Madrid have reigned supreme. Perhaps the truth is as simple as this; teams no longer fear the possession game.
If you take a look at the goal stats this year, it portrays a clear and worrying picture.
As would be expected, Lionel Messi tops their scoring charts with a staggering 57 goals in all competitions but you have to take a huge drop to find their next topscorer with David Villa netting 14 times since returning from injury at the start of the season.
Fabregas has 13 which is a decent return for a non regular starter, but players such as Pedro and Alexis have only 15 combined, with only nine of them coming in La Liga.
This is where the problem lies, with far too much of a reliance on the Argentine magician.
In seasons gone by, Villa and Pedro were near the 25-30 mark whilst Xavi and Iniesta would regularly pop up with around 10 each, but this year their contributions have waned big time, with Xavi enjoying a fairly lacklustre year.
He no longer dominates games like he once did and at times has been guilty of being outhustled by younger, more physical midfielders of late. Iniesta is no doubt a player of the highest class,  but even he hasn't produced it this year. Alexis Sanchez, who cost the Catalan's £32m, has a meagre 7 goals. In short, Barcelona without Messi this season would have struggled, and this has not always been the case.
It's easy to say I'm reading too much in to a bad night in Germany, but am I? When was the last time Barca were so comprehensively beaten that they looked a mid-table team struggling for any kind of form? I wouldn't mind betting it was way before Pep arrived.
Since their ultimate performance against Man United in the 2011 Champions League final, they have possibly never played better. They certainly haven't reached those heights this season, in fact they've been far from it. That night everyone looked the best in the world in their position; Xavi, Iniesta, Busquets, Pique, Puyol, Messi, Pedro, Villa. This year, I'm not so sure the team would easily dismantle the same United team.
I'm not at all suggesting that Barcelona aren't a very good team anymore, because they are. I'm simply suggesting that the great tika-taka football developed under the watchful eye of Pep, perhaps the purest form we have ever witnessed, has diminished.
Only time will tell if this season has been a lapse, but I for one don't believe that they will reach their previous level for a long time.
Follow @icentrocampista