German efficency to finish off Spanish hopefuls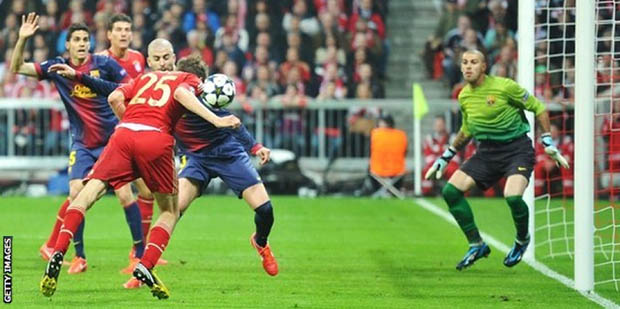 In the first of his articles for El Centrocampista, Atletico Madrid youth team coach Jose Gomez takes a tactical look at last weeks Champions League games and what to expect in the return fixtures this midweek.
In terms of physical skills, technical qualities and, above all, tactical concepts, it is fair to say that German teams outclassed their Spanish opponents in all of the three areas in the first leg of the Champions League semifinals.
Perhaps the most impressive part of Dortmund's performance was the high tempo pressing on Real Madrids defensive line which lasted untill the final minute of the match. Not only was this because they had the better physical condition, but also because they had trained it and crucially they knew where and how to press with unerving conviction.
Wrongly it has been said that Real players, in logical terms, are superior in technical abilities to their German counterparts. However the fact is that we all could see how the ball went and come from outside to inner zones on fast first touch passes, to go again wide open to wings in order to re-enter in search of goal.
Like a spider's web, Jürgen Klopp disposed his men occupying lines all over the pitch. Amazing attack advances by wing-backs, Piszczek turning over Blaszczykowski on right, and the tireless Schmelzer on the left. The Spider Queen, Gündogan, controlled the show passing and moving with constiment ease. Quarter back qualities if you like.
And then you have the duo of Götze and Reus, both of whom provided the killer four bites by Lewandowski.
What about Real Madrid? Nothing.
There has to be much more to be expected from one of the most iconic clubs in this competition. They talk about the historical nights in Santiago Bernabeu Stadium, when they were able to solve adversities, but after analyzing their performance in Dortmund, it must be said that Champions League requires something more to be conquered.
Different was what Barcelona received in Munich where a question of style was at stake, and Bayern knew it. Since it was announced that Guardiola's will arrive in the Summer, it seems that the club has gained in confidence and the players tend to be invincible, with such confidence to try whatever comes to their minds.
Barcelona did not betray their origins, the defeat came because Bayern knew how to knock those origins down. Barcelona tried to move the ball properly, to control the timing and to impose their normal Tika Taka flair. They however, did not count on the direct attacking style of Bayern.
Studying how and where the most dangerous passes came from, the majority of the lines were not through short passes but through speed and vigour.
Like arrows shot by Bayern bows, Ribèry, Robben and Muller ran out in search of the deep passes made by Scweinsteiger or even central defenders – Dante excelling in this task.
A semifinal first leg that could make these two Spanish clubs rethink squads composition this summer. But today and tomorrow is time to react and fight for a miracle in terms of the ultimate full circle turn around.
Tactically outthought last week, Barcelona and Real Madrid have one fleeting chance of redemption.
It is time to show what Tito Vilanova and Jose Mourinho are paid for…
Follow @icentrocampista