Neymar: Real to steal march of rivals Barca?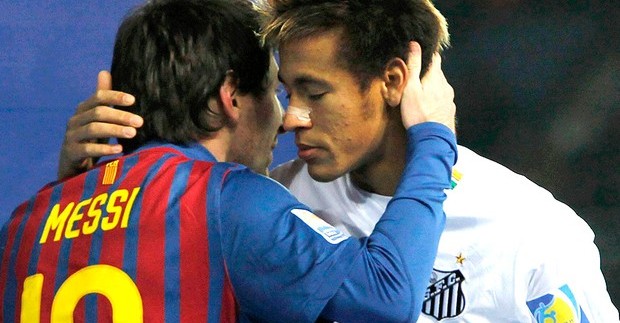 Very rarely has one player's potential future destination caused such a stir in the footballing world. But for one very talented Brazilian, it seems every week there is a new link from somewhere that is instantly analysed and scruitinsed by everyone who has ever watched the beautiful game.
It is seen as a given that Brazilian superstar Neymar, will soon make the jump from his homeland to Europe with his destination seemingly, FC Barcelona.
Blaugrana have long been credited with an interest in the 21 year-old and it is believed that they have a pre-agreement in place with the player, which would see them pay €10m to him personally, if or when he signs. Apparently, the only part of the deal left to be concluded is when his arrival will actually be.
Ideally, Barca would like Neymar to arrive this summer, but despite the wishes of the Spanish giants, it is believed that his time to leave Brazil will come after the 2014 World Cup.
There are of course, many other suiters for the player capped 32 times by his country. With a number of close aids, intermediaries and sponsors involved, any transfer would be complicated, but one particular clubs interest could change things in a radical way.
According to links close to the Spanish captial, Real Madrid have sent a team of representatives on a trip to Brazil, in the hope of swaying the momentum of any bid their way. Madrid have never been shy when it comes to singing players and are rumoured to be prepared to outbid their arch rivals by any means necessary.
With President Florentino Perez looking to get re-elected in June, he is looking for a signing reminiscent of the 'Galactico' days and one that will send shock waves of intent all around the world.
Los Blancos are also interested in Tottenham Hotspurs Welsh wonderkid Gareth Bale, however, a reported pricetag of upwards of €85m, has convinced them to concetrate their efforts on the Santos striker.
Barcalona President Rosell is believed to be concered that Real Madrid have been in contact with Santos with a view of agreeing a fee that is way in excess of their reported €40m offer.
Barca know that if it came down to an outright bidding battle that they cannot compete with Madrid, however, one shining light for them is that the player himself has a big sponsorship deal with Barca's kit provider, Nike. It is not uncommon for a sponsor to get involved in thrashing out a complicated deal package that would see both parties benefit from any such move.
It would be Barcalona's worst nightmare to see their long term transfer target end up in the white of Madrid and would be a personal blow to President Rosell. If Madrid's interest is genuine, then this looks set to be one of the fiercest transfer tussels of all time.
Of course, there could be a number of reasons for Real's increased interest. It could be that they are seeking to lower any potential fee for Gareth Bale, by cooling their interest in him, Tottenham may lower their initial asking price. Or Real could be trying to drive up the cost for Barcalona, in which case they would have less funds to spend elsewhere. Or, they could genuinely be interested in the Brazilian phenomenom.
The only way in which Barca could again steal the march for his signature would be by getting the man who has scored over 100 goals for Santos, to declare his intention or wish to play for the Basque giants. But seeing how close Neymar is keeping his cards to the table, I see this as an unlikely scenario.
Follow @icentrocampista