THE PEOPLE'S CHAMP – The unlikely rise of Sergio Ballesteros
Updated: 22 October, 2011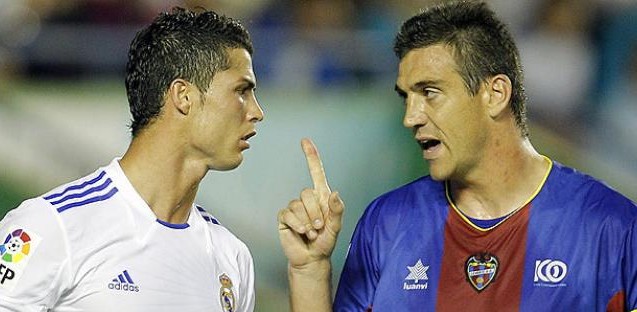 By Richard Thorburn
Weighing in at over 14 and a half stone and with a build that almost makes Richard Dunne appear anorexic, 36-year-old Sergio Ballesteros shot to fame last month when he out sprinted Cristiano Ronaldo in Levante's one nil win over Real Madrid.
An instant hit with viewers in England, Ballesteros is now a YouTube star with over 300,000 viewers of the video in just three weeks.
And while there may not be many a funnier sight in sport than someone who is carrying a bit of weight running round a football pitch, Ballesteros story is a fascinating one.
A centre half more noted for his tough tackling – often to excess- than his athletic attributes, it would be fair to say that Ballesteros's isn't exactly tailor made for the Spanish game.
And with La Liga players noted for diving more than Tom Daley, it is also accurate to say that Sergio has had many a week where his Sunday afternoon was spent sitting in the stands through suspension.
Being sent of twice in eight games during a spell at Tenerife is certainly an impressive record that not even the most notorious hard tackling player can easily match.
Defending his reputation Ballesteros was once quiet brilliantly quoted as saying "if I looked like David Beckham then they wouldn't call me tough".
And while the growth of blonde curtains may well have helped, Argentina aside, David Beckham didn't have an appetite for kicking lumps out of the opposition.
It's not that Ballesteros is 'cynical' and overly 'reckless' he is just down right clumsy.
But despite all of this and his 'unusual' body shape for a footballer, Ballesteros was at one point regarded as very promising footballer and one whom could be the defensive lynchpin for his national side for years to come.
Capped 12 times at Under 21 level and three times with the U23's Ballesteros came through the Levante youth team before debuting in 1995/96 season where he made twenty six appearances that year.
After a loan spell at Tenerife, the move became permanent in the summer of 1996 and Ballesteros featured in over one hundred games for the island based side.
At one point Ballesteros was close to coming to English shores with Southampton interested in signing him. In what would have been a move that would have surely suited his game, Tenerife ultimately deciding against letting him move to the English south coast.
Spoil sports.
Ballesteros is a figure whose approach would have been exceptionally popular in England and there is little doubt that Ballesteros would have acquired cult hero status.
You don't often get big Spanish 'bruisers', but here was the exception.
A personality as well as a footballer, a television career would surely have followed. Forget about Scott Minto, Ballesteros would have been the clear choice to front Sky sport's Revista La Liga and a reputation that would have been mentioned in the same breath as 'Andy Morrison' would have surely awaited.
Slowly though, Ballesteros frame began to present problems. One Spanish journalist once bravely asked "Aren't you too fat to be a footballer?" to which Ballesteros responded "No I am just stocky".
After spells at Rayo Vallecano, Villarreal and Mallorca, Ballesteros returned back to Levante in 2008 and has been a defensive stalwart for them ever since helping the Valencian outfit regain and then retain its division one status. To date, the 'big man' has starred in 113 appearances since his return.
And while he may be mocked by footballing enthusiasts who insist that footballers must have a body fat percentage of fewer than 2% or that they should only feast on a diet of Kangaroo meat and only drink smoothies made out of grass, Ballesteros story should provide inspiration to all for who have a 'spare tyre' syndrome.
While the likes of Messi and Ronaldo may appear on most peoples favorite player lists due to their technical ability, surely we must all have a place in our hearts for Ballesteros.
A player who has defied all critics to keep playing the game he so evidently adores.
Follow @icentrocampista