ALL WITH MARTINS – Football shows its solidarity for Granada midfielder
Updated: 20 November, 2011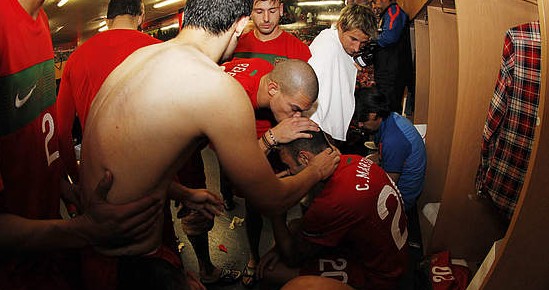 By Heath Chesters
The world of football has this week shown its great support for the family of Portuguese international and Granada CF midfielder Carlos Martins and his family.
Martins was with the Portuguese squad preparing for the EURO 2012 elimination match against Bosnia on Tuesday when he received the terrible news that his three year old son Gustavo, is suffering from the rare and life threatening illness congenital amegakaryocytic thrombocytopenia, a disease caused by the low production of platelets in the bone marrow.
Treatment for this illness can be extremely complicated. Even if a suitable bone marrow donor can be found, there are no guarantees a marrow transplant will be a success.
On Wednesday at his home in Portugal, Carlos Martins tried to explain his feelings: "This is the worst time of my life. I'm desperate. On Tuesday with the Portugues team I lived with mixed emotions."
He's not losing faith however, adding: "I cried a lot, but I know I will find help to save my son's life."
A huge swell of support has followed in both Portugal and Spain, from clubs, players, fans and the media.
"We all must unite to overcome this obstacle, in the same way we do in football." said Martins' international team-mate, Cristiano Ronaldo after the game against Bosnia.
"We have achieved a major victory for Portugal. Unfortunately, the day has not been as expected, because our friend Carlos Martins needs the help of all the Portugues to overcome the ailment of his son."
The Real Madrid forward and other players have gone on to try and raise awareness with regular tweets via the #todosconMartins hash-tag on Twitter.
On Friday, with the support of all the staff and players at Granada CF, Carlos Martins was present
at an emotional press conference.
Declaraciones de Quique Pina y Carlos Martins
Club president Quique Pina opened the press conference by saying: "Everyone at Granada CF sympathises with this situation and we want to provide all our facilities to help. The club is at the disposal of Carlos Martins and his family. We will do everything we can to help find (compatible marrow) donations for his son Gustavo.
"On our website we will post links for people who want to donate blood samples. We'll take the opportunity at Sunday's game (against Mallorca) to place sample collection desks around the vicinity of the stadium.
"Everyone in Granada knows this will be positive. It's our challenge and we'll get through this, to help save the life of the sone of Carlos Martins and many more lives. This is a social movement for Granada."
With the press room desk surrounded by all the players and staff of Granada CF, Carlos Martins went on to add: "I want to thank all my colleagues and all who have wished us well from all over the world. It's a difficult time, but I have total trust in God that this will work out.
"I ask people to donate blood samples. For my son and all the people waiting for donations. I did not know how easy it is to donate blood and how easy it is to save a life.
"On behalf of myself and my wife, we want to thank you all."
Although understandably given leave of absence by the club at this difficult time, Carlos Martins has made it clear, he wants to play in the match against Mallorca on Sunday, at all costs.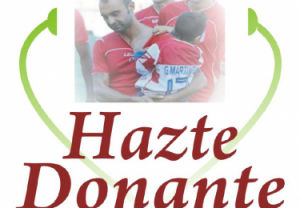 While social networks are full of support and praise for Carlos and his family, supporters groups are also planning their own message of support during the game. They plan to chant the name of Martins in the 17th minute of the game, being the shirt number he wears for Granada CF.
It looks set to be an emotional encounter on Sunday, with everyone united in support of Carlos and his family.
Some things are more important than football, but one cannot fail to be impressed by how the
sport rallies around one of it's own.
On behalf of everyone at elcentrocampista.com, we wish Carlos Martins and his family our very best wishes for his son Gustavo. We hope that a suitable donor is found quickly and that Gustavo is soon on a speedy road to recovery.
Follow @icentrocampista