LIFE'S A BREEZE FOR BARÇA – Familiar faces bring comfort for Guardiola
Updated: 20 November, 2011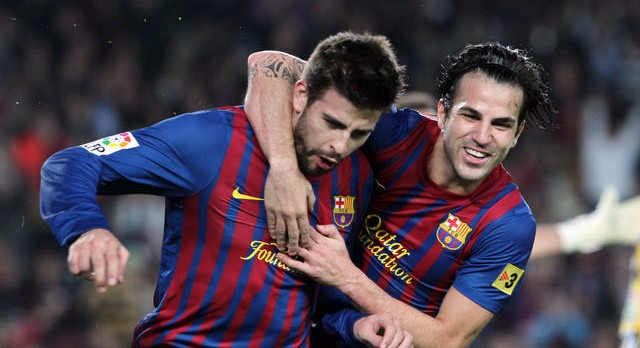 By Lee Roden
In Spain they talk about the "Fifa virus", where Barcelona in particular suffer at the hands of international fixtures.
This sometimes manifests itself in injuries, but more often than not in the tired legs of the players in the first league fixture after the international break. Barcelona have traditionally struggled to perform during these periods, and the rare moments in which they drop points tend to occur at such times.
Yet in a curious moment of irony, the international break seems to have helped Barcelona this weekend. Guardiola's starting line-up against Zaragoza featured the now irregular site of Pique and Puyol at the back, and Pep can partly thank internationals for allowing this to happen.
Both players have been struggling to get game time with Barcelona's hectic schedule as of late, and so by travelling with Spain, the two defenders were allowed to regain match fitness, just in time for their return to Catalunya.
And thus, suddenly, as if by magic, a Barcelona team that has looked shaky and often uncomfortable at the back in previous games was transformed into an assured, composed unit against Real Zaragoza.
Granted, there was the odd rocky moment (as is to be expected from two players returning from down time), but in general, this was the first time in a long time that Barça looked like the Barça of old when the ball was facing them.
It was without the presence of Abidal, too. Maxwell was the clear weak link at the back if there was one to be found, and made a couple of errors that could have been costly had the opposition been of a higher standard.
Guardiola will lose little sleep however, and is instead more likely to be relieved with finally having the chance to play his strongest back four in the coming weeks.
The timing is absolutely vital for Barcelona too. Anyone who watched the game at the Mestalla will be aware that in reality, Barcelona will need to beat Madrid in the Bernabeu if they truly wish to seize this year's title from them. To do so will be an uphill battle, but one made much more realistic with a world class centre back pairing.
Puyol and Pique have developed into two sides of a coin in their seasons together. When one plays without the other the result is often disappointing, yet together they are capable of dealing with even the best of attackers, and right now, Real Madrid have the best of attackers in abundance.
On Saturday night their return wasn't only marked at the back, either. It was there in the cullons (balls) the team showed, something they often lack without Puyol in particular. Such passion and ability to lift their teammates was embodied in the goals scored by both Gerard Pique with his towering header, and Carles Puyol with his near assault on the Zaragoza keeper Roberto.
Granted, Puyol's could be called either a goal or an assist depending on what the league officials decide, but he undoubtedly was the cause of the goal in any case.
To return to the league as a whole, Gerard Pique summed Barcelona's hopes up perfectly when speaking to Spanish television post-match. The interviewer asked him "will you be hoping for a favour from Valencia tonight?"
Pique replied without hesitation "No. We just have to keep playing to our highest level".
Favours don't win titles in this league, and Barcelona will need to create their own luck if Guardiola hopes to win their fourth. With those two back in defence, it's a much more realistic prospect.
_______________________________
Follow @icentrocampista