CATALAN COURAGE – Girona FC fight their way out of the shadows
Updated: 18 November, 2011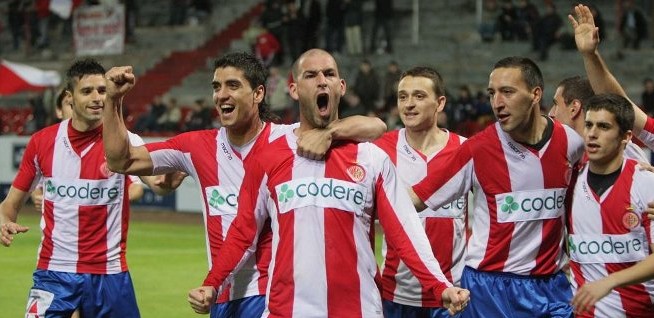 By Lee Roden
In the first part of my series on Girona FC, I took a look at the history of the club and how the civil war shaped its future for the majority of the 20th century. It's now time to turn our attention towards the present day, and examine how Girona FC is coping with the new millennium.
In order to get a true grasp of how Girona and its followers are adapting to its current spell in la segunda, I knew I needed to speak to someone who not only understood the club's history, but was also a true supporter of the team.
With this in mind, today I'm talking to diehard Girona supporter, football journalist, and indeed, colleague of mine at lajornada.cat, David Planella. David specialises in all things Girona FC, and as I've come to learn through Twitter, lives every pass, tackle and save Girona make like it's the last! If there's anyone on the planet that can give us a broader insight into this great club, it's him.
David, I've already given an outline of the history of the club, but its difficult to get a real grasp of Girona's present situation. Is there anything you can tell us from your own experience as a local and supporter?


We could say Girona FC was reborn four seasons ago when they returned to the second division, 50 years after the last occasion. Crucially, the ascent of the football team coincided with the fall from grace of l'Akasvayu Girona (ACB), due to economic problems. [ACB was the main basketball team in Girona – Lee].
It's worth keeping in mind that Girona has always been primarily a basketball city, and some of the people here are still not quite accustomed to second division football. This in part explains why, despite the fact that the club has dropped the price of tickets in every area of the stadium, there's still no more than 6000 socis (club members).
So how is the atmosphere in the stadium? I imagine it's a bit different to the Camp Nou, for example!


The atmosphere in the stadium can be quite cold… a bit like the Camp Nou actually but like a miniature version! To give you an example, there was more of an atmosphere behind the North goal at the Miniestadi between the 1420 supporters that went there than at Montilivi (the Girona stadium) on a match day [Here David is referring to last week's Catalan derby between Girona and FC Barcelona B, where the Girona supporters turned up in their droves].
In Montilivi I can remember few games with much of an atmosphere. Last season the only time the stadium was full was against Granada, because we were near the playoff for promotion and the club sent out invitations! The best day, by far, was the day we got promoted to the second division against Cueta. There were 10,000 people in the stadium when it's only supposed to hold 7000! [David has helpfully provided us with video evidence that you can find at the bottom of the page]
We mentioned the Camp Nou. I imagine having a team as big as Barcelona down the road can present some problems for other smaller Catalan teams. It must be difficult to gain an international or even local following with a team that's so dominant nearby?


Barça has done a lot of damage to the rest of the teams in Catalunya. Nastic, Lleida, but above all Girona. I think that the Girona province is the one with the most Barça penyes! (supporters clubs)! Here, people are Barça supporters.
Are there a lot of young people that perhaps were Girona supporters before, but have now switched to Barca due to their success?
To be honest, few of them were even Girona supporters at one time, above all because of what I told you before, that Girona only got to the second division in 2008. If we're already finding it difficult to get more supporters in the Girona area, imagine how difficult it is to get them internationally! Young people aren't interested much in the second division, especially when they can just be Barça fans, who right now pretty much win everything. Let's just say that there has never been a majority of young people supporting Girona, always Barça. That being said, now they're slowly learning about Girona. Still, not everyone has yet awoken to football closer to home!
What about the future? Do you see Girona in La Liga soon?


The future is difficult to foresee. Josep Delgado is the majority shareholder with 99% of the shares, and he's being investigated internationally for fraud in Poland! If he falls, Girona falls. In the sporting sense, the squad isn't bad but it's very new (there's been a lot of changes) and way too small. It seems like now they're rebuilding and if the new players continue to adapt well they'll be on track to turn their season around without any major problems. For the moment, to take the next hurdle and go up a division would be difficult. In every sense, the second division can throw up anything (any team can beat any team) so it's hard to predict. With things the way they are, everything depends on money and in Girona we already have bad experiences of this (the basketball team went under when they were playing in Europe).
You mentioned the new players, and the squad settling in. Are there any stars of the future in Girona at the moment?


The main star in Girona's team is, without a doubt, Ferran Corominas [affectionately known as 'Coro' – Lee]. He's already the top goal scorer this season with seven. He's a striker of first division quality, and to have him in Girona is a luxury.
The player with the most potential and the one you all need to follow closely is Dani Nieto. He's a young player from the Espanyol youth system, and last year was the Pichichi of the third division, where he really left his mark. He's quick, skilful, scores goals, very much in the mould of Messi. Crucially, he has also already won the supporters over, who don't understand why he doesn't always start. Raul Agne [the Girona coach] uses him as a super sub in second halves usually. The problem Agne has is that he already has Moha in the same position, one of the players with the most experience, and Agne doesn't want to drop him to the bench.
Finally, It would be unfair to forget Albert Dorca, a graduate of the youth system. He doesn't have the profile of Coro or Moha, but he bears the entire midfield of the team on his back! He has been a guaranteed starter since Girona were in the third division.
David clearly has a lot of passion for the club, and a deep knowledge of its team and history to go with it.
With that in mind, there was one question I had to ask him (though the answer, much like everything with Girona, wasn't straightforward).
Did David come from a family of Girona supporters, or was he one of the exceptions to the rule, a youngster who decided to support the club instead of their more prolific neighbours?
"Honestly, my family are Real Sociedad fans (it's my dad's fault)! But they also support Girona too, after all, they're the local team."
I think we all know where David's allegiances lie. Thanks to David for his help, and giving us some of his expertise. To complement this series, I'm currently in the process of organising an interview with an important figure at the club. My lips are sealed for now, but keep checking elcentrocampista.com to find out more.
Finally, here's the video David provided of that fateful day against Cueta. It's pretty incredible to see so many people packed in to the stadium, especially when they still have a section left empty for any away support!
________________________
Follow @icentrocampista